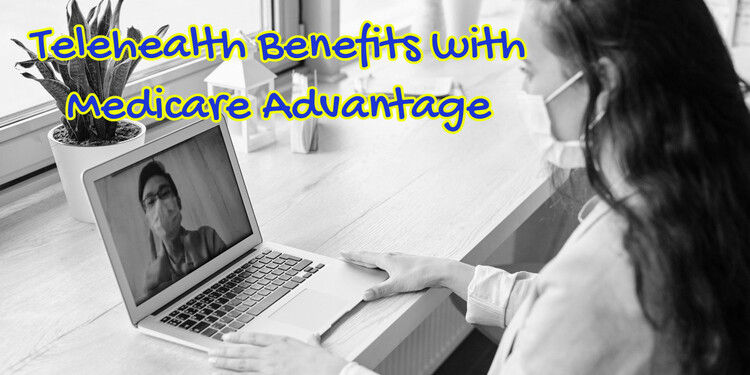 ---
Telehealth Benefits with Medicare Advantage
In this day and age of COVID-19, telehealth visits have become increasingly popular. Businesses back up and running like "normal," many people have chosen to continue to receive care via telehealth. It's highly convenient and can save people time and money since they don't have to commute to visits.
Do Medicare beneficiaries get to enjoy this benefit too? For older adults that may find driving or arranging transportation difficult, telehealth would be beneficial.
What Is Telehealth?
Telehealth is the method of delivering healthcare remotely by using modern technology.
Telehealth visits can be completed by phone, video calls (Zoom, Google Duo, FaceTime, etc.), email, or secure text messaging. It allows patients to receive care from the comfort of their own home - or wherever they happen to be!
Often telehealth services include routine wellness checks, mental health counseling, nutrition counseling, and medication management.
A variety of health care professionals utilize telehealth. For example, individuals may see their primary care physician, therapist, nurse practitioner, physician's assistant, or speech-language pathologist.
Telehealth and Original Medicare
Original Medicare (Part B, specifically) does offer coverage for telehealth services. However, the Part B deductible will apply, and the beneficiary will be responsible for 20% of the cost, assuming there is no other coverage like a Medigap or Medicare Advantage Plan.
At the start of the COVID-19 pandemic, providers had the option to reduce the cost or entirely waive the patient's portion. This option continues today.
Telehealth benefits have become more widely available for all Medicare beneficiaries. However, before March 2020, telehealth was only available in certain parts of the country (rural areas). Even then, the care must have originated from a rural clinic or office, not from the patient's home.
Beneficiaries in urban areas were not eligible for telehealth services at all.
Now, all beneficiaries can receive care for:
Monthly home dialysis for End-Stage Renal Disease
Diagnosis, evaluation, and treatment of an acute stroke
Treatment of substance abuse disorders or a mental health disorder
Emergency visits
Services delivered by audio devices
Routine check-ins
Telehealth and Medicare Advantage
As you know, Medicare Advantage plans offer additional coverage outside of Original Medicare. These plans are required to have at least as much coverage as Parts A and B but usually have much more. It's no different with telehealth.
Medicare Advantage members have been able to enjoy telehealth services before the pandemic. They also provide coverage for telehealth in more situations other than the ones described above.
Coverage for telehealth services will vary by plan, but nearly all (98%) plans cover this service. There are often no out-of-pocket costs for telehealth visits under a Medicare Advantage plan.
Which Providers Can Offer Telehealth?
Before the pandemic, only certain providers were able to receive payment from Medicare for telehealth services. In addition, the provider must have seen the patient within the last three years.
Now, any provider that can bill Medicare can also perform telehealthcare - dermatologists, cardiologists, gynecologists, endocrinologists - just about any of the medical "-ologists"! There is also no requirement to have seen the patient within the last three years.
Telehealth has made receiving care much more accessible for many people. The wider acceptance and use of telehealth is one good thing that came from the pandemic. Of course, there are still hurdles to overcome, but it has provided another way for individuals to get the care they need.
We are here to help. Give us a call today and an agent will be happy to review all of your options.
---