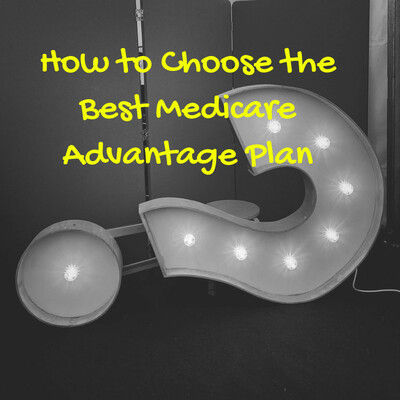 ---
If you are looking to enroll in a Medicare Advantage plan you may be wondering what is the easiest way to choose the best Medicare Advantage plan?
First, let's explain what exactly a Medicare Advantage plan is.
What is a Medicare Advantage Plan?
Medicare Advantage, also known as Part C is available from private, Medicare-approved insurance companies. They could have no premium or a substantially lower one compared to the premiums for Medigap policies. In addition to hospital and doctors visits, most Medicare Advantage plans include prescription drug coverage
After a small co-pay most services, such as office visits, lab work, surgery, and many others are covered.
It is important to know that Medicare Advantage plans often have a network of doctors and facilities they use. You will pay more or all of the costs for services outside your plan's provider network, so make sure your doctors accept that specific Medicare Advantage plan. Keep in mind, you must use the ID card from your Medicare Advantage Plan to get your Medicare-covered services. If you ever decide to switch back to Original Medicare, you will need your Medicare ID card so keep it in a safe place.
There are more supplemental benefits in many plans. Vision, hearing, dental, telehealth, expanded palliative care, adult day care services, food delivery and transportation to appointments are just some of the benefits that could be offered. It's a good idea to ask the Medicare Advantage plan about the supplemental benefits before you enroll.
Some Medicare Advantage plans focus on certain health issues like diabetes and heart failure.
Costs associated with Medicare Advantage
There is an annual limit on your out-of-pocket costs. Once you reach a certain limit, you won't pay anything for covered services for the rest of the year. It may be more cost-effective for you to use this option. Your out-of-pocket costs will depend on whether the plan charges a monthly premium. Many Medicare Advantage plans have a $0 premium. If you enroll in a plan that does charge a premium, you pay this in addition to the Part B Premium.
There could also be a yearly deductible as well as copays or coinsurance for each visit or service.
Types of Medicare Advantage Plans
Medicare Advantage Health Maintenance Organization (HMO) Plans
These plans use a network of providers. In order for your insurance to pay for a doctor's visit or other health care needs, you have to use the providers in your network that are approved. Out-of-area urgent care, emergency care, and out-of-area dialysis are exceptions. Before signing up for an HMO plan, make sure your favorite doctor is in the network. If you don't get referrals from your Primary Care Physician, you may have to pay the full cost of service. You will need to look at your plan's benefits to see if your medications are covered. Prescription medications are not automatically covered with HMOs.
Medicare Advantage Preferred Provider Organization (PPO) Plans
PPO plans also have a network of approved providers and hospitals. As with HMO plans, you will pay less if you use them. You can go out-of-network if it's necessary, but there may be a higher copay or coinsurance cost. You don't need to choose a primary care physician and don't need a referral when you require specialist care in most cases. Some medications may be covered but prescription medications are also not automatically covered with PPO plans.
Medicare Advantage Special Needs Plans (SNPs)
Special Needs Plans are for people who have specific health care needs. Diabetes, end-stage renal disease, HIV/AIDS, chronic heart failure, and dementia are some of the diseases included. There are also certain plans which treat people in care facilities or those who need nursing care at home. Special Needs Plans also provide Medicare prescription drug coverage which is geared toward the medications used by those with the illness. In order to coordinate your health care needs, you must choose a primary care doctor or have a care coordinator.
Medicare enrollment and election periods
The Medicare Annual Election period is from October 15th through December 7th each year. Everyone has the opportunity to take advantage of this. During this time, you can switch between Original Medicare and Medicare Advantage, add, drop or switch your Part D prescription drug coverage, or move from one Medicare Advantage plan into another one.
If you're currently enrolled in a Medicare Advantage plan, changes to your coverage can be made from January 1 through March 31 during the Medicare Advantage Open Enrollment Period. During this time you can either switch Medicare Advantage plans or drop Medicare Advantage and return to Original Medicare and a Part D plan.
You can apply for a Medicare Supplement plan at any time during the year, however, if you're outside your Open Enrollment Period, you will not have guaranteed issue rights. Insurers can ask about your medical history and refuse to sell you a plan for pre-existing conditions.
Special Medicare Advantage benefits
Are you interested in extra benefits like dental, vision, hearing aids, and gym memberships? These are often covered on Medicare Advantage plans but not Medigap plans.
Are you interested in prescription coverage? The majority of Medicare Advantage plans have integrated Part D coverage. You'll need to purchase a Medicare Part D plan separately in order to have prescription coverage if you choose Original Medicare with a Medigap plan.
How do you choose the best Medicare Advantage Plan?
1. Make sure your doctor's and preferred hospitals are covered in the plan's network.
2. Find out if your prescription drugs are covered
3. Find a plan that offers any "extra" benefits that are important to you such as dental or vision
4. Take a look at the plan's star ratings. Each year, Medicare gives star ratings with the top rating being five stars. The stars rate the quality of care and customer satisfaction. It is a good idea to pick a plan with at least 3 stars.
5. Check the plan's co-pays and deductibles. Look to see what you will have to pay for a doctor's visit or a stay in the hospital. Look for the annual out-of-pocket limit.
It can be confusing and time-consuming to find the best Medicare Advantage plan for you. Our agents are here to help and do the searching for you. Find the agent of your choice and contact them to schedule a free consultation.
---