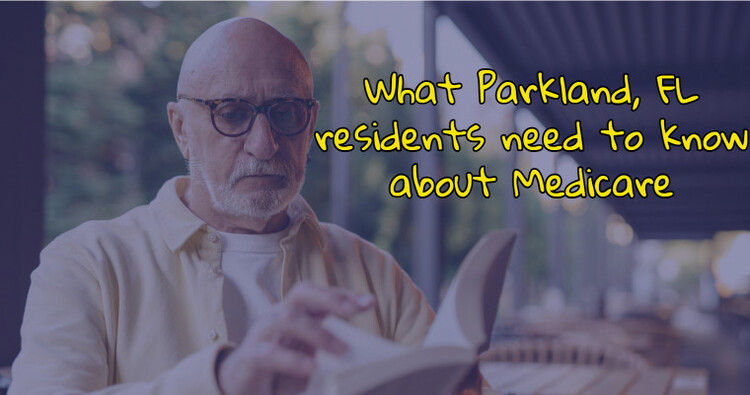 ---
What Parkland, FL residents need to know about Medicare


Located in Broward County, Florida, Parkland is a hidden gem that offers its residents an exceptional quality of life. With its beautiful neighborhoods, top-rated schools, and abundant recreational activities, it's no wonder why Parkland has become a highly sought-after place to live.
One of the defining features of Parkland is its pristine natural surroundings. The city boasts numerous parks and green spaces where residents can enjoy outdoor activities such as biking, hiking, or simply taking a leisurely stroll. Pine Trails Park is a local favorite for its expansive fields, playgrounds, and serene walking trails. In addition to the parks, Parkland is also home to the tranquil Everglades Conservation Area.
How Medicare Part A Works In Parkland, FL
Medicare Part A is a crucial component of the healthcare system in Parkland, FL. It primarily covers hospital care and some skilled nursing facility services. Beneficiaries are eligible for this coverage if they are 65 or older or have specific disabilities. Medicare Part A covers inpatient hospital stays, including semi-private rooms, meals, nursing services, and necessary supplies and medications.
This includes rehabilitation services such as physical therapy and speech-language pathology services. However, it's important to note that Medicare Part A does not cover long-term or custodial care.
To access these benefits under Medicare Part A in Parkland, FL., individuals must have paid into the program through payroll taxes while working for at least ten years (or forty quarters). They can also qualify based on their spouse's work record if they don't meet the required work history themselves.
If you need to use your Part A hospital benefit, you're likely looking for a hospital near Parkland. One prominent hospital near Parkland is Broward Health Coral Springs. Located just a few minutes from Parkland, this state-of-the-art facility offers a wide range of services, including emergency care, diagnostic imaging, surgical procedures, and specialized clinics. With a team of highly skilled healthcare professionals and advanced technology, Broward Health Coral Springs ensures that residents of Parkland have access to top-notch medical care close to home.
Another notable hospital near Parkland is Northwest Medical Center. Situated in Margate, this full-service hospital serves the needs of patients from various surrounding communities, including Parkland. With an emphasis on patient-centered care and cutting-edge technology, Northwest Medical Center provides an extensive range of services, such as emergency medicine, cardiology, neurology, orthopedics, and more. As one of the leading hospitals in the area with numerous accolades for its quality care initiatives and patient satisfaction rates, Northwest Medical Center remains a trusted healthcare provider for residents in Parkland.
If you are looking to use your SNF benefits, according to Medicare.gov, there is one 3-star SNF in Margate. Margate Health and Rehabilitation Center is a leading healthcare facility in Parkland, FL. With a mission to provide top-notch medical care and rehabilitation services, this center has become a trusted name in the community. The facility offers a wide range of specialized treatments and programs to cater to the diverse needs of patients. From skilled nursing care to physical therapy, occupational therapy, speech therapy, and more, Margate Health and Rehabilitation Center ensures that each patient receives personalized care tailored to their specific condition.
How Part B Works in Parkland
Medicare Part B is an essential component of the Medicare program in Parkland, FL. It covers outpatient medical services and supplies necessary to diagnose or treat a medical condition. Part B helps pay for preventive services, such as certain vaccines, screenings, and annual wellness visits. It also covers medically necessary services like doctor's visits, lab tests, X-rays, and durable medical equipment.
In Parkland, FL, most individuals who qualify for Medicare Part A automatically become eligible for Part B. However, this coverage is not free; beneficiaries must pay a monthly premium. The cost varies depending on income level and can be deducted from Social Security benefits or billed directly if the individual does not receive Social Security.
It's important to note that additional costs may be associated with Medicare Part B. These include deductibles and coinsurance payments that the beneficiary is responsible for paying out-of-pocket. Some individuals may choose to supplement their Part B coverage with Medigap policies or enroll in Medicare Advantage plans to help manage these costs more effectively. Overall, understanding how Medicare Part B works is crucial for residents of Parkland to ensure they have access to the healthcare services they need while minimizing financial burdens.
If you are looking to use your Part B benefits, then you likely need to find a doctor or other provider. One prominent doctors' group in Parkland is The Cleveland Clinic. This state-of-the-art facility houses a team of highly skilled physicians from different specialties, such as internal medicine, pediatrics, cardiology, orthopedics, and more. They offer various services, from routine check-ups and preventive care to advanced diagnostics and treatments.
Another notable doctors' group near Parkland is the Broward Health Physicians Group. With multiple locations throughout South Florida, this group encompasses a wide range of medical professionals specializing in family medicine, gastroenterology, obstetrics/gynecology (OB/GYN), neurology, and neurosurgery, among others. Patients can expect compassionate care from skilled practitioners dedicated to improving their health outcomes.
Medicare Part D in Parkland, FL
Part D is the prescription drug coverage program offered by private insurance companies with Medicare contracts. It helps individuals in Parkland and across the United States pay for their prescription medications.
In Parkland, FL, Medicare beneficiaries can access various private insurance plans offering Medicare Part D coverage. These plans differ in terms of cost, coverage, and participating pharmacies. Residents of Parkland can choose among numerous programs based on their specific medication needs and budget requirements.
One aspect of Part D to be aware of is the coverage gap, also known as the donut hole. You enter the coverage gap once you and your plan have spent a certain amount on medications during the year.
You are responsible for paying more of your drug costs out of pocket during this period. In 2023, once you reached $4,660 in total drug costs, including what both you and your plan paid, you entered the coverage gap. While in the donut hole, you paid at most 25% of the cost for brand-name and generic drugs until your out-of-pocket spending reached $7,400. After that, your costs changed to the greater of 5% of the cost of the prescription or a small copay.
It's important to note that not all prescription drugs are included in determining whether you have reached the coverage gap. The amount that goes towards achieving this limit only includes what you or others pay for covered drugs purchased at a pharmacy or through mail-order pharmacies that are in-network with your Medicare drug plan.
Medicare Part D provides significant financial relief for many residents of Parkland who rely on regular prescription medications to manage chronic conditions or acute illnesses. By offering a wide range of drugs at affordable prices through different formulary tiers, this program ensures that individuals in Parkland have access to necessary medications without breaking the bank. The availability of Medicare Part D also promotes better health outcomes by encouraging proper adherence to prescribed treatments among the citizens of Parkland, FL.
How Medicare Advantage Works in Parkland, FL
Medicare Advantage, or Medicare Part C, is a popular alternative to traditional Medicare in Parkland, FL. This comprehensive health insurance option is offered by private insurance companies approved by Medicare. It provides all the benefits of Original Medicare (Part A and Part B), often including additional coverage such as prescription drugs, dental care, and vision services.
In Parkland, FL, Medicare Advantage plans are available through various insurers. These plans typically work on a network system where beneficiaries must visit doctors and hospitals within the plan's network to receive the lowest copays. However, some programs may also offer out-of-network options for added flexibility.
One major advantage of choosing a Medicare Advantage plan in Parkland is its focus on preventive care. Many of these plans offer wellness programs and screenings at no extra cost to help seniors maintain their overall health. Some plans may include benefits like gym memberships or transportation services to and from medical appointments.
Understanding how Medicare Advantage works in Parkland is crucial for seniors looking to maximize their healthcare coverage while enjoying additional benefits beyond Original Medicare. It's advisable to compare different plan options based on individual needs and preferences before deciding to join a specific plan in this area.
Medicare Supplement insurance in Parkland, FL
Parkland residents have access to a wide range of Medicare Supplement insurance options. Medicare Supplement insurance, or Medigap, is designed to help cover the out-of-pocket expenses not covered by Original Medicare. In Parkland, individuals eligible for Medicare can choose from several different plans offered by private insurance companies.
One popular option in Parkland is Plan F. This plan offers comprehensive coverage and pays for all of the gaps in Original Medicare, including deductibles, coinsurance, and copayments. However, your Medicare Part A or B must have been active before 1/1/2020 to get Plan F. Another option is Plan G, which provides similar coverage to Plan F but does not cover the Part B deductible. In 2023 the Part B deductible was only $226 for the year. Both plan types offer peace of mind and financial protection for seniors who want to avoid unexpected healthcare costs.
Working with a Medicare Agent in Parkland, FL
Working with a Medicare agent in Parkland, FL can be a valuable resource for individuals navigating the complexities of Medicare. With their expertise and knowledge of the local healthcare landscape, these agents can provide personalized guidance and support to help beneficiaries make informed decisions about their coverage options.
One of the key advantages of working with a Medicare agent in Parkland is their understanding of the unique needs and preferences of individuals in the local community. They are well-versed in the specific healthcare providers and facilities in Parkland, ensuring that beneficiaries can choose plans that include their preferred doctors or hospitals. Additionally, these agents have extensive knowledge about any special programs or resources available to residents in Parkland, such as assistance programs or wellness initiatives.
Another benefit of working with a Medicare agent in Parkland is their ability to simplify the enrollment process and explain complex insurance jargon. They can guide beneficiaries through each step of signing up for Medicare or making changes to existing coverage, ensuring that all necessary paperwork is completed accurately and on time. Their expertise allows them to answer questions and clarify any confusion around plan options, costs, and benefits so that beneficiaries can make choices that align with their healthcare needs and budget. Contact one of our member agents today at https://CertifiedMedicareAgents.com!
---