---
Navigating the world of NC Medicare Supplement policies can be a daunting task. Still, with this comprehensive guide, you'll have all the help and advice you need to ensure you're adequately informed and prepared before making any decisions. This guide will take an in-depth look at NC Medicare Supplement policies – from what they are and what services they cover to understanding different coverage plans, narrowing your options down, which program is best for you, how much it costs, and potential discounts available. By following our tips in this comprehensive guide to navigating North Carolina's Medicare Supplement policy landscape as carefully as possible - from researching quotes online to selecting the right plan - readers can rest assured they've made the most affordable pick.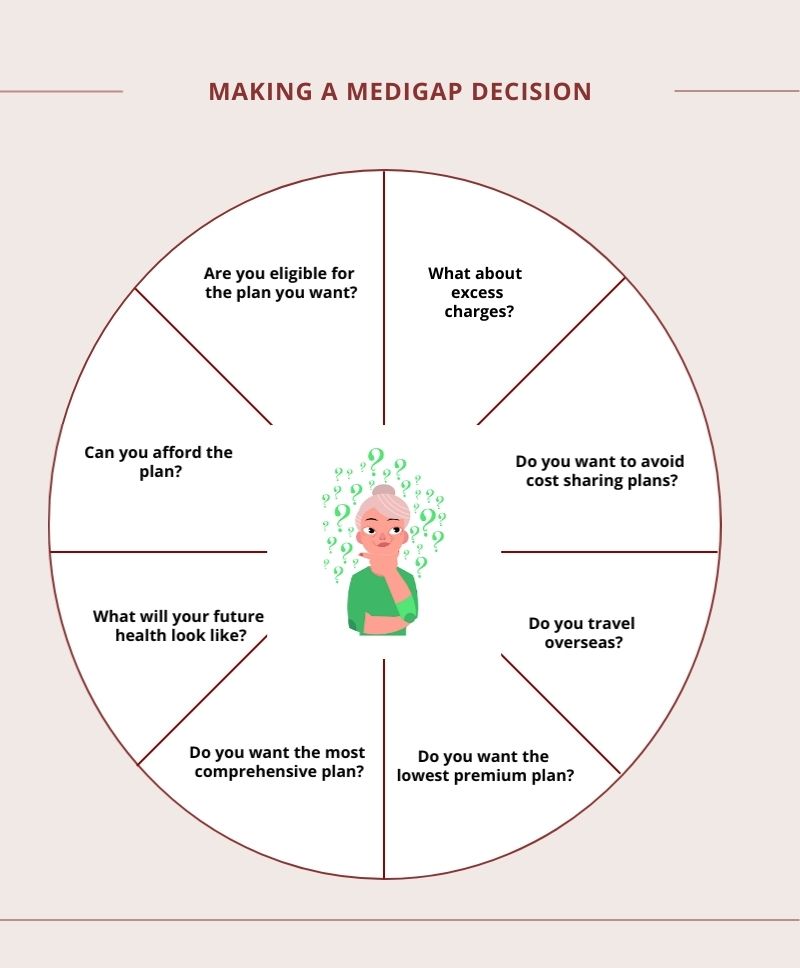 What is an NC Medicare Supplement Policy?
A North Carolina Medicare Supplement Policy is a type of health insurance designed to help cover your copays and deductibles with Original Medicare. They are designed to help North Carolina Medicare beneficiaries reduce out-of-pocket expenses related to their health care and plan for their future.
NC Medicare Supplement policies are available through private health insurance companies and offer two main benefits: Financial protection and freedom of choice. These policies are often called Medigap plans because they fill in the gaps of Original Medicare. Different plans offer various levels of coverage and cost, depending on your needs and budget. You can choose from 10 standardized Plans, A – N, each with different benefits levels.
It's important to note that a North Carolina Medicare Supplement policy only covers one person and cannot be used to cover your spouse or dependents. It is also essential to understand the cost-sharing requirements of a policy before signing up, as some plans may require you to pay a deductible and other cost-sharing amounts. Finally, check to see if any discounts, such as a household discount, are available for purchasing a policy.
Understanding Medicare Coverage Plans
Navigating the world of NC Medicare Supplement policies can be a daunting task. Still, with this comprehensive guide, you'll have all the help and advice you need to ensure you're adequately informed and prepared before making any decisions. Medicare Supplement policies are an additional form of health insurance that can help to cover the gaps left by Medicare Part A and Part B.
When understanding the different coverage plans available, several factors must be considered. You'll need to look at the types of services covered by the policy, the amount of coverage you need, and the cost of the policy. You'll also need to consider what kind of deductible you will pay and any discounts available. Knowing these details will help you make an informed decision about which Plan is best for you.
Finally, you'll need to consider the cost of the NC Medicare Supplement policy. There are a variety of plans available with different price points. Some policies may provide more excellent coverage for a slightly higher cost, while others may offer less coverage for a lower price. It's important to carefully review the cost of each Plan and the associated benefits to ensure that you select the best Plan for your needs. With this comprehensive guide to understanding Medicare Supplement plans in NC, you'll be well-prepared to choose your best Medigap plan.
What Services Does an NC Medicare Supplement Policy Cover?
NC Medicare Supplement policies are supplemental health insurance plans designed to fill gaps in the coverage provided by Original Medicare. They provide additional coverage of medical expenses and can help cover the cost of deductibles, copayments, coinsurance, and other out-of-pocket expenses. Depending on your chosen Plan, you can receive coverage for some or all of the following services: doctor visits, hospital stays, lab tests and X-rays, surgery, ambulance services, skilled nursing care, hospice care, durable medical equipment, and other services.
Understanding the various coverage plans and options available is key to selecting the right Medicare plan in NC. It's important to research and compare the different plans and coverage levels to determine which Plan best meets your needs. Different plans have different cost-sharing requirements and may include deductibles, coinsurance, copayments, and out-of-pocket maximums. The cost of these plans will vary depending on the type of policy and the coverage you're looking for. It's essential to read the fine print when selecting a plan and be sure to explore potential discounts and discount programs that may be available to you.
Narrowing Down Your Options
Narrowing down your options for an NC Medicare Supplement policy is easier compared to comparing Medicare Advantage Plans. Medigap plans are standardized, meaning that each insurance company offers the exact same benefit. With this information in mind, you will decide which plan you want first and which insurance company you want to buy from.
It's usually best to use an insurance agent or broker to assist you with this since they can tell you what it's like to work with each company, their past rate increases, and their rates based on different ages. Of course, all of that can change in the future, but it's helpful to know about what the company has done in the past.
What Plan is Best for You?
When it comes to selecting the right NC Medicare Supplement policy for you, it is vital to take the time to research your options and understand the different coverage plans and benefits they offer. The most popular NC Medicare Supplement plans available include Plan A, Plan B, Plan C, Plan D, and Plan F, each offering different coverage levels and varying monthly premiums. Plan F offers the most comprehensive coverage and is the most expensive. However, your Medicare Part A or Part B must have started prior to 01/01/2020.
Below is a chart that shows the ten plans that are available and what they cover:
Cost of NC Medicare Supplement Policies
NC Medicare Supplement policies are designed to help cover the deductibles, copays, and coinsurance of Original Medicare. Generally, these policies come in the form of standardized plans, so you should be able to find one that works for you.
The cost of NC Medicare Supplement policies can vary depending on your zipcode, your sex, the insurance company you select, the Plan you choose, and discounts such as the HouseHold discount. You may also have to pay more if the insurance company accepts you despite your poor health.
But to give you an example, according to https://tools.csgactuarial.com/, we selected a 65-year-old female living in Asheville (zip code 28801) for plans starting on 04/01/2023. Rates change, so this is to give you an idea:
Plan A: $84.51 to $256.27 per month.
Plan B: $112.70 to $277.08 per month.
Plan C: $114.73 to $326.53 per month.
Plan D: $109.96 to $301.39 per month.
Plan F: $108.83 to $326.96 per month.
Plan G: $95.25 to $301.75 per month.
Plan K: $46.83 to $90.00 per month.
Plan L: $59 to $129.07 per month.
Plan M: $71.71 to $115.28
Plan N: $72.42 to $274.22
The wide range of pricing is another reason to use a member broker at https://CertifiedMedicareAgents.com.
Deductible and Coinsurance Explained
Deductible and coinsurance are two essential cost-sharing requirements that can affect the cost and coverage of NC Medicare Supplement policies.
A deductible is a dollar amount you must pay out-of-pocket for covered medical expenses before your policy begins to cover services. Medicare has a Part A deductible and a Part B deductible. Part A deductibles are not annual; they are per benefit period. Because of this, you can have more than one Part A deductible in a given year. On the other hand, Part B deductibles are per year, so you'll only have to pay it once in a given year.
Coinsurance is a percentage of the medical expenses you must cover. For example, Medicare Part B pays 80% for service. You would be responsible for the remaining 20% if you did not have a Medigap plan.
Some policies, such as Plan N, have a "copay" amount. This is where you pay a flat fee when you see a doctor or other medical provider.
With the right Plan and a thorough understanding of deductibles and coinsurance, you can save a lot of money on NC Medicare Supplement policies.
Understanding Different Types of Coverage
NC Medicare Supplement policies are an important part of a comprehensive health plan, providing coverage for the deductibles, coinsurance, and copays of Original Medicare. They can be tailored to meet various needs and budgets, from comprehensive to more limited coverage. Understanding the types of coverage available and the differences between them is essential for choosing the best Plan for you.
Medicare Supplement Policy coverage is listed earlier in this article. It's important to understand that Medicare Advantage Plans, which replace original Medicare, are not Medigap plans. Medigap plans do not replace original Medicare, but they cover some or all of the costs associated with original Medicare. This is crucial because Medicare Advantage Plans have different rules than original Medicare.
No matter what type of coverage you choose, it's essential to understand the policy's cost, coverage, and restrictions before making any decisions. Researching and comparing plans can help you make the best decision for your needs.
Potential Discounts Available
Potential discounts available for NC Medicare Supplement plans vary depending on the chosen insurer and plan. While many providers offer discounts for payment via EFT from your checking account, some may also provide household discounts. Household discounts do not always require marriage, so you'll want to check with your insurance agent or broker to see if you qualify.
In some cases, you may also be eligible for discounts if you are part of a large group or association. These discounts generally apply to Medicare Supplement plans purchased through the group or organization and are not available to individuals who buy plans directly from an insurer. You may also be eligible for discounts if you enroll in a Medicare Supplement plan that offers bundled services, such as a prepaid dental package or a bundled prescription drug plan.
It's important to remember that not all providers offer discounts for Medicare Supplement plans, so be sure to ask about any potential discounts available when researching and comparing plans. Additionally, it would help if you always read the fine print before committing to a plan to make sure you know what discounts are applicable and what is covered.
Next Steps for Making Your Decision
The easiest way to finalize your decision is to talk with a broker representing multiple plans. The broker may have considered issues that you should have thought about but didn't. Since they represent more than one company, they are more likely to put your best interests are heart over someone who only works with one insurance company.
Making your final decision on which NC Medicare Supplement policy to choose is the most essential step. After researching your options and understanding the different types of policies, you should have narrowed your selection to a few plans that meet your needs.
The next step should be to compare the plans you are considering. Compare each Plan's benefits and costs, factoring in any discounts that may be available. In addition, make sure you understand the cost-sharing requirements, such as deductibles and out-of-pocket expenses that you may incur. Once you've narrowed your decision down to the Plan that is the best fit for you, you can then begin the process of enrolling in the policy.
Finally, don't hesitate to discuss any questions or concerns with the insurer or a trusted broker if you have any questions or concerns. They can provide additional guidance and assistance to make the best decision for your situation. You can make the most informed decision for your NC Medicare Supplement policy with the correct information.
Additional Resources and Support
In addition to this guide, several additional resources and support are available to help those considering NC Medicare Supplement policies. These include talking to a qualified insurance broker, consulting with Social Security, consulting with a social worker, or visiting the Centers for Medicare and Medicaid Services website. These providers can be great resources for getting personalized advice and assistance to help you make the best decision.
Furthermore, several independent organizations provide free and unbiased advice and assistance on Medicare policies. These organizations can help you understand the different coverage options and assist you with filling out forms and other paperwork. Additionally, they can help you compare different plans and find the one that best suits your needs, budget, and lifestyle. Many of these organizations also offer discounts, so be sure to ask what discounts are available for the Plan you're considering.
When considering NC Medicare Supplement policies, several additional resources and supports are available to help you make the best decision. Whether speaking with an insurance agent or a Medicare advisor or researching independently, having the correct information and understanding all the options available can make finding the right policy much more manageable.
---