---
Are you a Massachusetts resident looking to learn more about Medigap insurance coverage options? With the wide range of health care plans available in the Bay State, it can take time to determine which is best for your needs. But don't worry, because we've got all the information you need on Medigap policy options and how they fit into the bigger picture of your overall health care plan. This article will explore Medigap and provide an overview of Massachusetts's different coverage offerings. We'll also discuss important details, such as eligibility criteria and any special circumstances you should consider before deciding. Finally, we share our tips for navigating these complex insurance policies so that you can make an informed choice about which type fits your lifestyle and budget. So if you're ready to unravel the mysteries behind Massachusett's Medigap insurance options, let's get started!
What is Medigap Insurance?
Medigap insurance is an essential part of any health care plan for Massachusetts residents on Medicare. It provides additional coverage for those enrolled in Medicare and helps fill in the gaps you have with original Medicare. Medigap plans can pay your copays and coinsurance amounts for services such as hospitalization, doctor visits, prescriptions, and more. Several types of Medigap plans are available for Massachusetts residents, each with its unique coverage range and benefits.
Regardless of your chosen plan, Medigap insurance is a crucial tool for Massachusetts residents who need to fill in the gaps of original Medicare.
To be eligible for Medigap insurance, you must be enrolled in Medicare Part A and Part B. Additionally, Medigap plans are only available through private insurance companies and not through the government. Shopping around and comparing different plans is essential to ensure you get the coverage that best fits your needs.
Exploring Medigap Insurance Options in Massachusetts
Medigap insurance can be critical to any Medicare Beneficiary's health care coverage plan. Medigap policies are supplemental insurance policies designed to help cover some out-of-pocket costs associated with Original Medicare Part A and Part B.
Medigap plans in Massachusetts are not your typical standardized Medicare Supplement plans. Most states have standardized plans (47 of 50), but three, including Massachusetts, do not. Medicare standardizes ten lettered Medigap plans.
There are three Medicare Supplement plans available in Massachusetts:
CORE Plan
Supplement 1 Plan
Supplement 1A Plan
Even though these plans are not your typical standardized plans, they must follow federal and state regulations regarding Medigap coverage.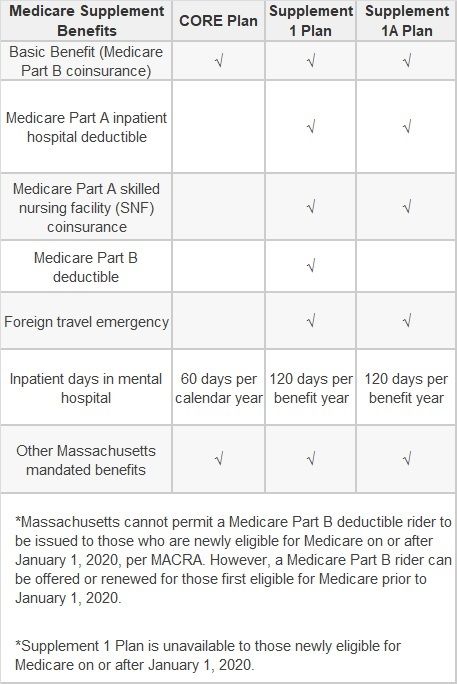 When shopping for a Medigap policy in Massachusetts, it's important to consider your options and determine which plan is best for you. Research the background and financial stability of the insurance companies offering Medigap policies, as this can affect their ability to pay your claims. By taking the time to look into all of these details, you can ensure that you get the best Medigap coverage for your needs.
Understanding Eligibility Criteria for Medigap Insurance
Medigap insurance, also known as Medicare Supplement Insurance, is an integral part of a comprehensive health care plan for many Massachusetts residents. Private insurance companies offer Medigap plans, which help pay some out-of-pocket costs that Original Medicare doesn't cover, such as copayments, coinsurance, and deductibles. To be eligible for Medigap coverage in Massachusetts, you must enroll in Medicare Parts A and B. Additionally, if you do not qualify for Medicare because you are disabled, you must be at least 65 years of age and be a resident of Massachusetts.
The best time to enroll in a Medigap plan is during your first six months of having Part B. This is called your Medigap Open Enrollment Period. During this time period, insurance companies cannot turn you down because of your health. Insurance companies cannot make you pay more because of your health if you enroll during your Medigap Open Enrollment Period.
Comparing Medigap Insurance Coverage Options
Medigap insurance is a supplemental health care plan designed to help cover the gaps in Medicare coverage. It offers additional benefits to Medicare beneficiaries, such as covering copays and deductibles. In Massachusetts, there are three policy options that are standardized and regulated by the state, each with its own unique coverage and cost.
When shopping for a Medigap plan, comparing coverage and costs between different insurers is important. It's a bit easier to compare in Massachusetts because there are only three plans vs. ten in other states. With the right plan, Medigap coverage can help you get the health care you need at a price you can afford.
Tips for Maximizing the Benefits of Your Medigap Plan
Are you a Massachusetts resident looking to maximize the benefits of your Medigap plan? While the specifics of Medigap coverage vary from plan to plan, there are a few tips to ensure you are getting the most out of your coverage.
The first tip is to keep up to date with your premiums. Paying premiums on time is critical to ensuring you are covered and your policy remains active. Also, double-check that your Medigap plan provider has your most up-to-date contact information. This will ensure that any time a change occurs, you will be notified promptly.
Another important tip to remember is to review your coverage every so often. As your health care needs change, it is important to consider if your Medigap plan still meets those needs. A Medigap plan may be the perfect fit at one point in your life, but as time goes on it could become outdated. Taking the time to review your coverage regularly can prevent any unexpected surprises down the line.
By following these tips, you can ensure you are maximizing your Medigap plan's benefits and getting the most out of your coverage. Keep up to date with your premiums, ensure your contact information is up to date, and review your coverage regularly to ensure you are getting the most out of your plan.
Resources for Further Information on Medigap Insurance in Massachusetts
The Massachusetts Division of Insurance (DOI) is a primary source for all information about Medigap insurance in the state. The DOI provides many resources to help you understand and make informed decisions about the different types of Medigap insurance available. The Massachusetts Health Insurance Consumer's Guide is a great place to start and offers a comprehensive overview of Medigap insurance and other options. The guide also provides information about provider networks, payment options, and other important insurance details.
It's important to consider all of your options regarding Medigap insurance and make sure you choose the best plan for your needs. With all of the resources available online and through the DOI, it's easy to get the information you need and make an informed decision about the best Medigap plan for you.
Finally, you can take advantage of the licensed agent members of this site. Find a Medicare Agent near you by going to https://CertifiedMedicareAgents.com and searching the directory. You can read about the agent or broker's credentials and select the agent you want to work with.
---