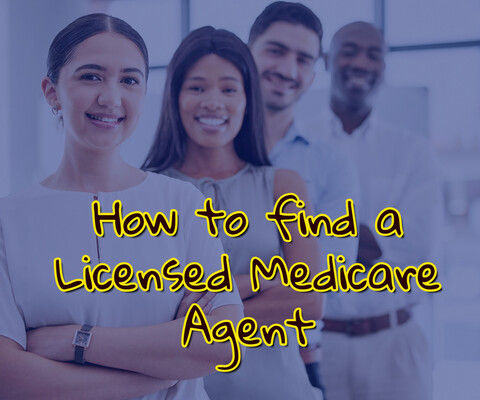 ---
How to find a Licensed Medicare Agent
Looking for original Medicare plans, Medicare Advantage plans, or Medicare supplement insurance plans can be overwhelming. The internet is a big help when learning about Medicare options. You may also want to ask your family members or friends' opinions about their Medicare plan.
If you want personalized advice to decide what is best for your needs, an insurance agent can be helpful. They provide you with knowledge and experience at no cost to help you register for the first time and transition to Medicare.
In this article, we will discuss the things to know on how to find the best Medicare brokers.
What is a Medicare Agent?
A Medicare agent is a licensed professional who helps you find, select and register for a health insurance plan.
Two types of agents:
Independent - An independent broker can work with several insurance companies and sell policies for them. Agents can choose the policies they want to sell from a wide range of providers.
Captive - This type of agent can only sell policies from one insurance company.
Medicare Broker vs. Agent, What Is the Difference?
A broker can represent one or more insurance companies. At the same time, a broker works for the person looking for a Medicare plan for their situation.
Agents generally only work with one company, especially "captive agents."
Both agents and brokers compare Medicare plans and combinations of plans to find the best options based on price and needs.
They only sell private Medicare plans such as Medigap, Medicare Advantage, and Medicare Part D drug plans.
What does a Medicare broker do?
They can help you enroll in a plan. Enrolling in a Medicare insurance plan can be confusing, but an insurance agent specializing in Medicare can help.
They can help you find the best plan for your needs by comparing available options.
It can take time to determine what's best for you. A Medicare health insurance agent can help you compare plans and choose the option that provides your needs with the most comprehensive coverage at an affordable price.
Their services are accessible to you.
An agent can answer your questions and help you understand your insurance coverage.
They can give you peace of mind and ensure you have the coverage you need.


Why use a broker for Medicare?
Below are several reasons why you need to have a Medicare agent:
Brokers can help you buy another policy with another carrier if your rates go up.
Both Agents and Brokers can help you with your Medicare claims. Not all do this, however, so be sure and ask.
Medicare brokers are prepared to explain numerous plans, combinations of plans, benefits, rules, and exceptions.
When you buy Medicare supplement insurance, our members can help you determine if you meet insurance requirements. You won't waste time requesting plans that exclude you based on your health status.
How much do Medicare agents make?
Independent Agents - The income of independent brokers comes mainly from commissions.
Captive Agents - Captive brokers generally (but not always) receive a salary plus a lower commission rate than independent brokers.
How do I find an independent Medicare agent?
Use this site to search for brokers licensed in your state. Read about their credentials and what they have to say.
Ask family and friends if they have recommendations for brokers. Look for customer reviews and testimonials to understand each broker's reputation.
Once you've made a list of potential brokers, call them. Learn about their experience, the companies they represent, what type of insurance coverage they specialize in, and if they would be willing to work with you to create a customized policy. Also, ask about pricing, discounts, and other questions before making the final decision. Once you make your decision, stick with your broker. Don't complicate things by trying to work with different brokers. They cannot get you a "better deal."
You can also find licensed Medicare agents through NABIP (formerly called NAHU or National Association of Health Underwriters). To find an agent near you, follow the information in the zip code search or select a state from the map. When you enter a zip code area, you'll get the most specific results over a single specific zip code. To find a licensed Medicare agent using NABIP, click on this link https://nabip.org/.
Independent Medicare Agents Near Me
It's imperative to understand your Medicare coverage. The Certified Medicare Agents Directory will help you find the best coverage for your needs when you search for local insurance brokers near you!


On the home page, click the drop-down arrow and select your state. Click "Search Now," and you'll get the result quickly.
Four Parts of Medicare:
Part A - Includes medical services such as hospitalizations, qualified care centers (SNFs), blood, home health care, and hospice care. You're protected for short hospital stays and services such as hospice. With Part A, you also have limited insurance coverage for some home health services and care in qualified nursing facilities.
Part B - The services covered by Medicare Part B are the costs of doctors and other health care providers. It includes emergency, preventive, hospital, and emergency outpatient medical services.
Part C - Part C is also known as Medicare Advantage. These plans combine Part A, B, and D coverage in a single program. Private insurance companies offer Medicare Advantage plans, which Medicare oversees. Part C plans may provide additional benefits that the original Medicare doesn't cover. This can include benefits such as prescription drug coverage, fitness, meals after surgery, and eye, hearing, and tooth treatments.
Part D - These parts of Medicare drug insurance are standalone plans that only cover your drugs. Private companies offer Part D plans, not the federal government.
---