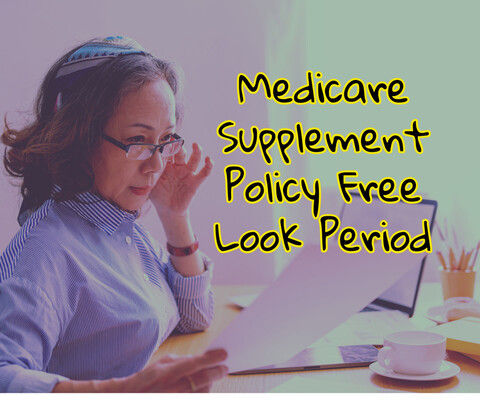 ---
Medicare Supplement Policy Free Look Period
Suppose you signed up for Original Medicare and want to reduce out-of-pocket costs; Medigap could be a great solution.
Medigap plans, also known as "Medicare Supplement Insurance" plans, can help lower the out-of-pocket costs not covered by Original Medicare. Private insurance companies sell and standardize these insurance policies, meaning all programs provide the same essential benefits. Suppose you have Medicare and a Medigap policy. In that case, Medicare will pay its share of healthcare costs while your Medigap policy covers the remainder.
Overview of how Medigap plans work:
1. You must have Original Medicare Part A and B to enroll in a Medigap plan.
2. Your monthly Medigap and Part B premiums need to be paid.
3. Medigap policies can assist with covering certain out-of-pocket costs related to Original Medicare. These may include copayments, coinsurance, and deductibles of Original Medicare.
4. You can receive healthcare from any provider who accepts Medicare patients. All providers who take original Medicare must accept all Medigap policies, even if they don't officially state so.
5. Medigap plans offer additional coverage for benefits that Original Medicare doesn't include. Such benefits may consist of foreign travel emergency care.
If you're thinking of switching to a new Medicare Supplement plan but are worried about being stuck with a program you don't like as much as your old one, take advantage of the Medicare Supplement free look period.
What is the Medicare Supplement (Medigap) Free Look Period?
During the "free look period," you can generally have your old and new Medicare Supplement plans for a 30-day decision period. You will pay the premiums for both plans (your current plan and your new plan) for one month, so the "Free Look" is not free in terms of costs.
Free Look allows you to try a new program without canceling your old plan. Don't cancel the first Medicare Supplement insurance plan until you're accepted into the new policy and you've decided to keep this new policy (or the 30 days elapses.) On the new Medicare Supplement insurance plan application, you must promise that you'll cancel the first policy, as you can only have one Medicare Supplement insurance plan outside of your free look window.
The free look period can give you peace of mind if you're worried about changing your Medigap plan, but you'll have to pay for it. You can use the free trial period to extend your time to decide. But the idea is that you should be comfortable with the plan and carrier you'd be changing to before you apply.
It is possible that you may not like your new Medicare supplemental policy. You may have problems with your new provider, or you may not like the benefits it offers. If you're in this situation, don't get stuck. You have the right to change your mind and cancel your new Medigap policy within the first 30 days if you are not satisfied with your company or its coverage. This is your "free-look period," which begins when you purchase your new Medigap policy.
This is how the free look period works; if you signed up for a standardized Medicare Supplement plan but want to switch to a different one, let's say you signed up for Medicare Supplement insurance Plan A (not to be confused with Medicare Part A). This type of plan covers the following:
100% of Medicare Part A coinsurance and hospital costs up to an additional 365 days after Medicare benefits are used up
100% of Part B coinsurance
100% of blood (first 3 pints)
100% of Part A hospice care coinsurance
But suppose you are looking for a plan with additional coverage and expecting to travel soon, Medicare Supplement Insurance Plan N might be the right option. It covers all the benefits of Plan A plus some other features, such as:
Skilled nursing facility care coinsurance
Medicare Part A deductible
80% of foreign travel health expenses
Is my application for a secondary plan likely to be approved?
Your Medicare Supplement Open Enrollment Period (OEP) ran for six months, starting when you are 65 or older and enrolled in Medicare Part B. During this period, you can buy any Medicare Supplement policy from any insurance company licensed in your state with no medical underwriting.
However, suppose you apply outside this OEP. In that case, the insurer may review your health history, including existing and pre-existing conditions, to potentially deny coverage, charge more, or impose a waiting period before providing coverage.
Our Certified Medicare Agents Directory members can help you explore your Medigap options to decide which is best for you. They share essential details with their clients, such as standardization and how a change can affect you, so you can trust your decision.
If you need help changing your Medicare supplement plan, they will gladly help. One of our friendly expert members can explain your options and answer any questions.
---