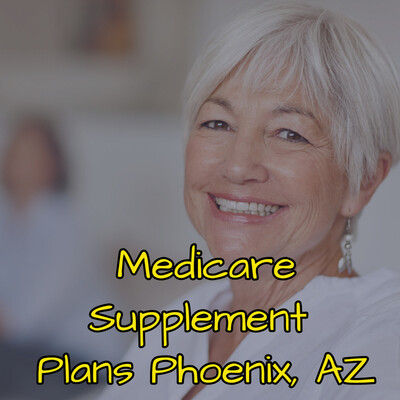 ---
Medicare Supplement Plans in Phoenix, AZ
Are you considering Medicare Supplement Plans in Phoenix, AZ? Arizonians can get assistance with out-of-pocket Medicare costs by enrolling in Medicare Supplement plans.
With so many different plans and options, making the right decision for your healthcare needs can be overwhelming. Fortunately, a knowledgeable and experienced agent can help you find the best plan for your budget and lifestyle. From finding quotes to understanding coverage details, a professional Medicare Supplement Insurance agent in Phoenix, AZ, can help.
What are Medicare Supplement Plans?
Medicare Supplement Plans are health insurance policies that can help pay for out-of-pocket expenses incurred with Original Medicare. These "Medigap plans" work alongside Original Medicare to provide additional coverage for medical costs.
Suppose you have both Medicare and Medigap policies. In that case, Medicare will cover its portion of the approved healthcare costs, and your Medigap policy will cover its side.
Private insurance companies provide standardized Medigap plans, meaning all programs of the same type offer the same benefits.
In Phoenix, AZ, you can select a plan type from any insurance provider that provides it.
Insurance providers offering Medigap policies:
- Must offer Medigap Plan A if any Medigap policy is available.
- Medicare enrollees may be able to choose from Plan C and Plan F, depending on when they began Medicare coverage. For those that started Medicare AFTER January 1, 2020, Plan F may not be available.
- Providers are not obligated to provide all Medigap plans.
Below is how Medigap plans work:
1. To be eligible for a Medigap plan, you must have Original Medicare Parts A and B.
2. You must pay a monthly premium for your Medigap policy and a separate premium for Part B.
3. A Medigap policy can cover out-of-pocket costs that you incur with Original Medicare, including copayments, coinsurance, and deductibles.
4. You can select any healthcare provider that accepts Medicare patients to receive medical care, assuming they accept your Medigap policy. All providers must accept all Medigap policies if they also accept original Medicare.
5. Medigap plans can offer additional coverage beyond Original Medicare, including foreign travel emergency care.
Different types of Medigap plans
There are ten Medigap plans, each offering varying amounts of coverage. The most popular of these are Plans F, G, and N.
National standardized plans provide the same benefits regardless of the insurance company or state.
Plan F: Medigap Plans F and G are similar, except that Plan F covers the Medicare Part B deductible and Plan G does not. Medicare insurance (A or B) purchased before January 1, 2020 entitles you to Plan F coverage.
Plan G: Plan G is an ideal Medigap insurance option for people new to Medicare. It covers the same services as Plan F except for Part B deductible, making it an affordable and comprehensive plan.
Plan N: Medigap Plan N provides greater benefits, but with a cheaper cost than Plans F and G. When visiting the hospital, there are no copayments; likewise, there is no extra payment or coinsurance for qualified nursing care or hospice care. Also, blood is provided at no additional charge.
Unlike Plan G, after you pay your deductible, there is a $20 copay when you see the doctor, and Plan N does not cover any excess doctor fees.
Open Enrollment Period
Medicare's annual election period runs from October 15 to December 7. This is the time when you can make changes to your Drug Plan or Medicare Advantage Plan.
The one-time open enrollment period for a Medigap policy begins on the first day of the month you turn 65 or older and have enrolled in Part B, which lasts six months.
After your Medigap open enrollment policy is passed, you may be unable to purchase a Medigap policy based on your health.
How to enroll in a Medigap plan?
Once enrolled in Parts A and B of Medicare, you can sign up for a Medigap policy up to 3 months before you turn 65. You can also sign up during specific other time periods, such as after your retirement date.
You are guaranteed to be accepted by a Medigap company during the Medigap Open Enrollment Period. If you apply outside this period, the company may require medical underwriting before acceptance, so you may not be able to enroll if you have health conditions.
Benefits of enrolling in a Medigap plan
Enrolling in a Medigap plan provides numerous benefits, including:
1. You may have peace of mind knowing your healthcare expenses will be handled.
2. You can see any healthcare provider in the USA who takes Medicare Part B.
3. Insured individuals are shielded from costly out-of-pocket expenses.
4. Medigap Plans can provide coverage for preexisting conditions.
If you live in Phoenix, AZ, and need help finding a licensed Medicare insurance agent, use the Medicare Certified Agent Directory website. You'll find the right agent to help you understand your plan and product selection there.
Select Arizona from the drop-down menu on the home page and click Search Now to get your online result.
Click "Find Professionals" and enter your state to find certified and licensed insurance agents. Check their information and reviews, then get to know the agent before requesting help. Unlike other websites, you control who calls you without obligation from several agents. We prioritize giving you control over who contacts you when using the "Find Professionals" button.
---