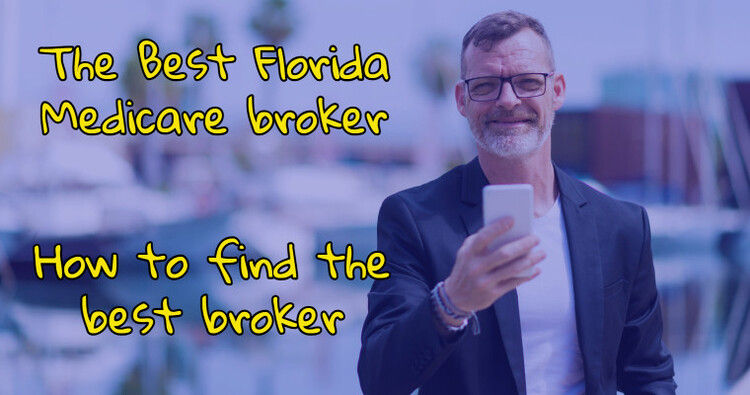 ---
The Best Florida Medicare broker | How to find the best broker
How can you find an Agent or Broker Near You?
Do you live in Florida and need help finding the best licensed Medicare agent so you can learn everything about Medicare? Shopping for Medicare insurance online has never been easier with The Certified Medicare Agent Directory. It is a non-government site that can help you find agents to help. Using the site is 100% free.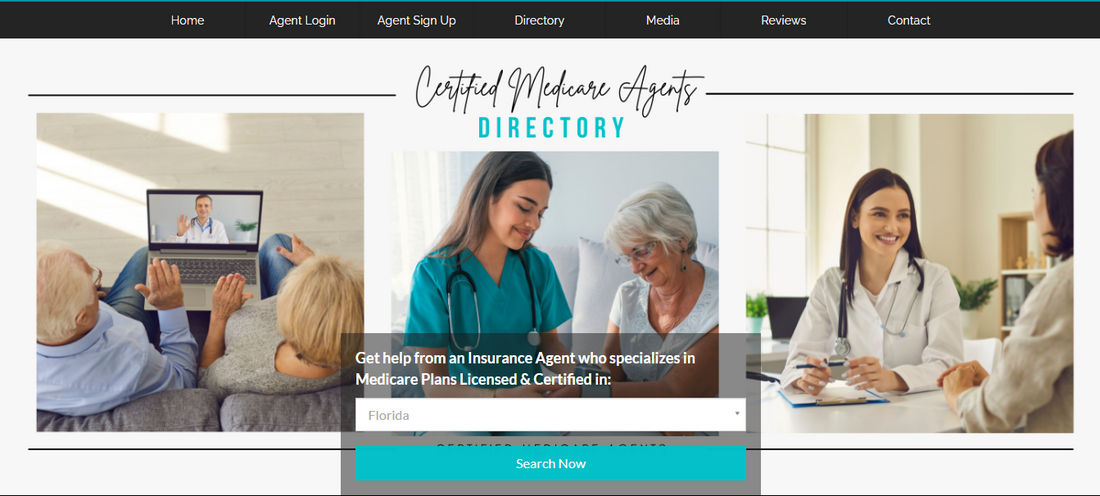 From the homepage, click on the dropdown and select the state of Florida. Click Search Now, and it will give you result in no time.
Why choose The Certified Medicare Agent Directory?

By clicking on "Find Professionals" and entering your state, you'll find licensed and certified agents in your state. But not only that, you'll get to read about their credentials and see their reviews. You'll get to know the agent a little before asking for help.
Unlike other sites that sell your information to insurance agents looking for "leads," you get to control who calls you. And you won't get contacted by multiple agents. You control who contacts you when you use the "find professionals" button.
If you use the "Free Quote" button, it works a little differently. If you use this button, we'll match you. But you'll still only get a call from ONE agent, not multiple agents.
Another helpful tool for finding a broker or agent is the Find Local Help of healthcare.gov.
These sites aim to help consumers to find the best and most professional brokers for health goals and health insurance needs.
According to Moneygeek.com, below are the cost of Medicare Supplement if Florida (Updated 7/1/2022)
Average Costs of Medicare Supplement in Florida
65 years old - $264 per month
75 years old - $321 per month
Source: Moneygeek
Most popular Medigap plans
Plan G - It has a monthly average of $295.50
Plan F - is only available to individuals who became eligible for Medicare before January 1, 2020. Plan F also has a monthly average of $357.89
Source: Moneygeek
Learning more about choosing a Medicare agent/broker
Two types of agents:
Independent Agent: They represent different insurance companies.
Captive Agent: These agents only work with a single or one insurance company
What is a broker?
A Medicare insurance broker is like an independent agent. Brokers sell insurance products from several insurance companies.
How does a licensed broker help you find the best choices for Medicare plans?
Medicare agents will help you narrow down your options if you apply for health insurance. They will ask you what your health goals are and provide options and solutions to help you achieve your goals within your budget. Agents also care to help with the enrollment of Medicare Advantage plans with enrollment tools that will make your registration easier.
Additionally, a good broker or agent will be there for you for the rest of your life! So if you need to make a change, they can help you make that change.
Finding the right Medicare Plan for you
The right Medicare Agent will help educate you about Medicare. The best Medicare agent will help you select the best plan for your needs.
Parts of Medicare:
Part A - includes hospitals (inpatients, formally admitted only), qualified nursing (only after a formal hospitalization for three days and not for custodial care), and hospice services.
Part B - includes outpatient services, including the benefits of some providers during inpatient treatment in a hospital, outpatient fees, most provider doctor visits, even if the office is "in a hospital," and most prescription drugs given by professionals.
Part C - is an alternative called Managed Medicare or Medicare Advantage that allows patients to choose health insurance plans with at least the same service coverage as Parts A and B (and usually more), often Part D benefits, and always a limit on annual out-of-pocket spending that A and B lack. You MUST enroll in Part A and B before signing up for Part C. Providers contract with a Medicare Advantage plan. It helps keep costs down so that most programs can provide additional benefits beyond what Original Medicare could offer. You'll want to check the list of providers to see if your doctors and other health care professionals are included in the network because providers frequently move in and out of the network. You need to check whether specialists, hospitals, home health agencies, and skilled nursing facilities are in the plan's network.
Prescription Drug Coverage:
Part D - mainly includes self-administered prescription drugs.


Medicare Supplement Insurance (Medigap) - A type of insurance where it helps pay the out-of-pocket health care cost you incur in the Original Medicare Plan.
Type of out-of-pocket costs you can expect to pay:
Premium
Deductible
Coinsurance
You also may have to pay a Late Enrollment Penalty if you didn't sign up in time. And if you are high income, you may have to pay IRMAA.
Learn more about IRMAA here: https://medicarequick.com/how-to-appeal-medicare-irmaa/
Now that you know the different plans of Medicare, it is time for you to know the step-by-step guide on choosing the right Health Care Plan for your health needs.
Compare Original Medicare and Medicare Advantage plans: Comparing the coverage and price of Medicare Advantage plans against Original Medicare helps you decide which is best for you.
The best drug coverage: Choosing Original Medicare will also give you an option to choose to join a Part D prescription drug plan. It would help if you compared the plans available in your area in terms of coverage and cost, and you also need to pay an extra premium for the plan. Most likely, the Medicare Advantage plan includes Part D prescription drug coverage. You can buy this separately if the program is not part of it.
Choosing the best type of Medicare Supplement: Medigap helps cover out-of-pocket expenses you may incur with Original Medicare Part A and Part B.
Best Supplement Plan in Florida:
Plan G: It covers Part A and B coinsurance, skilled nursing facility care coinsurance, and Part A hospice care. Plan G, however, doesn't cover the Part B deductible.
Benefits of Plan G in Florida:

Part A coinsurance and hospital cost up to 365 additional days after Medicare benefits expire.
Part B coinsurance or copayment
Blood (first 3 pints)
Part A hospice care co-insurance or copayment
Skilled nursing facility care coinsurance
Part A deductible
Part B excess charge
Foreign travel exchange (up to plan limits) - 80%


Aside from those mentioned above, insurance companies sometimes offer a gym membership or discounts included with the policy.
Why Work with an Agent or Broker?
The types mentioned above of Medicare Plan can be pretty confusing to understand. Here are the reasons why you should work with an agent or broker in finding Medicare plans:
Vast knowledge: There are numerous plans, plan combinations, benefits, rules, and exceptions that only Medicare agents can explain. They have the understanding to help you get the best value for your money. Medicare brokers have to pass several classes and exams each year.
They represent numerous insurance companies: They can present you with plan options from different carriers where you can choose the right fit for you. They offer a variety of plans with recommendations that are unbiased.
Medical Underwriting: When you buy a Medicare Supplement Insurance policy, Medicare brokers can help determine if you meet underwriting requirements. You won't waste time applying for plans that preclude you because of your health.
Brokers listen and understand your insurance coverage requirements.
They research the marketplace to find the right policy.
They can also assist you with preparing a claim.
What capabilities to consider in choosing a broker
License - Check the license status with your state's insurance department to ensure you're dealing with a licensed broker. The license card must also include their license number. You can visit this website to check your broker's license: https://content.naic.org/state-insurance-departments.
Experience - Pick a broker with solid expertise selling Medicare plans in your state. A knowledgeable and well-experienced Medicare broker can help you choose the best Medicare plan that suits your need.
Customer Service - Choose a representative or broker with excellent customer service. Ask family and friends for recommendations. When interviewing a representative or broker, ask about the types of plans they handle and the type of client they typically take.
How are brokers and agents paid for their service?
Brokers often receive basic commission payments from insurance companies for selling plans. There is usually no particular financial incentive for a broker to choose one insurance company over another.
Can You Change Insurance Agencies or Agents After Enrolling in Medicare?
Yes, you can change Insurance agencies, agents, and brokers. If enrolled in Medicare Advantage, you can change your plans during two enrollment periods. These are the Annual Open Enrollment (October 15 to December 7) and Medicare Advantage Open Enrollment Period (January 1 to March 31).
However, once your broker has enrolled you in a plan, you usually cannot change brokers for that plan. If you want a different broker, you generally must change insurance plans.
Choosing an insurance policy is as easy as possible. You have three options to do this. First, go directly to the company; second, meet with a representative; or third, work with an insurance broker. In most cases, people choose a health insurance broker.
Health insurance brokerage advantage:
Time savings - Brokers help ensure you do not waste your time.
Advice - Licensed professional insurance brokers can provide unbiased advice to help ensure you choose the best deal for your individual needs.
Range of options - Brokers generally know the options and can help you sort them out quicker than you can on your own.
Comparison of Policies - With a wide range of insurance policies on the market, choosing the best policy for your specific needs can be confusing. The broker's job is to help save you time by comparing plans and making a recommendation.
The value of a broker seems to lie in helping companies reduce plan registration, properly size contributions, and get some of the proper sanctions and wellness rewards.
Do you need a reliable broker now? Click this link, and we'll help you find a professional representative to make your insurance plan decision as easy as possible: https://www.certifiedmedicareagents.com/home.
---