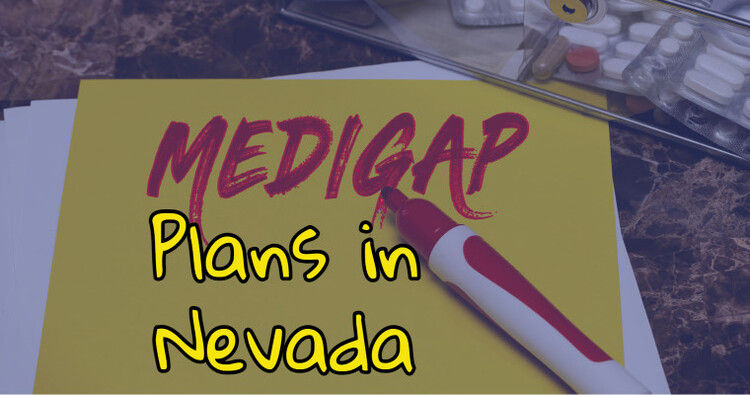 ---
Medigap Plans in Nevada
Get the Facts on Medigap Plans in Nevada: An Informative Guide for seniors.
Are you a senior in Nevada looking for more information about Medigap plans? Understanding how these plans work and what benefits they offer can help you make an informed decision about your healthcare coverage. This article will explore the various Medigap plans available in Nevada and help you determine the best option for your needs.
What are Medigap Plans?
If you're a senior living in Nevada, you may have heard of Medigap plans. Medigap plans are supplemental insurance policies that help cover some of the costs associated with Original Medicare (Part A and Part B).
Medigap plans are an essential part of the healthcare puzzle for many seniors, and it's important to understand the options available in Nevada.
Medicare supplement plans are standardized. It makes it easy to compare plans between private insurance providers. In addition, beneficiaries can receive the same benefits regardless of their carrier. Medicare supplement plans can cost more per month than a Medicare Advantage plan. However, they offer more flexibility with providers and do not require prior authorization.
Medigap plans don't cover prescription drugs. Therefore, you should consider enrolling in Medicare Part D, which covers prescription drugs. Let's say you don't enroll in Part D and don't have credible insurance coverage. If you don't, you could pay a fine later on, which is valid for the rest of your life.
Private insurance companies approved by Medicare sell Medigap plans. Some companies offer additional benefits in their programs, such as gym memberships. These other benefits are generally not guaranteed.
Eligibility:
First, you must enroll in Medicare Parts A and B to qualify for a Medicare supplement plan. You must also be a legal resident of the United States. You can sign up for a Medigap plan if:
You are 65 or older

Or you have been insured by Social Security for Disabilities (SSDI) for two years and have received disability benefits.

Or you have end-stage renal failure (ESRD) or Lou Gehrig's disease.
Why do I need Medicare Supplement Insurance Plans?
Let's say you don't have enough savings to cover all the expenses that Medicare doesn't cover, such as deductibles and copays. In that case, consider purchasing a Medigap plan. There is NO CAP on original Medicare expenses.
The most popular Medigap Plans:
Medigap Plan F: this is the most complete Medigap plan. It covers 100% of all Medicare-approved products. You won't have any copays or deductibles for all Medicare-approved medical services. You can get Plan F if you purchase Medicare insurance (A or B) before January 1, 2020.
Medigap Plan G: Medigap Plan G is best for new participants who qualify. It's a popular and comprehensive alternative to Plan F. It covers everything that Plan F covers, except the Part B deductible. In 2022, the Part B deductible was $233 and $226 in 2023.
Medigap Plan N: The costs of the Medigap N plan are generally lower than those of Plans F and G. With Plan N, you'll pay the Part B deductible. You'll also pay a $20 copay to see the doctor and a $50 copay for emergency room care. It does not cover "excess doctor fees," which have no cap.
Birthday Rules for Nevada Medicare Supplement Policies
In Nevada, individuals enrolled in a Medicare Supplement policy can change their plan or carrier once a year during an Open Enrollment Period of up to 60 days following their birthday. It allows you to switch plans or carriers without needing to answer health questions or undergo the underwriting process.
If you wish to switch before your birthday, you can change your plan anytime, but you must answer health questions. If you have pre-existing conditions, the Insurance Company may decline the application.
This rule provides the perfect opportunity to change from one Medigap Plan to another. It has been in effect since January 1, 2022.
Why should you consider buying a Medicare Supplement Plan (Medigap) in Nevada?
Medicare supplement insurance policyholders can see any provider in Nevada or any other state that accepts Medicare. Referrals are not required, as required by some Medicare Advantage plans.
Medicare supplements are guaranteed to be renewable. An insurance company can't cancel your policy if you pay your premiums on time, even if you have health problems.
Because this is a standardized plan, the options are less confusing. It makes it easier to determine which program is best for you.
How to Apply for a Medicare Supplement Plan in Nevada
Finding the best Medicare supplement plan in Nevada that fits your needs is imperative to get adequate coverage. Our member agents can help you determine which Medicare supplement plan meets your needs.
Use the Certified Medicare Agents Directory, and we'll help you find a professional representative to make your personal insurance decision as easy as possible.
Medicare Supplement Agents Near Me
Medicare is full of complicated terminology and complex enrollment deadlines, and many plans look similar but have different meanings. That's why it's essential to work with an agent who specializes in insurance. There are several reasons why you need a Medicare agent.
There is no additional charge to use an agent or broker. Your premium is the price you would have if you had purchased the policy directly from the carrier.

Agents can save you time by comparing different products or policies.

Brokers can help you purchase another policy with another carrier if your rates increase.

Agents and Brokers can help you with Medicare claims.

They can help you get a better price than you can find.

Medicare agents can explain numerous plans, plan combinations, benefits, rules, and exemptions. They are familiar with many insurance topics and know how they can help you get the best value for your money. Medicare brokers must pass several courses and exams each year.

If you take out Medicare supplement insurance, Medicare agents can help determine if you meet the underwriting requirements. You won't waste time applying for plans that exclude you based on your health status.

They research the market to find the best policy for you.

Brokers listen to and understand your insurance requirements.

Medicare agents can help you fill out the form when you sign up for the insurance plan.
Let's say you live in Nevada and need help finding the best approved Medicare insurance agent. You can use the Medicare Certified Agent Directory website. The website can provide you with an experienced local Medicare insurance agent who can help you understand your plans and the range of products available.
---