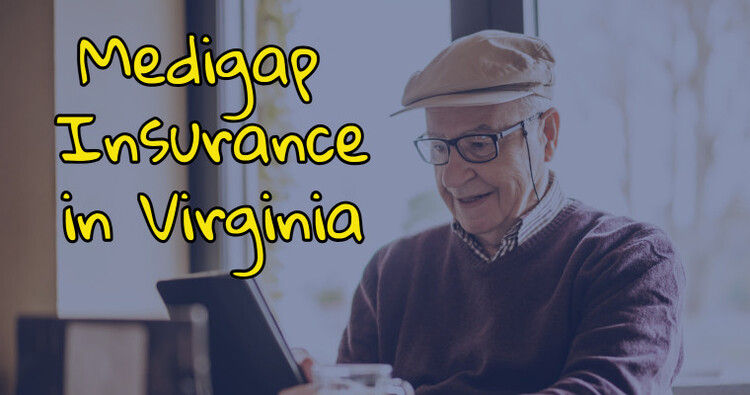 ---
Uncover the Benefits of Medigap Insurance in Virginia: A Guide for Seniors
Medigap Insurance in Virginia
Are you a senior living in Virginia looking for an affordable way to supplement your existing Medicare coverage? Medigap insurance in Virginia could be the perfect solution for you!
What is Medigap Insurance in Virginia?
Medigap insurance is a type of supplemental health insurance designed to help cover the gaps in Medicare coverage. It is also called Medicare Supplement Insurance. Private insurance companies offer it and help pay certain healthcare expenses that Medicare does not cover. These expenses can include co-payments, deductibles, and coinsurance.
There are ten standardized Medigap plans available in Virginia, and they are labeled A through N. All of these plans offer different levels of coverage, so it's essential to understand the differences between them.
When shopping for Medigap insurance in Virginia, it's important to compare the costs and benefits offered by each company. Insurance companies can provide a variety of plans -- such as Plan A, Plan B, Plan C, Plan F, Plan G, Plan K, Plan L, Plan M, and Plan N -- so you'll want to make sure you're getting the coverage you need at the best rate. Remember that the more coverage you buy, the more you'll pay in premiums.
How do Medigap plans work?
You must have original Medicare Parts A and B to enroll in a Medigap plan.
The Medigap policy helps pay for out-of-pocket expenses that original Medicare doesn't cover, such as copays, coinsurance, and deductibles.
You pay a monthly premium for your Medigap policy to the insurance company and the Part B premium to Social Security.
You can see any doctor or other healthcare provider who accepts Medicare patients, regardless of whether they officially accept your Medigap policy. (They must accept all Medigap policies if they accept the original Medicare .)
Some Medigap plans offer additional coverage for certain benefits that Original Medicare doesn't cover, such as emergency care when traveling abroad.
Things to consider when comparing Medicare Supplemental Insurance (Medigap):
All plans include vital benefits, such as Medicare Part A and B coinsurance, hospice care, and the first three pints of blood for transfusions.
Plans K and L have higher coinsurance amounts than the other plans, but they have an out-of-pocket limit.
Plan N pays some copays and deductibles. Even so, you may have to pay a copay of up to $20 for office visits and up to $50 for emergency room visits, plus any additional doctor charges.
Different types of Medigap plans in Virginia
Medigap Plan F: It's the most comprehensive Medigap plan. It covers 100% of everything approved by Medicare. You don't have any copays or deductibles for all Medicare-approved medical services. You can get Plan F if you buy Medicare insurance (A or B) before January 1, 2020.
Medigap Plan G: Medigap Plan G is best for eligible new participants. It's a popular and comprehensive alternative to Plan F. It covers everything that Plan F covers, except the Part B deductible. In 2022, the Part B deductible was $233 and $226 in 2023.
Medigap Plan N: The costs of the Medigap N plan are generally lower than those of the F and G plans.
You pay the Part B deductible (currently $233 in 2022 and $226 in 2023).
You pay a $20 copay to see a doctor.
If you need emergency care and don't get hospitalized immediately, you'll have to pay $50.
You pay additional medical expenses to doctors who don't accept Medicare assignments. These charges are known as "excessive doctor fees," and the doctor may charge 15% of the approved fee.
The following cost comparison chart outlines the Medicare supplement plans available to Medicare beneficiaries: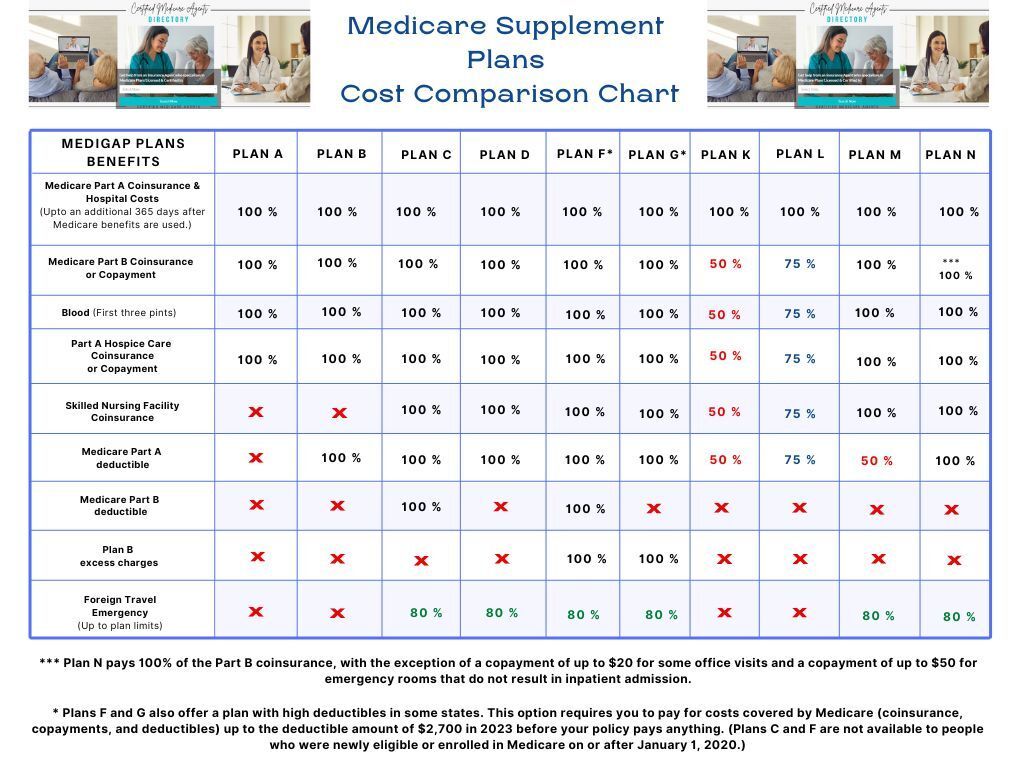 Why is a Medigap plan essential?
Medigap plans are essential to the health insurance landscape in Virginia and the United States. These plans help fill the gaps left by traditional Medicare insurance and provide significant protection for older people if they unexpectedly need medical care.
One of the best things about Medigap insurance in Virginia is that it's guaranteed renewable. Your insurance company can't drop you due to age or health changes as long as you pay your premiums on time. Also, Medigap plans are portable, so you can keep the same coverage even if you move out of state.
You can use the resources on this website to learn more about Medigap plans and how they work.
What are the Benefits of enrolling in a Medigap plan?
Access to a wide range of healthcare providers
Pre-existing conditions coverage (if you are accepted)
Protection from high out-of-pocket costs
How do you enroll in a Medigap plan?
You can enroll in a Medigap policy up to three months before your 65th birthday, your retirement date (if you retire before age 65), or during the Medigap open enrollment period, which is up to 6 months after you enroll in Part B.
During the Medigap open enrollment period, a Medigap company must accept you, even if you have health problems. The company isn't required to take you if you register outside of this period. In other words, you might not get the coverage if you have pre-existing medical conditions.
Once you sign up for a Medigap plan (Medicare supplement), the annual renewal is guaranteed as long as you pay your premium.
Exploring Medicare options in Virginia can be pretty tricky. The prices of Medicare supplements vary widely between different carriers and generally depend on age, location, gender, and health status. You don't have to figure this out alone. Our members are committed to finding affordable insurance rates and benefits that meet all your needs.
The Medicare Certified Agent Directory website has your experienced local Medicare insurance agent who can help you understand your plans and the range of products available.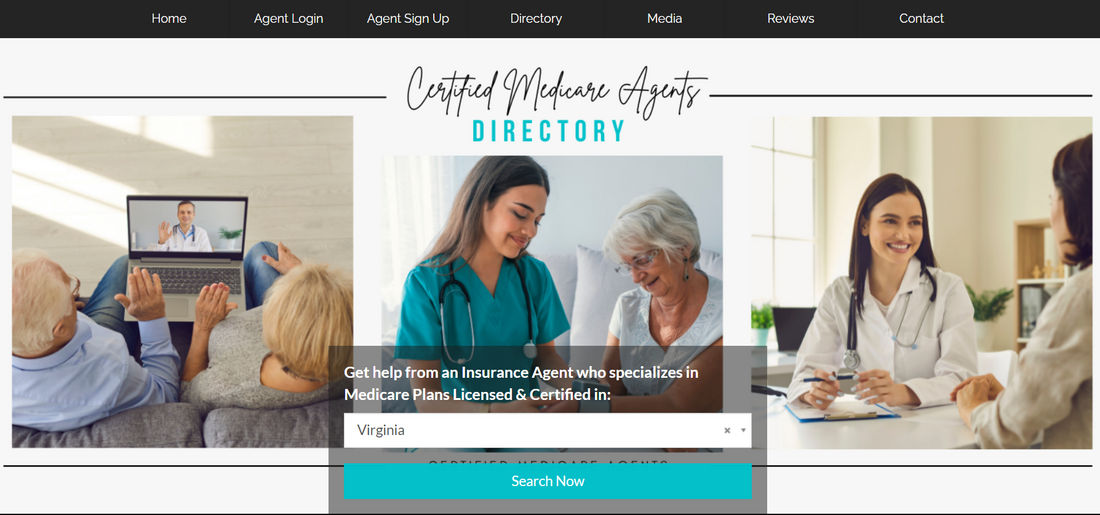 Image Caption
---