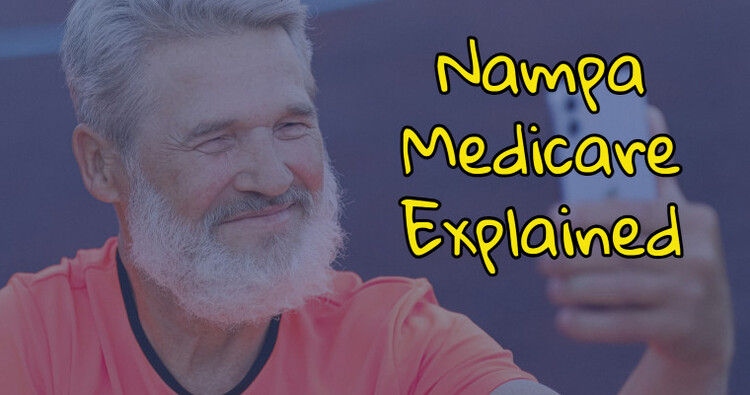 ---
Nampa Medicare Explained

Nampa offers a high quality of life with its low cost of living. Nampa's housing is more affordable than other cities in the region, making it an attractive option for families and individuals looking to settle down.
Additionally, Nampa boasts numerous recreational opportunities. The city is home to several parks, trails, and outdoor spaces where residents can enjoy activities such as hiking, biking, and picnicking. With its proximity to the Boise River and nearby mountains, outdoor enthusiasts will find plenty of options for adventure within a short drive from Nampa.
How Medicare Part A Works in Nampa
Medicare Part A is a government program that provides hospital insurance for eligible individuals in Nampa, ID. It covers inpatient care in hospitals, skilled nursing facilities, and some home health care services. To qualify for Medicare Part A, one must be 65 or older and have paid Medicare taxes for at least 10 years while working.
Once enrolled in Medicare Part A, individuals are not required to pay premiums if they or their spouse have paid into Social Security for 40 quarters. However, deductibles and coinsurance costs are associated with specific services under Part A. For instance, a deductible must be paid for each benefit period before Medicare covers the cost of hospital stays.
In Nampa, ID, beneficiaries can receive coverage under Medicare Part A regardless of their income level or assets. This program helps ensure seniors can access necessary medical care without facing overwhelming financial burdens.
If you need to use your Part A benefits, you'll need to find a hospital or SNF nearby.
Nampa, ID is a growing city with many healthcare options for its residents. The city is home to several reputable hospitals that provide high-quality medical care. One such hospital is Saint Alphonsus Medical Center Nampa, which offers a wide range of services, including emergency care, surgical procedures, and specialized treatment in areas such as cardiology and oncology. With state-of-the-art facilities and a team of skilled healthcare professionals, this hospital ensures patients receive the best care.
Another notable hospital in Nampa is West Valley Medical Center in Caldwell. This facility provides comprehensive medical services, including emergency care, maternity services, orthopedics, and rehabilitation programs. It also has advanced diagnostic imaging capabilities and a dedicated cardiovascular center to cater to the unique needs of its patients. With a focus on patient-centered care and cutting-edge technology, West Valley Medical Center strives to deliver excellent healthcare outcomes for the community of Nampa.
For SNF, there are several options. According to Medicare.gov, as of 7/15/23, the following SNFs are rated four out of five stars:
If you've had a qualifying hospital stay, Medicare covers 100% of SNF for the first 20 days. For days 21-100, you're responsible for a copay. In 2023 the daily copay was $200.
Part B in Nampa, ID
Unlike Part A, Part B requires you to pay a premium. In 2023 the premium was $164.90 per month.
The Part B deductible is the amount individuals must pay out-of-pocket before Medicare starts covering their medical services. For 20231, the Part B deductible was $226.
Once the deductible is met, beneficiaries are responsible for paying a percentage of the Medicare-approved amount for covered services through copays or coinsurance. In Nampa, most people with Part B coverage have a copayment of 20% of the Medicare-approved amount for doctor visits, outpatient therapy sessions, and other medical services. This means that individuals will be responsible for paying 20% of each visit or service they receive after meeting their deductible.
If you need to use your Part B benefits, start with finding a doctor or other medical professional.
One such group is Primary Health, which comprises specialists, including family physicians, pediatricians, internists, and gynecologists. They provide comprehensive care for patients of all ages and are committed to delivering personalized treatment plans.
Another notable doctors' group in Nampa is the Saint Alphonsus Medical Group (SAMG). SAMG operates multiple clinics across specialties, including cardiology, dermatology, orthopedics, and neurology. An extensive network of physicians and specialists ensures that patients have access to quality healthcare close to home. Their focus on patient-centered care ensures individuals receive individualized attention tailored to their needs.
These doctors' groups play a crucial role in ensuring that residents of Nampa have access to high-quality healthcare services without having to travel far distances. With their diverse range of medical experts and specialties available within these groups, individuals can find comprehensive care for various health conditions conveniently located near them.
Nampa Part D
Part D is the part of Medicare that covers medications. It is run by private insurance companies. You can get it through standalone drug plans or via Medicare Advantage plans. Typically there is a monthly premium, a deductible, and copays or coinsurance amount for your medications.
The Part D donut hole is a Medicare Part D prescription drug plan coverage gap. It refers to a period of time when beneficiaries have to pay more for their medications before reaching catastrophic coverage. In 2023, the initial coverage limit was set at $4,660. Once a beneficiary reached this limit, they entered the donut hole and were responsible for paying a higher percentage of the cost of their drugs.
During the donut hole phase, beneficiaries receive a discount on both brand-name and generic drugs. The discounts are provided by pharmaceutical manufacturers for brand-name drugs and by Medicare for generic medications. Beneficiaries only pay 25% of the drug's cost for brand-name drugs while in the donut hole. For generic drugs, they pay 25% of the drug's cost plus any dispensing fees.
The donut hole ended when a beneficiary's out-of-pocket spending reached $7,400 in 2023. After that point, catastrophic coverage began, and beneficiaries only had to pay a small copayment or coinsurance amount for covered medications for the rest of the year. Medicare Part D enrollees need to understand how the donut hole works so they can plan their medication expenses accordingly and explore options such as applying for Extra Help or considering alternative medications during this coverage gap period.
How Medicare Advantage plans work in Nampa
Medicare Advantage plans, or Medicare Part C, are health insurance options provided by private companies approved by Medicare. These plans combine the benefits of Original Medicare (Part A and Part B), often including prescription drug coverage (Part D) and other benefits such as vision and dental. Choosing a Medicare Advantage plan means receiving your healthcare services through a private insurer rather than directly from the government.
Medicare Advantage plans offer various coverage options, such as Health Maintenance Organization (HMO) or Preferred Provider Organization (PPO) plans. HMOs usually require members to choose primary care doctors and get referrals for specialists, while PPOs offer more flexibility in choosing providers but at higher costs. These plans must provide at least the same level of coverage as Original Medicare, but they may also offer additional benefits like dental, vision, or hearing services.
To enroll in a Medicare Advantage plan, you must already be enrolled in Medicare Part A and B. You can join a program during specific enrollment periods throughout the year or during your Initial Enrollment Period when you first become eligible for Medicare. It's important to understand that each plan may have different costs and rules regarding deductibles, copayments, and out-of-pocket maximums. Additionally, not all providers accept every type of Medicare Advantage plan; therefore, checking if your preferred healthcare providers are within the network before enrolling in a particular program is crucial. Our member Medicare Agents can help.
Medigap in Nampa
Regarding Medicare Supplement Plans (Medigap) in Nampa, ID, several options are available, ranging from Plan A to Plan N. Each plan provides different levels of coverage and benefits to fill the gaps left by Original Medicare. The best Medigap plan for individuals will depend on their specific healthcare needs and budget.
Plan F is often considered one of the most comprehensive Medigap plans available. It covers all approved expenses not covered by Original Medicare and has no out-of-pocket costs, making it a popular choice among those seeking extensive coverage. However, this plan is no longer available to new enrollees starting January 1, 2020.
Another option worth considering is Plan G. This plan offers similar benefits to Plan F but requires beneficiaries to pay the annual Part B deductible out of pocket. Despite this small cost-sharing requirement, many find that the lower premiums associated with Plan G make it a more affordable alternative while still providing robust coverage. The Part B deductible was only $226 in 2023.
Ultimately, the best Medigap plan for an individual in Nampa will depend on their specific healthcare needs and financial situation. It's essential to carefully evaluate each plan's benefits and compare them against personal requirements before deciding. Consulting with a licensed insurance agent specializing in Medicare supplement plans can also provide valuable guidance in selecting the most suitable option.
Working with a Medicare Agent in Nampa, ID
Finding the right Medicare plan can be complex and confusing, especially for those living in Nampa, ID. That's where working with a Medicare agent can benefit residents in this area. A Medicare agent specializes in helping individuals navigate the various options available, ensuring they choose the plan that best fits their healthcare needs and budget.
One of the main advantages of working with a Medicare agent in Nampa is the personalized guidance they provide. They take the time to understand each individual's unique situation and preferences before presenting them with suitable plans. Whether someone is looking for coverage that includes prescription drugs or wants to explore different types of Medicare Advantage plans, an agent can help narrow down the choices and explain all available options.
Additionally, a local Medicare agent has an in-depth understanding of Nampa's healthcare landscape. They are familiar with local doctors, hospitals, and other healthcare providers who accept Medicare insurance. This knowledge allows them to recommend plans that align with their clients' preferred providers while ensuring they receive quality care within their community.
In conclusion, collaborating with a knowledgeable and experienced Medicare agent in Nampa offers numerous benefits for individuals seeking reliable healthcare coverage. From personalized guidance tailored to individual needs to expertise on local healthcare providers accepting Medicare insurance plans, using a professional can simplify the process of securing suitable coverage while ensuring peace of mind when it comes to one's health. Contact one of our member Medicare insurance agents today!
---