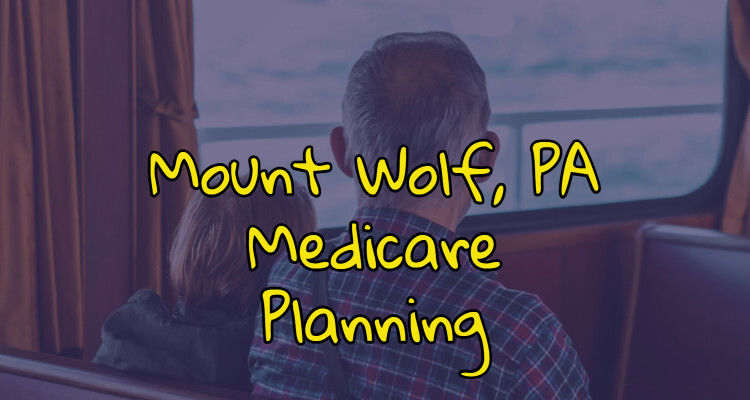 ---
Mount Wolf, PA Medicare Planning
Mount Wolf, PA is an incredibly charming town in York County and a great place to live. Although small, it's full of charm and has a wonderful community feel.
1. The small-town vibes: Mount Wolf is a quaint community that offers a peaceful, slower pace of life. The community offers plenty of activities for people of all ages, from shopping and dining to outdoor recreation. The streets are lined with charming homes and friendly neighbors, making it a great place to build lasting relationships.
2. Outdoor recreation: Mount Wolf is surrounded by lush greenery, providing residents plenty of outdoor recreation opportunities. From hiking and biking trails to parks and lakes, there are lots of ways to enjoy nature in the area. Plus, there are several golf courses and fishing spots close by.
3. Growing culture: Mount Wolf is a growing community with plenty of fun activities to enjoy. There are several art galleries, museums, and theaters in the area, as well as a variety of restaurants and pubs. Plenty of annual festivals are nearby, including the maple syrup festival.
4. Affordable living: Mount Wolf is a great place for those seeking an affordable lifestyle. The cost of living is relatively low, with plenty of homes available at reasonable prices. Plus, the town offers a good school system and many job opportunities for those looking for work.
5. Easy access to amenities: Despite its small size, Mount Wolf is conveniently located close to larger cities like Harrisburg and Lancaster, making it easy to access all the amenities and attractions these cities have to offer.
Overall, Mount Wolf is ideal for those looking for a quiet and affordable place to call home.
Using Medicare Part A in Mount Wolf, PA
Most seniors residing in Mount Wolf are eligible for Original Medicare (Part A & B).
Part A covers hospitalization after a deductible of $1600 in 2023.
And Medicare Part A also covers Skilled Nursing Facilities after a qualified hospital stay. Medicare covers the first 20 days, and you'll have a copay for days 21-100. In 2023, the copay was $200 per day. Medicare doesn't pay for stays over 100 days.
Residents living in Mount Wolf have access to several hospitals, such as UPMC Pinnacle Memorial Hospital—a level III trauma center located 27 minutes away in York—and Penn State Cancer Institute, about 37 minutes away.
If you need a Skilled Nursing Facility, two five-start facilities are nearby. The first is Misericordia Nursing and Rehab Center, and the second is Masonic Village at Elizabethtown.
Part B in Mount Wolf
Also known as medical insurance, Part B covers doctor visits—including preventive care services like annual wellness exams—as well as outpatient procedures and equipment costs. Unlike Part A, Part B isn't free. You'll pay a monthly premium of $164.90 for most people in 2023. It may be lower or higher depending on your income.
You also have an annual deductible (which was $226 in 2023). After you meet your deductible, you'll have a coinsurance of 20% for most services. However, preventive care is fully covered by Part B with no copay.
If you are using your Part B, that likely means that you need a doctor or other provider. There are several doctors' groups near Mount Wolf, PA where you can get your primary care and specialist visits. These include UPMC Pinnacle, WellSpan Health, and Penn State Health.
Mount Wolf, PA Part D
Part D is Medicare's prescription drug coverage. It helps cover the cost of most medications you get from a pharmacy. Each Part D plan has a list of covered drugs called the formulary. The monthly premium for Part D can vary depending on your chosen plan, but the average premium in 2023 was around $35.
You also have an annual deductible (which was a maximum of $505 in 2023). After that, you'll pay a copay or coinsurance for each prescription. Your copay usually ranges from $0-$10 for generic drugs and more for brand-name drugs. You could also pay a coinsurance amount, which is a percentage of the cost of the drug. Coinsurance happens typically on more expensive medications.
Once you reach a certain amount of drug spending, you'll enter the coverage gap, or "donut hole." In this phase, you will pay a coinsurance amount of 25%. In 2023, you reached the donut hole after you and the insurance company spent $4660.
The donut hole ends when your total out-of-pocket drug costs reach a certain amount (which was $7,400 in 2023). Afterward, you will enter the catastrophic coverage phase, where your copays are much lower.
If you need help finding a Part D plan, you can talk to a licensed insurance agent or broker who can help you find the best plan for your needs.
Medicare Advantage Plans in Mount Wolf, PA
Private insurance companies run Medicare Advantage Plans (MA), and they replace how you use original Medicare. Once you have a Medicare Advantage Plan, you still have (and pay for) Medicare Parts A and B, but you cannot use your benefits outside your Plan.
MA Plans usually provide extra coverage, like vision and dental, in addition to Part A and B benefits. You can also find Medicare Advantage Plans with prescription drug coverage or buy a standalone Part D plan if you do NOT have Medicare Advantage.
Most Medicare Advantage Plans have an annual limit on out-of-pocket costs, called a MOOP. Original Medicare doesn't have a limit on your spending.
With Medicare Advantage, you may still have to pay a copay or coinsurance for certain services. For example, if you visit the doctor, you may have to pay a copay. Medicare Advantage HMO Plans also usually require that you use certain doctors and hospitals within their network. You can go out of network if you have a PPO Medicare Advantage Plan. However, If you use a doctor or hospital not in your plan's PPO network, you may have to pay more out-of-pocket.
Medicare Advantage Plans have a Maximum Out of Pocket, or MOOP, which protects you. If you get very sick, the maximum that you'll have to spend in one calendar year (not including medications or plan premiums) is the MOOP amount.
One major disadvantage of MA plans is that they often require pre-authorization for services when original Medicare wouldn't. Pre-authorization is when the provider must get permission to provide services to you before the insurance company will agree to pay for it.
Mount Wolf, PA Medicare Supplement Insurance
Medicare Supplement Plans are also known as Medigap plans. Private insurance companies sell these plans that help pay out-of-pocket costs that come with Original Medicare. These out-of-pocket costs include deductibles, copays, and coinsurance amounts.
The federal government standardizes Medigap plans, labeled with a letter from A - N. The best plan for you will depend on your individual needs and budget. Most people choose Plan G in 2023 because it is the most comprehensive plan that new enrollees can qualify for. A licensed insurance agent or broker can help you compare programs and find the right one for you.
Working with a Medicare Agent in Mount Wolf, PA
Working with a local Medicare agent is a great way to go if you're looking for help in choosing a Medicare plan in Mount Wolf, PA. A licensed Medicare agent can provide personalized advice and answer any questions you may have about coverage, costs, and different plan options. You can also use their expertise to help you compare different plans and find the best one for your needs. Agents can also help you with enrollment and will be available to assist throughout the year.
---