---
Medicare Supplemental Insurance in Utah
If you're almost 65 years old, your choices may help you in the future. However, choosing the right supplemental insurance for your needs can be confusing and overwhelming.
Utah has several Medicare supplement plan options. Medigap plans are health insurance plans that help cover some of the costs that the original Medicare doesn't cover.
Let's say you have original Medicare and a Medigap policy. In this case, Medicare pays its share of the covered healthcare costs, and your Medigap policy pays its share. Private insurance companies offer standardized Medigap plans. This means that all programs of the same type provide the same vital benefits.
You can choose any standardized plan in Utah if the insurance company offers it.
Are Medigap plans essential?
Medigap plans are essential to the health insurance landscape in Utah and the United States. These plans help fill the gaps left by traditional Medicare insurance and provide senior people with significant protection in the event of an unexpected need for medical care.
There are several Medigap plans available, each with its unique benefits. Buying a Medigap plan can be confusing, but comparing programs and finding the one best fits your needs is essential.
You can use the resources on this website to learn more about Medigap plans and how they work.
Different types of Medigap plans:
There are ten types of Medigap plans, each with different coverage. Plan A is the simplest and covers the least amount of services, while Plan G covers the most. The different types of plans are:
-Plan A
-Plan B
-Plan C
-Plan D
-Plan F
-Plan G
-Plan K
-Plan L
-Plan M
-Plan N
How Medigap plans work:
You must have Original Medicare Part A and B to enroll in a Medigap plan.
Medigap policy helps pay for out-of-pocket expenses that original Medicare doesn't cover, such as copays, coinsurance, and deductibles.
You pay a monthly premium for your Medigap policy.
Additionally, you'll pay the Part B premium to Social Security. If you are receiving Social Security, it will be deducted from your check. You'll have to pay directly if you are not yet signed up for Social Security.
You can visit any doctor or other healthcare provider that accepts Medicare patients, regardless of whether they officially accept your Medigap policy. (They must take all Medigap policies if they accept the original Medicare product.)
Some Medigap plans offer additional coverage for certain benefits that Original Medicare doesn't cover, such as foreign emergency care when traveling abroad.
Things to consider as you compare Medicare Supplement Insurance (Medigap):
All plans cover significant benefits, such as Medicare Part A and B coinsurance, hospice care, and the first three pints of blood for transfusions.
Plans K and L have higher coinsurance amounts than the other plans, but they have an out-of-pocket limit.
Plan N pays some copays and deductibles. Even so, you may have to pay a copay of up to $20 for office visits and up to $50 for emergency room visits, plus any excess doctor fees.
Plan G covers Medicare Part B excess charges. In addition, all of your Medicare-approved expenses are paid after the deductible. In 2023, this deductible is $226. Plan G is currently the most popular plan for Medicare newbies.
The following table outlines the Medicare supplement plans available to Medicare beneficiaries: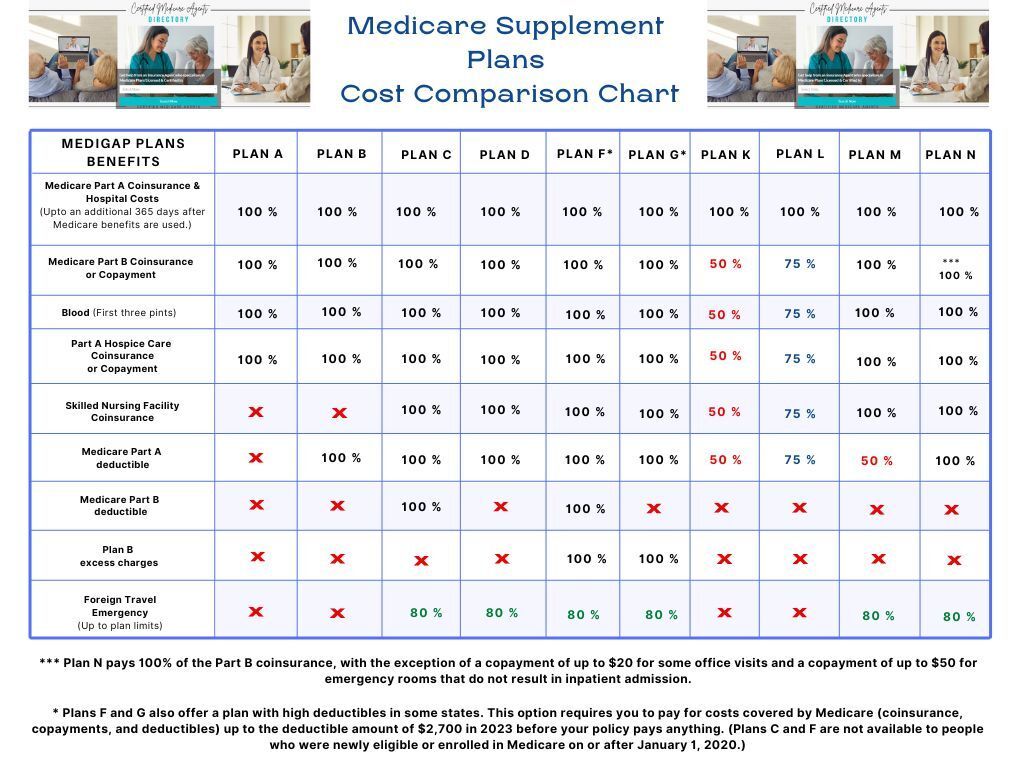 Benefits of enrolling in a Medigap plan
Protection from high out-of-pocket costs
Access to a wide range of healthcare providers
If the insurance company accepts you into the plan, you'll be covered for preexisting conditions.
What don't Medigap Plans cover?
When Medicare approves a request and pays the portion due by Medicare, it transfers the rest of the bill to your Medicare supplement. Medigap plans only pay after Medicare pays its share. If Medicare doesn't cover your service, your Medigap plan doesn't cover it either.
For example, Medicare doesn't pay for the following:
Hearing aids
Eyeglasses and contacts
Routine dental, vision, and hearing exams
Retail prescription drugs
Long-term care or custodial care
How to enroll in a Medigap plan?
You can enroll in a Medigap policy up to three months before your 65th birthday, your retirement date, or during the Medigap open enrollment period, which is up to 6 months after you enroll in Part B.
During the Medigap open enrollment period, a Medigap company is required to accept you, even if you have health problems. If you register outside of this period, the company may require you to pass medical underwriting before accepting you. (And they don't have to take you).
Once you sign up for a Medigap plan (Medicare supplement), it's guaranteed to be renewable yearly as long as you pay your premium.
It can be challenging to explore Medicare options in Utah. Still, it can be easier if you call an agent today!
The prices of Medicare supplements vary widely between different carriers and generally depend on age, location, gender, and health status. You don't have to solve this alone. Our members are committed to finding affordable rates and coverage that meet all your needs.
Visit Medicare Certified Agent Directory website, and you'll find an experienced local Medicare insurance agent who can help you understand your plans and the range of products available.
---