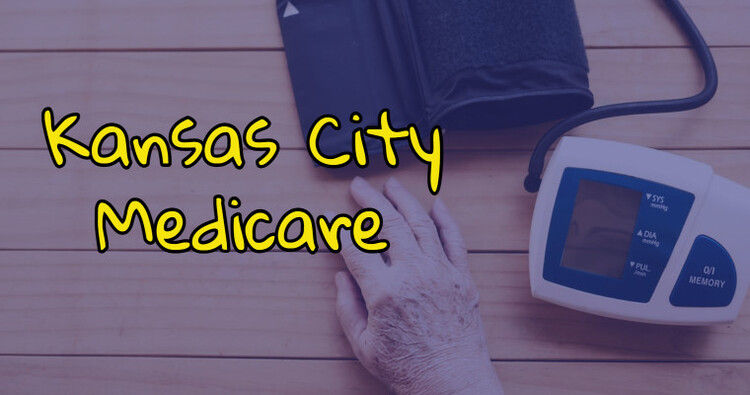 ---
Medicare Eligibility in Kansas City
Do you want to know how to get Medicare eligibility in Kansas and what type of insurance coverage you can get? Certifiedmedicareagents.com helps you make this somewhat complex program easier to understand.
Applying for Medicare in Kansas City
You can apply for Kansas Medicare by contacting the Social Security Administration in person, by phone, or online. Your first Medicare registration period starts three months before your 65th birthday, covers the month you turn 65, and lasts three months after your birthday. You can still enroll during the General Enrollment Period (GEP) if you miss your first enrollment period. The GEP runs from January 1 to March 31, but your coverage won't begin until July 1.
Who is Eligible for Medicare in Kansas City?
To be eligible for Medicare, you must be a legal resident of the US. You must live in the United States for at least five years, and you must also meet one of the following:
You are 65 or older
Or you have been on Social Security Disability Insurance (SSDI) for two years.
Or you have an end-stage renal disease (ESRD) or Lou Gehrig's disease.
There are four parts of Medicare:
Part A is for hospitalization (inpatients, formally admitted only), qualified nursing (after a formal hospitalization for three days), and hospice services.
Part B includes outpatient services. Including some providers' services during inpatient treatment in a hospital, outpatient fees, and doctor visits even if the office is "in a hospital," and professionals give most prescription drugs.
Parts A and B are called Original Medicare. You'll be automatically enrolled if you are already receiving Social Security benefits. Your coverage starts on the first day of the month you turn 65. Except if your birthday is on the first of the month. In this case, your coverage starts the first of the month before your birthday.
Part C is also called Medicare Advantage. Private health insurance companies combine the benefits of Medicare Parts A and B (and D) into one program. These plans may include medications, vision, hearing, or dental coverage.
Part D - Offered by private companies to cover self-administered prescription drugs.
Medicare parts A and B don't cover everything and might expose you financially if you don't have either Medicare Advantage or Medicare Supplement insurance. Medicare Advantage Plans can cover benefits that Original Medicare does not cover.
Let's talk about MEDICARE ADVANTAGE PLANS, an alternative way to receive your Medicare coverage.
Many Medicare beneficiaries choose Medicare Advantage plans because they offer all coverage in one policy, making it less confusing to keep an eye on. Although these plans must follow the rules and regulations established by Medicare, the cost of an MA plan varies by location and carrier.
That said, many of these plans don't have monthly premiums. Instead, the Medicare program pays insurance companies directly. Because the insurance company already receives payment when you sign up for their plan, they can offer plans without a premium. You will still be responsible for your Part B award if the MA plan you choose doesn't cover you. They are also accountable for deductibles, copayments, and coinsurance dictated by the plan.
Registration only occurs during certain times of the year. Still, you cannot be denied coverage due to a pre-existing medical condition. In particular, you can join a Medicare Advantage plan with or without drug coverage or switch to a Medicare Advantage plan in the following three windows:
Initial Medicare enrollment: Starts three months before age 65 and ends three months after age 65.
Open Enrollment Period: From October 15 to December 7.
Medicare Advantage Open Enrollment Period: January 1 - March 31
Common Types of Medicare Advantage plans:
Health Maintenance Organization plans are commonly known as HMOs. They may offer lower costs and provide quality care. The plan registers a network of providers who have agreed to accept a negotiated payment for all their services. HMOs can be an excellent option for healthy persons who usually only need annual medical check-ups.

Pros - Because providers in an HMO network have agreed to accept a negotiated rate for services, premiums, copays, and deductibles for members can be lower than other types of insurance plans.
Cons - There aren't as many HMO providers as PPOs or private paying providers. Members with an HMO Medicare Advantage plan should visit a provider that is part of the HMO network. Why? Because if you don't stay in-network, you must pay all out-of-pocket charges for all services provided, except in emergency cases.

Preferred Provider Organization (PPO): These managed care plans create a network of providers for their members to choose from. Choosing a provider in a PPO network usually results in reduced costs.

Pros - Unlike HMOs, these plans offer more flexibility by allowing members to see providers in and out of the network. However, choosing an out-of-network provider usually means higher out-of-pocket costs for you.
Cons - Costs can be higher than those for HMO plans.

Private Fee-for-Service (PFFS): These Medicare Advantage plans determine how much providers who contract with private insurance companies that also have a contract with Medicare must pay. These plans also choose how much the member pays for services, varying by a provider and individual plan.

Pros - You can see any Medicare-approved provider who accepts the plan's payment terms. Specialist referrals are not required, as the plan does not need the member to have a primary care physician.
Cons - Members can pay more if they choose a provider that doesn't accept the plan's payment terms. Providers can choose to stop taking the terms of the program, which means you must ask each time you see that provider whether they accept your plan.

Special Needs Plans (SNPs) - It is s a type of Medicare Advantage plan for people with additional needs. These plans also include Medicare Part D prescription drug coverage. SNPs offer additional services based on income or your unique health care needs, like cancer, dementia, and autoimmune diseases, among many others. SNPs may include an allowance for additional days at the hospital, a care management specialist, or other social services.

Pros - These plans include a unique drug formulary based on the condition and allow members to access the medications they need. Members can join at any time if they qualify.
Cons - You might not have a plan in your area. You'll need to stay in-network, so you might not get the specialist you want.

Medical Savings Account (MSA) - These accounts are limited to high-deductible health insurance accounts. Qualified individuals can deposit pre-tax dollars into a savings account to cover eligible healthcare costs. A Medicare medical savings account (MSA) is similar to an HSA. Still, it's only available to people with a Medicare Advantage plan with a high deductible. The plan deposits money into the member's savings account with an MSA. These funds help cover health care expenses before covering the plan's deductible.

Pros - The MSA can fund services that Medicare does not cover. Some Medicare MSAs offer dental, vision, and hearing benefits.
Cons - Medical Savings Accounts don't cover prescription drugs. As stated in the terms, MSAs require the member to have a plan with high deductibles, which can cause financial hardship. And you might not be able to get one in your area.
Reasons to Choose a Medicare Advantage Plan:
Maximum Out-of-Pocket Limits - If you have a severe illness, you have a limit on how much you have to pay for insurance benefits. It's one of the best reasons to opt for a Medicare Advantage plan instead of Original Medicare Parts A and B with nothing else.
Dental Benefits - Many Medicare Advantage plans include dental benefits as a value-added service or an additional benefit charge. Original Medicare does not provide dental services.
Vision Benefits - Many Medicare Advantage plans include vision benefits. Benefits may consist of glasses, contact lenses, and an eye exam.
Hearing Benefits - Original Medicare plans and Medicare supplement plans don't offer hearing benefits. Suppose you need a hearing aid and have an Original Medicare or Medigap plan. In that case, you won't get any additional help from your plan. However, many MAPD plans include a hearing benefit part of the plan.
Skilled Nursing Stays - You must stay in a hospital for three nights in an inpatient setting before Medicare (or a Medicare supplement plan) pays for it. But many MA plans cover Skilled Nursing stays without the three-day hospital stay requirement!
Coordination with Medicaid - When you use Medicaid, you can get a special needs plan that coordinates your benefits between the two programs. You must have a special needs plan to receive coordinated benefits because Original Medicare does not offer this.
Emergency Coverage outside the USA - Medicare doesn't cover care outside of the USA, except in rare cases. Many MAPD plans offer emergency coverage when you travel abroad.
Joining the Medicare Advantage plan does not get you out of paying for Part B. You still must be enrolled in Medicare and continue paying for Part B.
If you enroll in a Medicare Advantage plan, you will no longer receive benefits from Original Medicare. You must get all of your care through the Medicare Advantage Plan.
Medicare Advantage plan can work with smaller network providers in your local area. Sometimes multiple providers contract with Medicare Advantage in every country in the region where you live. Medicare Advantage plans can also work in a district or state network.
Knowing that you want all your providers to be in the network, not just your doctors, is essential. Suppose you like a particular hospital or a specific durable medical equipment provider. In that case, you need to check and make sure that those are also in the network for Medicare Advantage Plan that you choose. Often people overlook this. That's why working with a highly experienced Medicare Agent is essential.
Medicare Advantage HMO plans don't offer out-of-network coverage unless there's an emergency. Medicare Advantage plan premiums are typically lower than Medigap premiums. You pay a copay or coinsurance at the time of service if you need to access your health care services through your Medicare Advantage plan. The plan summary includes the copay lists and the type of copayments you need to pay.
Things to Consider in choosing the best Medicare Advantage plan for your needs
Determine your budget. Ask yourself how much you spent on healthcare last year or the year before.
Be sure to search all drug lists in plans to make sure your drug is covered.
Determine the type of coverage you need.
Check the medical condition that you have and what are your long-term healthcare needs.
Medicare Advantage Plans Can Change Every Year
You should check your coverage details annually because plans vary every year. Love your plan this year? That's great, but it can change next year. For instance, the drug formulary or the list of prescription drugs covered by the plan changes yearly. As you get older, your medications can also change. When plans change their coverage, the costs can change as well. With this in mind, it's essential to seek help and get assistance from a Medicare Agent or broker. But you should know that not all agents are the same. Certified Medicare Agents Directory is a single point of contact where you'll find an authorized agent who can help you with your Medicare insurance requirements.
Types of Medicare Agents
A captive agent only works for one insurance company. Typically, the insurance company offers training, leads, and support. The broker only needs to talk to prospective clients (potential customers), explain, and sell the insurance company's programs to you. A captive agent cannot offer rates from other providers.
Independent Medicare agent - Independent agents and brokers generally represent more than one company, so they are more qualified to find the plan that fits your needs.
If you live in Kansas and looking for an independent Medicare Agent to help you with your Medicare Advantage plan inquiry, visit Certified Medicare Agents Directory.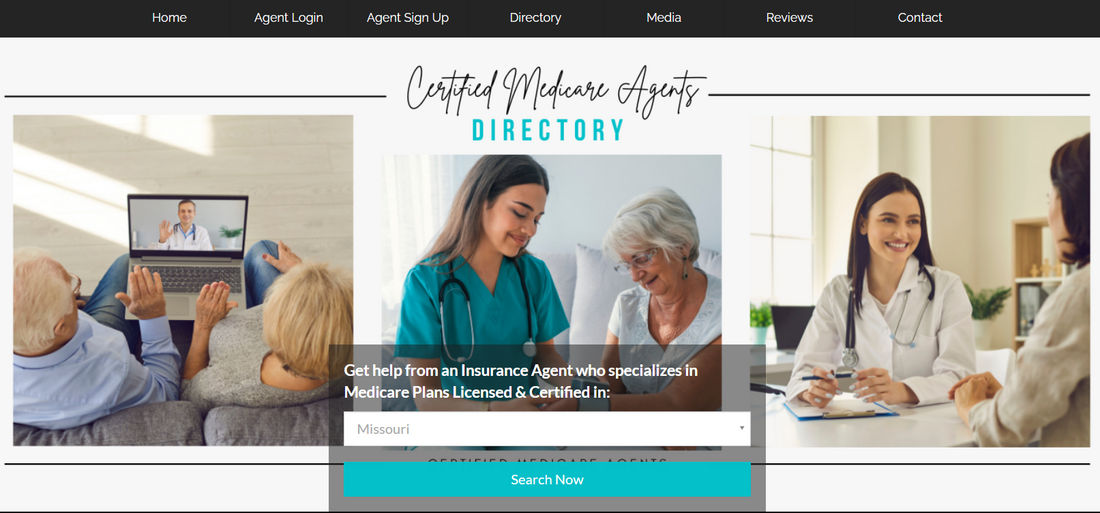 From the homepage, click on the dropdown and select the state of Missouri. Click Search Now, which will give a reliable list of Medicare Agents that can help you.
Choosing The Certified Medicare Agent Directory will help you get:
Find Professionals - Find your local expert and compare.
Consumer Tips - Stay tuned for the latest Medicare news and tips
Free Quote - Don't have time to compare agents? We'll match you with a licensed insurance agent if you use the "Free Quote" button and complete the website form.
The Certified Medicare Agent Directory will match you with the right agent!
Questions you need to ask for your chosen Medicare Agents (For Medicare Advantage Plan)
Asking your Medicare representative these questions will help determine how that representative will serve you during the plan selection process.
Are you licensed and appointed with (the plan you want)? - Remember that a Medicare agent should be licensed and eligible to sell Medicare insurance plans.
Are dental, hearing, and vision coverage included? Original Medicare doesn't include eye, hearing, or routine dental care.
Are my providers in-network? - If it's important to ensure that your current doctors are in the plan's network you're considering. Each year you must check if your doctor is still on the list. It's also important to remember that your providers can end their relationship with the plan. They could be part of the network in one year and not the following year.
Will my current medications be covered? Many Medicare Advantage plans include prescription drug coverage in their benefits. However, it's still essential to determine what your drugs will cost under the program.
What is the out-of-pocket limit? - Depending on the plan, you may also have copays, which are fixed amounts you pay for certain services. Your Maximum Out of Pocket Limit helps protect you in case of significant medical expenses.
How can an Independent Medicare Agent or Broker help you?
A well-equipped Medicare agent is knowledgeable about Medicare Plans. Each year, they must complete training and pass multiple tests about their understanding of Medicare.
A Medicare agent can educate you on all your Medicare choices - Your Medicare agent can help you understand the differences between plan types. Once you have determined which way to go, your local representative can narrow down which plan to go.
A Medicare agent will show you various carrier options, not just one. An independent Medicare agent is not loyal to any particular insurance company. They can evaluate all the plans for you and secure one with the best price and service that also fits your specific needs.
One-on-one direct customer service - You can keep in touch with your agent by phone, email, or even stop by their office if they have one. Your agent will likely contact you occasionally to provide you with news or updates. You can contact your local representative to review your current plan and make changes in the future if they don't contact you first.
Medicare agents can do most of the work for you - Medicare agents are likely to fill out all policy registration forms. You will answer the questions, and they'll take care of the rest.
Medicare agents receive incentives to maintain their relationship with you. - There is no additional cost to you if you work with an independent agent rather than directly with a carrier.
How are independent Medicare agents paid? Agents who sell you a Medicare Supplement Plan typically receive recurring commissions while you are their client. Suppose you give up your policy and switch to another agency. They will no longer receive any commission on your policy unless they help you with the new policy.
If you're more interested in a Medicare Advantage plan, the broker still has incentives for you to be satisfied. While they don't receive a "commission," they usually receive annual compensation, which the insurance company sets up to a limit set by Medicare. Suppose they don't offer the service you deserve, and you hire another agent to switch to a different plan. In that case, they will lose their compensation yearly for helping you.
Sales reps at large companies usually have to meet a monthly or annual quota. If you cancel your plan a month later, that agent doesn't care. However, it matters to independent Medicare agents because they work for YOU!
Finding the best Medicare Advantage plan for you can be confusing and time-consuming. Our member agents are here to help you and do the search for you. Find the representative of your choice and contact them to schedule a free consultation. Look for a local representative by searching this website at https://certifiedmedicareagents.com/. Our listed agents and brokers can show you a side-by-side comparison and help you determine which benefits are essential to your situation.
---