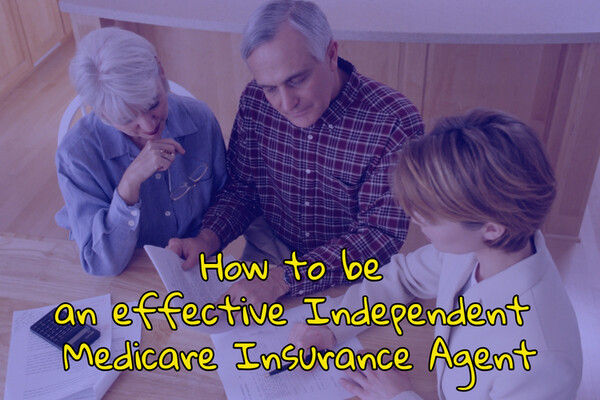 ---
How to become an effective Independent Medicare Insurance Agent
In an ever-changing world, and with the recent pandemic that we have experienced, the sale of Medicare insurance is becoming a trend. Selling Medicare Insurance can help you build a six-figure income in 3-4 years. If you are an aspiring Medicare agent considering entering the lucrative field of selling Medicare policies, this article is for you!
If moving from having a full-time job to being an independent Medicare insurance agent is your goal, you must first and foremost have a plan on how to pay your bills and a backup plan for your finances. Because If you do not sell a policy, you do not get paid. When you've finally decided to sell Medicare insurance and want to change your career path, read this informative article, and we will show you how to become a successful and effective Medicare Insurance Agent.
What is Medicare?
It is a government-sponsored program that provides medical insurance. People 65 years and older and persons with disabilities are also eligible for this program. This program serves as a safety net to protect seniors.
Your Target Market
People who are turning 65 years old and eligible for Medicare health benefits.
Persons with a disability who are receiving Social Security Disability payments.


How much money can independent Medicare insurance make?
Independent insurance brokers work on a commission basis. When a customer enrolls in a plan, the agent receives their commission through a check or direct deposit. The compensation for selling Medicare Advantage Plan is a flat fee, regulated by the CMS, while the commission for selling the Medicare Supplement Plan is usually a percentage.
It's all about the renewals you get every year from your existing clients. About 350 clients that stay in your book of business will help you achieve your goal of being a six-figure agent. To get 350 clients, you must first prospect for Leads. To learn more about how to generate your leads, please visit our blog post through this link: Medicare Supplement Leads - It's all about finding eligible prospects.


What are the characteristics of a great Medicare Insurance Agent?
Here are some of the characteristics that a successful Medicare insurance agent should possess
SERVICE ORIENTED - They don't just think about the sales they're going to make but about the significant impact they can have on the lives of their potential customers. They have the passion and care to assist, offer services, and help people.
SELF-DISCIPlINED - At times, even a successful person feels lazy, but you have to overcome laziness to be a leading producer in this field.
BE CONSISTENT and COMMIT TO A SCHEDULE - Get ready to create a schedule you need to follow. Because sticking to your life schedule and your working hours, you'll be more productive.
PEOPLE SKILLS - Brokers are essential in maintaining good relationships with clients. Communicate and interact effectively by being an active listener, being able to relate with them, being patient, and showing interest in talking to them.
CUSTOMER SERVICE SKILLS - Responding to your client's inquiries, emails, and phone calls and helping them enroll in their chosen plan is a must. Helping to resolve your client's issues promptly is a helpful way to build trust. Remember, always treat your customers with respect. Provide them with answers in a polite manner.
PERSISTENT - In this type of career or business, it's not always rainbows and butterflies. The primary key here is to learn from your mistakes, improve yourself, not give up, and not be afraid to try or try different techniques that will work best for you. Hard work is a virtue!
HIGH ENERGY LEVEL - Be upbeat and engaging with your clients. Show passion for what you do.
PRODUCT KNOWLEDGE - Deepen your learning or knowledge of your products by attending training, reading your manuals, and asking your "upline" and your carriers questions.
MARKET YOURSELF FIRST - Make your client feel that you work for them. You want to talk to them because you want to know their needs. You and your client will work together to narrow down the plans that best fit them.
Putting together these characteristics will help an aspiring Medicare insurance agent like you succeed in this field.
Now that we have learned the characteristics of a successful Medicare insurance agent let us talk about the steps to becoming a Medicare Insurance Agent.
1. Get a Health Insurance License - This is also called your resident state health insurance producer license. You can obtain
this in your home state. But before applying for your health insurance license, you must pass an exam
first. The following are some places to complete the required courses to become an agent.
a.) Kaplan Financial Education
b.) ExamFX
c.) WebCE
2. Choosing your FMO (Field Marketing Organization) - These are approved companies that support and offer
health insurance plans to independent brokers and agencies.
3. Pass the AHIP Certification -
Additional Medicare training is required when selling Medicare Advantage and Medicare Part D plans. Most carriers accept AHIP, but there are other programs too.
The passing rate for this certification must be at least 90%, and this certification will start in late June or early July.
You can sell to your customers the following year after you get certified. This certification costs $175 retail, but
your FMO or one of your carriers can usually offer you a $50 discount.
4. Get the E&O Insurance (Errors and Omissions Insurance) - This insurance protects Medicare agents if they commit an error during the application process, counseling, and investment decision. You'll want coverage of 1 to 3 million dollars, and you can plan on spending $300-$500 per year.
5. Get Contracted with multiple Medicare companies - A broker must have contracts with carriers to be
appointed and to be able to sell. It takes a lot of patience when completing contracts on each carrier because
their process differs from each other. The following lists are the requirements that insurance carriers require to
appoint an agent to sell:
Copy of current resident and non-resident state health insurance licenses
Copy of current E&O policy
The complete legal questionnaire provided by the insurance company (The FMO will provide you with this)
A background check
Passing the annual certification exam (carrier-specific annual certifications)
6. Complete the Annual Carrier Medicare Certification - Most carriers require agents to pass annual certification
well in advance of the Medicare Annual Election Period (AEP).
7. Maintain your health insurance license - Keep your license active by completing your continuing education training and testing requirements.
Completing these requirements and being trained in this field of career can take a lot of time and, of course, patience. But, in any case, a great reward awaits you.
Things you need in running your Medicare Career
A record sheet - A client intake sheet is crucial in this business. It is where you put your client's information, like their names, date of birth, address, phone number, carrier, monthly premium, Medicare number, lists of their medication, and their doctors. You may also add another column for some additional notes about your client.
Appointment Setting Tracker - There are several ways to track your client's appointment. You can track it using paper, google calendar, or a CRM. You don't want to forget your appointment because you didn't write it down or record it.
Business number - Separate your personal calls from your business by having a business phone number.
Get CRM tools - CRM stands for Customer Relationship Management. A CRM helps you organize and track your clients. There are many out there, and your FMO may have one you can use for free.
Four Parts of Medicare
After completing all of these prerequisites for becoming a Medicare sales agent, let us now talk more about the four parts of Medicare.
Part A - Hospital Insurance - It covers inpatient hospital stays, care in a skilled nursing facility, hospice care, and some home health care. If you have worked for ten years (40 quarters) and have paid enough Medicare taxes, then there is no cost on the pocket to the monthly premium of Part A.
PartB - Cover Medically necessary services - The coverage includes doctor services, outpatient care, medical supplies, preventive services, and a range of services such as x-rays, diagnostic tests, and renal dialysis. Unlike Part A, Part B requires a premium fee. Higher-income earners pay more because of IRMAA.
Part C - Medicare Advantage - A health insurance plan offered by private health insurance companies. The cost of Medicare Advantage could vary because of the insurance carrier, selected plan, and county of residence.
Part D - Covers Prescription Drugs - I can be added it to Medicare supplements as a standalone plan, or it can be part of some Medicare Advantage plans.
Popular Types of Medicare Plans Effective Medicare Agents Should Know
Medicare Supplements Plan: This plan supplements the gaps in original Medicare.
Medicare Advantage Plan: It takes what the original Medicare does and redesigns it closer to the client's need.
Medicare Drug Prescription Plan: This plan helps offset the costs of prescriptions.


Final Thoughts on Changing Career to Medicare Agent
Selling insurance can be a rewarding career, but there is no easy path to becoming an effective Medicare agent. It requires a lot of patience, training, perseverance, and hard work, but the payoff can be worth it.
---