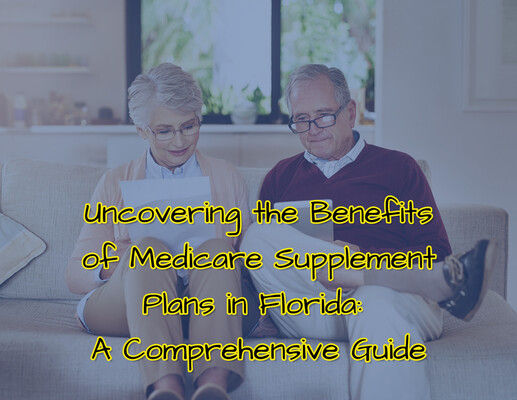 ---
Uncovering the Benefits of Medicare Supplement Plans in Florida: A Comprehensive Guide
As one grows older, medical expenses become a significant concern. For this reason, many seniors opt for Medicare plans to cover their healthcare costs. However, while these plans can provide much-needed assistance, they don't always cover everything. That's where Medicare Supplement Plans (Medigap policies) step in. This comprehensive guide reveals the benefits of Medicare Supplement Plans in Florida and how they can help you manage your healthcare finances effectively. Whether you're new to the world of supplemental insurance or looking to switch providers, read on to discover what Medigap policies offer and why they might be right for you!
Understanding the Basics of Medicare Supplement Plans in Florida
For those residing in Florida, understanding the basics of Medicare Supplement Plans (also known as Medigap) is crucial. These plans are designed to complement traditional Medicare coverage by filling the gaps in coverage for deductibles, copays, and coinsurance amounts of traditional Medicare. It's important to note that ten different standardized Medigap plans are available in Florida, each labeled with a letter from A to N. While these plans offer similar benefits across insurance providers, their costs may vary based on age and location. Overall, having a Medigap policy provides peace of mind knowing that unexpected medical expenses will be handled without causing unnecessary financial strain.
Medigap plans do not replace Medicare in the same way that Medicare Advantage Plans (MA) do. These plans do not add additional benefits such as dental, vision, and hearing. But they also do not restrict your care like MA plans do. For example, the insurance company will never impose pre-authorization for a procedure. You'll also have access to any provider or facility that accepts original Medicare, regardless of where in the US they are.
Ultimately, every senior's healthcare needs vary, and it's essential to consider all options before selecting the best plan for them. Whether through research online or speaking directly with our member Medicare agents or brokers, taking the time to understand the basics of these supplement policies can ensure better preparation for retirement years ahead.


The Benefits of Medicare Supplement Plans for Seniors in Florida
As seniors age, their healthcare needs often increase while their finances may become more limited. Fortunately, Medicare Supplement Plans can help bridge the gap between what original Medicare covers and what beneficiaries must pay out of pocket. These plans are designed to cover expenses such as copays, deductibles, and coinsurance that are not fully covered under standard Medicare. One key benefit of Medigap policies is increased flexibility when choosing a healthcare provider. Seniors with these plans have access to more doctors and facilities than those with Medicare Advantage since they are not limited by restrictive network or referral requirements. You also are not subject to "pre-authorization," a cost-saving measure insurance companies use. Since Medigap plans do not have pre-authorization, if Medicare covers the service, and your doctor thinks you need it, your plan will cover it.
Another advantage of Medigap insurance is financial stability in terms of medical costs. When seniors know their out-of-pocket expenses will be minimized through supplemental insurance coverage, they can better plan for future healthcare decisions and budget accordingly. Plus, having extra support from these policies could provide peace of mind - something invaluable during the later years of life when health concerns tend to weigh more heavily on many people's minds.
The Different Types of Medicare Supplement Plans Available
Medicare Supplement Plans, also known as Medigap policies, are designed to fill the gaps in coverage left by traditional Medicare plans. Ten different supplemental plans are available, each designated by a letter from A-J (with E, H, I, and J no longer sold).
Each plan type offers its unique benefits at varying costs. You must already be enrolled in original Medicare Parts A and B To qualify for enrollment in any of these plans.
Take a look at the chart below. Plan F is the most comprehensive Medigap policy available; it covers 100% of Part A and B deductibles, copays, and coinsurance amounts. However, due to changes in federal law starting in 2020, new enrollees into Medicare will not have access to Plan F.
Other popular plan options include Plan G, which only requires payment of the annual deductible amount for Part B, and then it covers Medicare-approved amounts at 100%.
This plan carries excellent value for consumers since it provides similar insurance protection as Plan F but may have lower monthly premiums.
Another popular choice is Plan N. With Plan N, you'll pay the Part B deductible, $20 to see the doctor, $50 for emergency room visits, and you'll also pay any Excess Doctor Charges. Excess Doctor charges have no cap, so understand the policy before purchasing.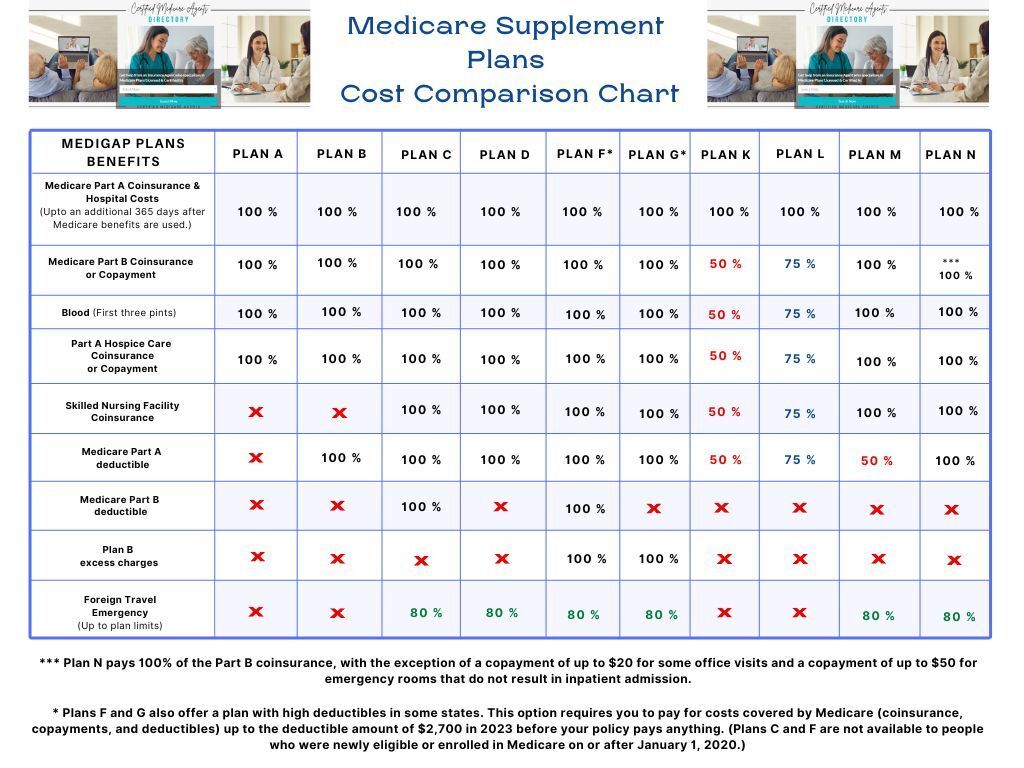 Overall, understanding what each supplemental insurance option can accomplish and knowing how you utilize your health care services will help determine which supplement policy would work best for meeting individual needs and budget restrictions.
How to Choose the Right Medicare Supplement Plan for Your Needs
Choosing the right Medicare supplement plan is essential for seniors who want to manage their healthcare finances effectively. It can be overwhelming, but taking some time to understand what each plan covers and how it fits your medical needs is crucial. The first step in selecting a Medigap policy is evaluating your health status and future medical needs. Consider any conditions you have or ones that run in your family. Also, consider any upcoming procedures or treatments you may need. Once you have assessed these factors, compare policies from different insurance providers to determine which offers the best benefits and cost-effectiveness. Be sure to look at premiums and deductibles, copayments, coinsurance rates, out-of-pocket maximums, and other costs associated with each policy type. This is where a knowledgeable Medicare Agent can help.
It's vital to only settle on a plan after reading its fine print thoroughly; this way, you'll understand all its terms explicitly before committing yourself.
Choosing the right Medicare supplement plan for your needs isn't always easy; however, taking steps such as assessing your health status while comparing various plans' details should guide you toward making an informed decision. By being patient and persistent throughout the process of finding appropriate supplemental healthcare coverage options, you could save more money through better financial planning!


Understanding the Enrollment Process for Medicare Supplement Plans in Florida
Enrolling in a Medicare Supplement Plan in Florida can seem daunting, but it doesn't have to be. First, enroll in Original Medicare, Parts A, and B to begin the process, but if you are already receiving Social Security, you won't have to enroll.
You can enroll in one of the three ways below:
Go to your local Social Security office and register in person.
Call Social Security at 800-772-1213
Go to https://www.ssa.gov/benefits/medicare
Once enrolled, now it's time to apply for a Medigap policy. The state of Florida licenses these private insurance companies. It also licenses insurance agents that sell MedigapPlans. It's important to note that applicants must have both Medicare Parts A and B before being approved for a Medigap policy.
When enrolling in Medigap policies, it's crucial to understand the timeline restrictions set forth by the government. Open Enrollment is typically within six months after enrolling in Part B of Original Medicare, or once individuals turn 65 (whichever comes later). During this time frame, seniors are guaranteed acceptance into any plan without underwriting or pre-existing condition clauses. However, if someone applies outside of those timelines, their application could be denied based on health history or current medical conditions.
Understanding the enrollment process for Medicare Supplement Plans is essential for managing healthcare finances effectively as one ages. Seniors should begin enrolling in Original Medicare Parts A and B before applying with a private insurance company licensed by Florida. Additionally, knowing Open Enrollment periods can ensure timely approval without complications based on health factors. Overall, Medicare Supplement plans provide excellent protection against unexpected expenses associated with hospital stays or major surgeries, which help give seniors peace of mind while enjoying their golden years!
Frequently Asked Questions About Medicare Supplement Plans in Florida
When it comes to Medicare Supplement Plans in Florida, there are a few frequently asked questions that many seniors have.
One of the most common is whether or not you can switch plans after open enrollment has ended. The answer is yes...and no. After your personal Medigap open enrollment has ended, you'll likely have to go through medical underwriting to change to a different Medigap plan. This is why you should consider using a Medicare Broker to help you. You'll want a plan with low increase rates and excellent customer service.
In Florida, and other states, there is an Annual Election Period (AEP) from October 15th through December 7th each year where beneficiaries can change their coverage. But be aware! This Annual Election Period does NOT apply to Medicare Supplement plans. The AEP applies to Medicare Advantage Plans and Drug Plans.
You will still have to undergo medical underwriting if you want to change your Medigap plan during the AEP.
If you have a Medigap plan, you'll also need a drug plan, since a lifetime penalty builds up every month if you do not have creditable drug coverage.
Another question is how much you'll have to pay for your Medigap policy.
This will depend on factors such as your age, gender, health status, and location within Florida. Different insurance companies also charge different rates, so shopping around and comparing quotes is essential before settling on a provider. Additionally, remember that while the cost of monthly premiums may seem high at first glance, having a Medicare Supplement Plan can save you money by covering expenses that Original Medicare does not.
Understanding Medicare Supplement Plans in Florida requires research and attention to detail. By doing your due diligence and asking important questions along the way, however, these supplemental insurance policies could provide an added layer of financial protection when it matters most - giving you peace of mind as you navigate the complexities of healthcare costs during retirement years.
---