---
Medicare in Naples, Florida
It can be challenging to navigate the world of health insurance, especially regarding Medicare. The original Medicare parts A and B cover people aged 65 and older and people with disabilities who qualify. But not all Medicare plans offer the same insurance level of coverage.
There are many ways to get coverage in the Naples, Florida region through Medicare Advantage, Medigap, or Medicare Part D Prescription Drug plan. If you're located in Naples, Florida, and looking for help navigating the world of Medicare, including determining eligibility and researching and comparing available programs, visit the Medicare Certified Agent Directory. Our authorized Medicare representatives can help.
Original Medicare:
Medicare Part A: Part A includes hospitals (hospitalized patients, only formally admitted), skilled nursing (only after three days of inpatient stay in the hospital and not for overnight observation), and hospice services. If you've worked for ten years (40 quarters) and paid enough Medicare taxes, you're entitled to a premium-free Part A. Otherwise, you must pay the monthly Part A premiums. If you don't qualify for premium-free Part A, you may be able to buy Part A. In 2023 the Part A Premium for those who must pay is $506 per month.
(Source: medicare.gov)
Medicare Part B: Part B covers outpatient services, including inpatient services from some providers in a hospital, outpatient hospital charges, most providers' office visits, even if the office is "in a hospital," and most prescription drugs managed by professionals. Unlike Part A, Part B requires a premium.
Medicare Insurance Options:
Original Medicare doesn't cover all your healthcare costs, and there are different ways to protect yourself.
It is also called Managed Medicare or Medicare Advantage. It must cover what Parts A and B cover (and generally more), and often Part D benefits. It has an annual spending limit, called a MOOP (maximum out of pocket), that A and B don't have. You must first have Parts A and B before getting Part C. You'll be subject to the private insurance company's rules while limiting your maximum out-of-pocket expenses for medical care. You also might get additional benefits that Original Medicare doesn't offer. Extra benefits could include Dental, Vision, and Hearing Aids, gym membership, and debit cards for over-the-counter (OTC) items, among other benefits.
The cost of Medicare Advantage Plans varies. Factors affecting the price include the insurance company, the selected plan, and the county of residence.
Things to know about Part C (Medicare Advantage):
You are still part of the Original Medicare program.
Your rights and protections in Medicare still exist.
The plan provides complete coverage of Part A and Part B.
Medicare Advantage Plans may be more economical for you because they may have lower out-of-pocket costs than original Medicare alone.
You can't buy a Medigap plan if you have a Medicare Advantage plan.
You can only enroll in a Medicare Advantage plan during certain times of the year.
It is still possible to join a Medicare Advantage Plan even if you have a pre-existing condition.
Before using a service, you can check with the plan if it's covered and what its costs may be.
You can reduce costs if you get a referral to a specialist in the plan's network.
You must go to a doctor, other health care provider, facility, or supplier that belongs to the plan's network to ensure that the services are covered. In most cases, this applies to Medicare Advantage HMOs and PPOs.
Providers such as doctors can join or leave their networks any time of year.
Medicare Advantage plans cannot charge more than the original Medicare rates for certain services.
Five types of Medicare Advantage plans:
Health Maintenance Organization Plans (HMO): It offers lower costs while providing quality care. To do this, they register a network of providers that have accepted payment for all their services. HMOs are an excellent option for healthy people who usually only need annual medical checkups.
Preferred Provider Organization Plans (PPO): These managed care plans create a network of providers from which their members can choose. Members can also go out of network for care. Your copays will generally be less when you see an in-network provider.
Private Fee-for-Service Plans (PFFS): These determine how much to pay providers contracted with private insurance companies that also contracted with Medicare. PFFS determines how much the member pays for services, which may vary depending on the provider and the individual plan.
Special Needs Plans: SNPs are for people with specific medical conditions. These can include diseases such as cancer, dementia, and autoimmune diseases. It's also available to people who live in nursing homes or are eligible for Medicare and Medicaid.
Medical Savings Account Plans: These accounts are limited to health insurance accounts with high deductibles. The plan deposits money into the member's savings account. These funds can be used for health care expenses before covering the plan's deductible.
Considerations that you need to know on how your needs match the conditions and requirements of each plan type:
Consider how often you seek medical care. Also, remember to plan for future care and that your physical health may change over time.
You need to know what types of providers are near you. It is easier for those who live in urban areas where the number of providers is much higher. Find out if your providers are in-network before enrolling.
Consider your Budget. Remember that, in addition to the monthly premium, you should consider deductibles and copayments to share health care costs.
Medicare Part D: Part D is also called Medicare Prescription Drug Plans or PDPs. They help cover the costs of prescription drugs (including many recommended vaccines). You can add a PDP to Medicare supplements as a standalone plan, or it can be part of some Medicare Advantage plans. You cannot have both a standalone drug plan and Medicare Advantage Plan. To get Medicare drug coverage, you must enroll in a Medicare-approved program that offers drug coverage.
Each plan may vary in terms of costs and specific drugs covered but must offer at least one standard level of coverage established by Medicare. Medicare drug coverage includes generic and brand-name drugs. The list of prescription drugs they cover can vary (called a formulary), and how they place drugs into different "tiers" on their formularies.


Medicare Supplement Insurance (Medigap)
It is a Medicare supplemental insurance that helps fill the "gaps" in Original Medicare and is sold by private companies. This policy can help pay some of the remaining health care costs, like Copayments, Coinsurance, and Deductibles. Medigap plans are standardized, making it almost easy to compare prices between insurance companies that offer the same letter program. It also covers additional 365 days of inpatient stay benefits beyond what Medicare provides. Exceeding your hospital stays is also rare.
Medicare Supplement Open Enrollment Period
The Medigap Open Enrollment period is the first six months after your Part B begins. You can enroll in any Medigap plan during this period without answering any health questions. The open enrollment period lasts six months from the effective date of Part B.
It's best to enroll during this period, as the open enrollment period for the Medicare Supplement offers an opportunity to get the lowest possible monthly premium costs. Medigap policies don't cover Long-term care such as assisted living or dementia care, Vision or dental services, hearing aids, eyeglasses, or private-duty nursing.
Medicare Supplement Plans Options
The most popular Medigap plans are Plan F, Plan G, and Plan N.
Plan F: If you had Medicare Part A or B prior to January 1, 2020, You could still get Plan F. Plan F covers all of the deductibles and copays of original Medicare. If Medicare covers your service, you will not have a copay with a Plan F.
Plan G covers everything Plan F covers except the Part B deductible. Plan G is the best plan for eligible new participants.
Plan N: The Cost for Plan N is typically less than for Plans F and G. Plan N doesn't cover the Part B deductible. There may be a $20 copay when you see the doctor. There may be a $50 copay when you go to the Emergency Room. And Plan N, most notably, doesn't cover excess doctor fees.
Medicare Agents
Medicare representatives review their customers' health insurance plan data and help them decide or evaluate their needs based on the coverage and services for which they are eligible.
Type of Medicare agent or broker
Independent agent: When you work with a reliable, independent Medicare insurance agent, you can choose from various policies. Independent representatives and brokers because they provide unbiased advice.
Captive agent: These representatives can only sell you plans from the insurance company they represent. They are often experts in all the options offered in their organization.
How does a licensed Medicare agent or broker help you find the best choices for Medicare plans?
Medicare can be confusing. Here are some of the reasons to work with an agent or broker when looking for Medicare plans:
Medicare agents have in-depth knowledge of explaining numerous plans, benefits, rules, and exceptions combinations. They know how they can help you get the best value for money. Medicare brokers must pass several courses and exams each year.
They offer options because they represent numerous insurance companies. They offer various plans with unbiased recommendations.
Medical underwriting: When you buy Medicare supplement insurance, Medicare agents can help check if you meet all the insurance requirements.
If you live in Naples, Florida, and have questions and need help finding the right Medicare Plan, visit https://certifiedmedicareagents.com/ and request an appointment from one of our licensed, trusted agents.
Finding the Right Affordable Health Coverage Has Never Been Easier with Certified Medicare Agents Directory.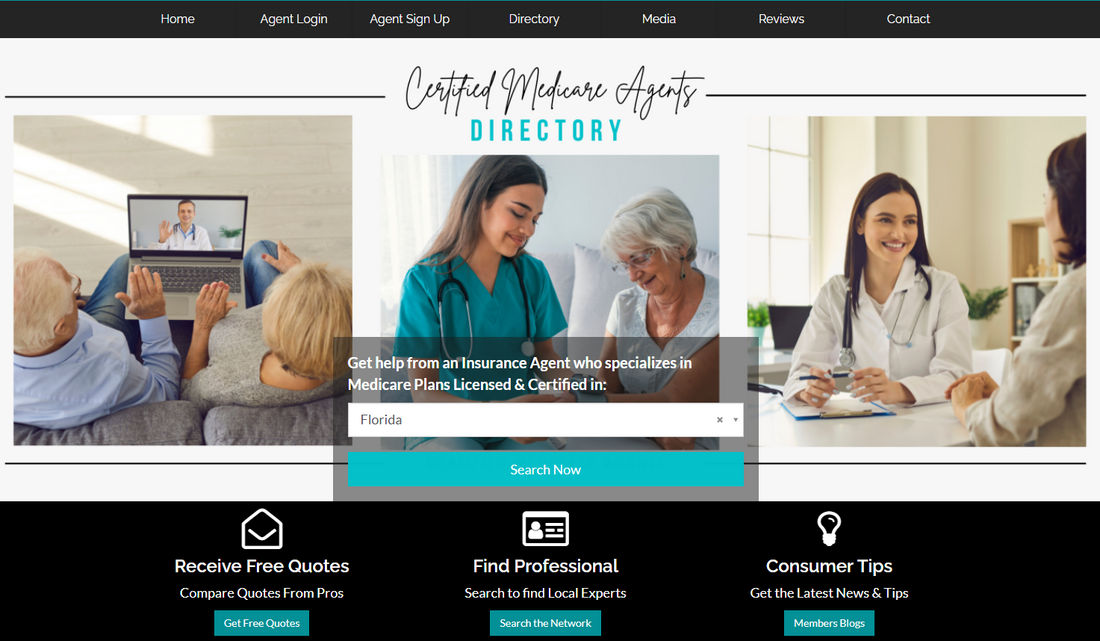 ---