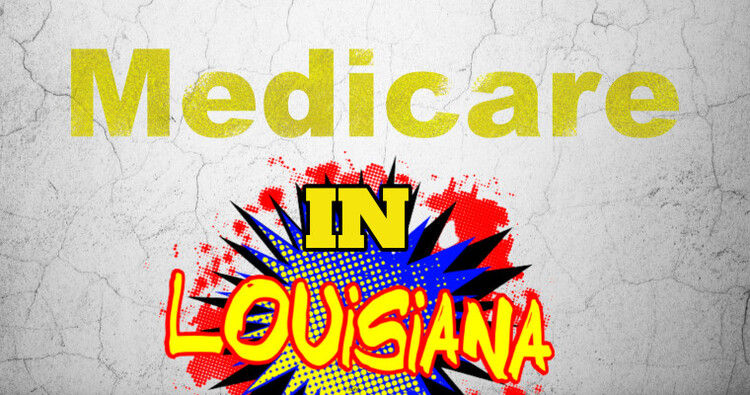 ---
Are you eligible for Medicare in Louisiana?
Have you recently turned 65, or are you new to Medicare, and you live in Louisiana? If so, you may wonder if you are eligible for Medicare coverage.
To be eligible for Medicare coverage, you must be a US citizen or permanent senior resident, 65 years or older. If you are under 65, you may still qualify for Medicare coverage if you have specific disabilities or end-stage renal disease.
If you are eligible for Medicare coverage, you can enroll in Medicare. You can enroll in a Medicare plan by calling Social Security, visiting your local Louisiana Social Security office, or going to https://www.ssa.gov/benefits/medicare.
If a person turns 65, they can apply for coverage three months before their birthday. For example, if your birthday is June 15, you can apply for Medicare starting March 1. Your coverage will begin on the first of the month of your 65th birthday, assuming you applied for Medicare in time.
There is an exception. If you are born on the 1st of the month, your Medicare can start the month before your birthday.
It generally takes 30 days to get your Medicare card once you enroll. Oh, and if you are receiving Social Security benefits, your card will arrive in the mail - you don't have to apply.
If you have questions about your eligibility for Medicare coverage or about how to enroll in a plan, contact a Louisiana Medicare agent today. You can easily find a Louisiana Medicare Agent by going to https://CertifiedMedicareAgents.com and searching for Louisiana. Then you'll be able to read about the current Louisiana Medicare Agent members and select one to contact.
Once you enroll in Medicare, it doesn't stop there. You'll need to decide between Medicare Advantage and Medicare Supplement (Medigap) to limit your liability. This is because there is no "cap" or "maximum out of pocket" with original Medicare. You'll also need a drug plan to avoid lifetime penalties later.
Medicare can be confusing.
There is a lot of confusing Medicare terminology out there. One term you may have heard is "medicare penalties." What are medicare penalties?
You may have to pay the costs for Medicare penalties if you don't follow the rules. For example, if you don't sign up for Medicare Part B when you're first eligible, you may have to pay the penalty. And if you don't sign up for Medicare Part D when you are first eligible, there is a penalty. And the penalties are not just a one-time thing. They last for the rest of your life!
Medicare penalties can be frustrating, but the good news is that there are ways to avoid them. If you're confused about the rules, it's best to talk to a Medicare agent. A Medicare agent helps you understand the rules and help ensure you follow them.
If you're in Louisiana and need help finding a Medicare agent, we can help. We're CertifiedMedicareAgents.com. Our members specialize in helping people find the right medicare coverage for their needs. They can help you compare plans and find the best one for you.
Contact one of our members today to learn more about how we can help you find the right Medicare coverage.
Get Medicare Help Now
Getting help with Medicare can be confusing and overwhelming. You may need to figure out where to start or who to trust. You may have seen ads for "Medicare agents" or "Medicare brokers." So what's the difference? You've probably gotten tons of mail regarding Medicare. Maybe you've even received phone calls or texts (unless you've permitted the agent or broker to call you, this is against Medicare's rules, so watch out for that).
In short, a Medicare agent represents insurance companies offering Medicare products, such as Medicare Advantage plans, stand-alone prescription drug plans, and Medigap plans.
A Medicare broker is an independent agent who can help you understand your options and enroll in the plan that best meets your needs because they work with multiple companies. We often use the words agent and broker interchangeably. Be sure and ask if your representative can help you compare various companies.
While the State of Louisiana licenses agents and brokers to sell insurance, agents typically work with one company. Brokers are not beholden to any single insurance company. This means they can offer unbiased advice and help you compare plans from different insurers to find the one that's right for you.
If you're feeling lost when getting help with your Medicare coverage, consider working with a local Medicare broker in Louisiana. With years of experience in the industry, they can provide you with expert guidance and support every step of the way – from finding the right plan to enrolling and staying covered throughout the year.
Go to https://CertifiedMedicareAgents.com and find your perfect broker today!
Several reasons why you need a Medicare agent
There are no additional charges for using a local insurance agent or broker. Your premium is the price you would have if you had purchased the policy directly from the carrier.
Agents can save time because they know how to compare different products or policies.
Brokers can help you get another policy with another carrier in case your rates go up.
Agents can help you with your Medicare claims.
Louisiana Medicare Brokers can help with your plan renewal, enrollment, and disenrollment request.
Brokers can help you choose a better price than what you can find yourself.
The agent must give an unbiased and transparent opinion on all your Medicare options.
Brokers can offer a fare option from different carriers so you can make the right decision.
Local Medicare agents are ready to explain numerous plans, combinations of plans, benefits, rules, and exceptions. They know a lot of insurance topics and understand how they can help you get the best value for money. Medicare employees must pass several courses and exams each year.
If you buy Medicare supplement insurance, our members can help determine if you meet insurance requirements. You won't waste time requesting plans that rule you out based on your health status.
Brokers listen to and understand your insurance coverage needs.
Our member agents and brokers can help you fill out and complete your application form when you enroll in the insurance plan.
Things to consider when looking for a Medicare supplement agent
You should ensure that the agent or broker you choose is licensed in your state. Your state's insurance department can confirm this. Also, if you see the "verified" badge on our members' profiles, we've verified them when they applied for membership.
The agent or broker you choose should have experience selling Medicare plans in your state. Each state has different laws regarding how agents and brokers are allowed to operate.
Depending on your needs and budget, agents and brokers can help you decide what level of insurance is best for you.
Understanding Medicare
Medicare is a government federal health insurance program founded in 1965. It provides medical care for people 65 and older, certain young people with disabilities, and people with ESRD.
Let's say you live in Louisiana and meet the above criteria. You can choose from Medicare options, including Original Medicare, Medicare Advantage, and Medigap.
Four Parts of Medicare
The four parts of Medicare cover several services.
Medicare Part A: It is also known as hospital insurance, which covers inpatient hospital stays, care in a skilled nursing facility, hospice care, and home health care. It is free for most people in Louisiana, as in the rest of the country.
Medicare Part B: This part of Medicare covers particular doctor's services, outpatient care, medical supplies, preventive services, and various services, such as x-rays, diagnostic tests, and those requiring kidney dialysis. The Medicare Part B premium in 2023 is $164.90 per month unless you are high-income, in which case you'll pay IRMAA. (Source: https://www.cms.gov/)
Medicare Part C: Also called Medicare Advantage, is an insurance plan offered by private health insurance companies. It doesn't replace parts A and B, but it does replace the way you use those benefits. Before getting a Medicare Advantage plan, you must enroll in Original Medicare. You must also pay your Part B premium to maintain your Medicare Advantage plan. Medicare Part C covers everything that Parts A and B cover.
Medicare Part D: Part D covers prescription drugs. It's an optional part of Medicare you think you might not need. However, suppose you don't enroll in Medicare Part D when you first qualify. In that case, a permanent late enrollment penalty may be imposed. The penalty is valid for the entire duration of your insurance coverage. Medicare Part D can be a stand-alone or part of some Medicare Advantage plans. But you can't have both a stand-alone drug and a Medicare Advantage plan at the same time.
Not all plans cover all the medications you may need. So, let your broker review any programs you're considering before signing up.
More about Medicare Part C (Medicare Advantage) and Medicare supplement insurance, also known as Medigap
Medicare Part C (Medicare Advantage):
You won't use the original Medicare while enrolled in a Louisiana Medicare Advantage program. You are subject to the rules of private insurance companies while enrolled in a Medicare Advantage program. But you also limit your maximum out-of-pocket expenses. Medicare Advantage plans can offer additional benefits that Original Medicare doesn't provide. These other benefits may include dental, vision, hearing, prescription drugs, SilverSneakers membership or gym memberships, transportation to doctor's appointments, and home meal delivery after an inpatient stay, among other benefits. Medicare Part C premium and copay rates vary depending on the insurance company, selected plan, and the county in Louisiana where you live.
Medicare Advantage plan options vary by county and zip code. Options may include:
Health Maintenance Organizations (HMOs): HMO plans generally only offer coverage with in-network providers, with the exception of medical emergencies. You usually need a primary care physician (PCP) who can refer you to a specialist doctor.
Preferred Provider Organizations (PPOs): PPO plans have a network of care providers and facilities where your care costs less. Your care costs more when you go to providers outside your network. Generally, referrals to a general practitioner are not required to see a specialist or get treatment.
Private Fee-For-Service (PFFS): The plan allows you to use any provider approved by Medicare. Some PFFS plans have networks of doctors where you can get cheaper care. You don't need any recommendations to see specialists for PFFS plans, but prescription drugs aren't always covered. Your doctors must agree to the terms of the PFFS plan each time you see them. Your doctor doesn't have to accept the terms; if not, you won't be covered.
Special Needs Plans (SNPs): These plans are for beneficiaries with specific diseases, such as diabetes, cancer, chronic heart failure, dementia, and end-stage renal failure (ESRD), among others. These plans tailor services and providers to the specific needs of the group they serve. You're usually limited to the program's provider network and need a primary care doctor and a referral to specialists. The SNP may also include a subsidy to spend more days in the hospital with a care management specialist or other social services.
Medicare supplement insurance (Medigap):
Several things to consider when signing up for a Louisiana Medicare Supplement plan:
Medicare supplement insurance policyholders can contact any provider in their state or any other state that accepts Medicare. Under Medicare Supplement plans, you can see any doctor that takes Part B.
If you pay your premiums on time, the insurance company can't cancel your policy even if you have health problems.
The options are less confusing because they are standardized. It can be easier to determine which program is best for you. However, some companies offer certain additional benefits. For example, if your program offers a gym membership, they can eliminate that benefit at any time.
Medicare supplement policies usually have higher premiums than Medicare Advantage Plan premiums.
Private insurance companies authorized by the Louisiana Department of Insurance can sell Medigap plans. Medigap is an insurance contract that helps fill gaps in original Medicare. These plans help pay for copayments, deductibles, and coinsurance. It only pays for services that Medicare deems medically necessary. Some programs also offer limited emergency coverage outside the United States.
You cannot have a Medigap plan if enrolled in a Medicare Advantage plan.
What are the most popular Louisiana Medigap Plans?
Plan N, Plan G, and Plan F are currently the most popular standardized Medigap plans. They have the same benefits in all states and insurance companies.
Plan N: Medigap Plan N costs less than plans F and G
You'll pay the Part B deductible.
You'll Pay a $20 copay to see a medical provider, such as a doctor.
You'll pay $50 if you need emergency care and aren't immediately admitted to the hospital.
You'll pay any excess doctor charges for doctors that don't accept the assignment. Excess Doctor Fees can be 15% of the Medicare-approved rate, and there is no cap.
Plan F: With Plan F, you will not pay any copays or deductibles of Medicare Parts A or B. If Medicare covers it, your medical bills will be covered at 100%.
Plan G: This is the best Medigap insurance available to eligible new participants. Plan G covers everything Plan F covers except the Part B deductible. In 2023, the Part B deductible is $226.
How to compare and choose the right Medicare coverage
The following simple steps can help you determine the right Medicare coverage.
Determine which plan type you want: Medicare Advantage or Medigap.
Determine what your drug costs will be. Your local Medicare Insurance Agent or Broker can assist you, or you can go to Medicare.gov for a comparison based on your location and drugs.
Star ratings: Medicare uses this system to evaluate the quality of care, performance, and customer service of Medicare Advantage Plans. If you select a Medicare Advantage Plan, be sure and check out the star ratings.
Financial Strength Ratings: If you want a Medigap plan, be sure to find out how financially strong the company is.
Enrollment Periods
The initial enrollment period is the first time you are eligible for Medicare. When your 65th birthday approaches, you can apply for Medicare up to three months before your birthday. The enrollment period ends three months after your birthday, for a total of 7 months.
25th Disability Benefit: If you're under 65 and receive Medicare because of a disability, you can enroll in Medicare three months before you get your 25th disability benefit. Your benefit starts on the 25th month after your disability benefit.
General Enrollment: If you miss the initial registration, you can still enroll during the general enrollment period (GEP), which runs annually from January 1 to March 31.
Annual Election Period (AEP): The AEP begins on October 15 and ends on December 7. During this time, you can change plans, make changes to your current plan, and add or remove services.
Open Enrollment Period (OEP): This period only applies to people already enrolled in a Medicare Advantage plan and runs between January 1 and March 31 of each year. During this time, you can make only one change. You can switch from one Medicare Advantage Plan (MA) to another, drop Medicare Advantage and go to Original Medicare, or add a Drug Plan, which will automatically disenroll you from your MA Plan.
It's imperative to understand your Medicare insurance coverage. Our friendly licensed insurance broker members will be happy to help you choose a plan that fits your needs.
Go to https://CertifiedMedicareAgents.com and find your favorite member broker today!
---