---
Medicare in Houston, Texas
Learn about your Medicare plan options in Texas, whether you're looking for Original Medicare or Medicare Advantage.
Medicare is a federal health insurance program founded in 1965.
Medicare in Houston, Texas, as in the rest of the country, is designed to provide medical coverage for people 65 years or older, certain younger people with disabilities, and people with End-Stage Renal Disease (ESRD).
Suppose you live In Houston, Texas, and meet the above criteria. You'll have a choice of Medicare options, including original Medicare, Medicare Advantage, and Medigap.
Four Parts of Medicare
The four parts of Medicare cover several services.
Medicare Part A: known as hospital insurance, covers inpatient hospital stays, care in a skilled nursing facility, hospice care, and home health care. Part A is free for most people in Houston, Texas, as in the rest of the country. You don't have to pay a monthly premium for Part A if you've worked for ten years (40 quarters) and paid enough Medicare taxes.
In Houston, Texas, you qualify for premium-free Medicare Part A if you qualify under one of the following conditions:
Sixty-five years or older, and you or your spouse have paid Medicare taxes for at least 40 quarters.
You are under 65 and receiving benefits from Social Security or the Railroad Retirement Board. You have received these benefits for at least 24 consecutive months.
You have ESRD or ALS.
Even people who don't meet these requirements can get Medicare Part A in exchange for a monthly premium once they turn 65.
Medicare Part B: Medicare Part B covers certain doctor's services, outpatient care, medical supplies, preventive services, and various services, such as x-rays, diagnostic tests, and those requiring kidney dialysis. If you're eligible for Medicare Part A, you're also eligible for Part B. However, Part B is not premium-free.
The cost of Medicare Part B in Texas in 2023 is $164.90 per month unless you are high-income, in which case you'll pay IRMAA.
Medicare Part C (Medicare Advantage): A health insurance plan offered by approved private health insurance companies. It does not replace Parts A and B, but it replaces how you use those benefits. However, you must enroll in Original Medicare before you can get a Medicare Advantage plan. You must pay your Part B premium to maintain your Medicare Advantage plan.
Medicare Part C covers everything that Parts A and B cover.
You won't use the original Medicare while participating in a Medicare Advantage program. You're subject to the rules of private insurance companies while limiting your maximum out-of-pocket expenses. You can also receive additional benefits that Original Medicare doesn't offer. Other benefits may include dental, vision, hearing, prescription drugs, SilverSneakers membership or gym memberships, transportation to doctor's appointments, and home meal delivery after an inpatient stay, among other benefits.
The premium and copay rates for Medicare Part C vary from the insurance carrier, the plan selected, and the county of residence.
Your options for Medicare Advantage plans vary by your county and your ZIP code. Options may include:
Health Maintenance Organizations (HMOs): HMO plans generally only provide coverage with in-network providers, except for medical emergencies. You usually need a primary care physician (PCP) who can refer you to see a specialist.
Preferred Provider Organizations (PPOs): PPO plans have a network of care providers and facilities where your care costs less. Your care will cost more if you use out-of-network providers. Referrals from primary care doctors are generally not needed to see specialists or receive treatment.
Private Fee-For-Service (PFFS): The plan allows you to use any Medicare-approved provider. Some PFFS plans have networks of doctors where you can get more cost-effective care. You don't need recommendations to see PFFS plan specialists, but prescription drugs aren't always covered.
Special Needs Plans (SNPs): These plans are for beneficiaries with specific diseases like diabetes, cancer, chronic heart failure, dementia, and end-stage renal disease (ESRD), among others. These plans tailor benefits and providers to the specific needs of the group they serve. You're usually limited to the program's provider network and need a primary care doctor and get referrals to specialists. SNP may also include an allowance for extra days in the hospital, a care management specialist, or other social services.
Medicare Part D: Part D covers prescription drugs. It's an optional Part of Medicare you think you might not need. However, you may incur a permanent late enrollment penalty if you do not enroll in Medicare Part D when you are first eligible. The penalty applies for the entire duration of your coverage. Part D can be a standalone plan, or it can be part of some Medicare Advantage plans. Remember that you can't have a standalone drug and a Medicare Advantage plan.
Not all plans cover all the medications you may need. So have your broker check out all the programs you're considering before you sign up.
Medicare supplement insurance is also known as Medigap.
Private insurance companies authorized by the Texas Department of Insurance can sell Medigap plans.
Medigap is an insurance contract that helps to cover the gaps in original Medicare. These plans help to pay for copays, deductibles, and coinsurance.
Medigap plans only pay for services that Medicare deems medically necessary. Some plans also have limited emergency coverage outside the United States.
Each plan is standardized; However, some companies offer certain additional benefits. For example, if your program offers a gym membership, they could remove that benefit at any time.
You cannot have a Medigap plan if enrolled in a Medicare Advantage plan.
How To Enroll In Medicare
For some people, enrollment in Medicare is automatic, while for others, it may depend on when and how eligible they are. If you are not automatically enrolled, you may do the following to register yourself in Medicare Parts A and B:
You can enroll by calling the Social Security National 800 number (1-800-772-1213) Monday through Friday between 8:00 a.m. and 7:00 p.m.
You can also apply online at

www.socialsecurity.gov

.
You can also enroll by visiting your local Social Security office.
If you worked on a railroad, you might sign up for Medicare by contacting the Railroad Retirement Board (RRB) at 1-877-772-5772 (TTY user 1-312-751-4701).
Enrollment deadlines
Initial enrollment period is the first time you are eligible for Medicare. If your 65th birthday is approaching, your initial registration begins three months before your birthday month. It ends three months after your birthday, for a total of 7 months.
25th disability benefit: If you are under 65 and receive Medicare due to a disability, you can enroll in Part C three months before your 25th disability benefit. Your benefit will start on the 25th month of your disability benefit.
General enrollment: If you miss the initial registration, you can still register during the general enrollment period, which takes place yearly from January 1 through March 31.
Annual Election Period (AEP): AEP starts on October 15 and ends on December 7. During this time, you can change plans, make changes to your current plan, and add or remove services.
Open Enrollment Period (OEP): This period only applies to those already enrolled in a Medicare Advantage Plan and occurs between January 1 and March 31 of each year. You'll have ONE chance to change from one MA to another, drop your plan, or enroll in a Drug Plan. Insurance brokers and agents are not allowed to market during this time. You'll need to approach your broker if you want to use this enrollment period.
How to compare and choose the right Medicare coverage
These simple steps below can help you determine the right Medicare coverage.
Compare Original Medicare (with a Medigap Plan) with a Medigap Plan and Medicare Advantage. You'll need to compare the coverage and minimum costs of Medicare Advantage programs available in your area. You should know what is covered by Original Medicare and Medicare Advantage, and the difference between Medicare Advantage and Original Medicare is access to providers.
Another thing that you need to compare is the Out-of-Pocket Costs for Original Medicare and Medicare Advantage.
Identify the best drug coverage for your needs: If you choose Original Medicare, you can join a Part D prescription drug plan. You will pay an additional premium for the program. Compare the plans available in your area, both in coverage and costs.
Star ratings: Medicare uses this system to evaluate the quality of care, performance, and customer service. The range ranges from 1 to 5, with five being the highest and one being the lowest.
Do You Need a Medicare Insurance Agent?
Navigating original Medicare plans, Medicare Supplement insurance, or Medicare Advantage can be overwhelming and confusing. You can use the internet to research your options. But the internet also contains wrong information. Because of this, we believe you should always work with an agent or broker to help you with your Medicare insurance needs. It won't cost you more, and you'll get better advice.
Two types of Medicare Agent
Independent Medicare Agent: An independent agent can work with several insurance companies and sell their policies. Independent representatives and brokers provide unbiased advice. They also help in giving transparent prices for each plan.
Captive Medicare Agent: This agent can only sell policies from one insurance company.
What to Consider When Choosing an Agent or Broker
Experience: Choosing a Medicare agent with solid experience in selling Medicare plans.
Customer service: Choose a representative or broker with excellent customer service. Make sure your broker has experience with Medicare. It is also helpful to check out their reviews on their website if they have any.
Understanding your Medicare coverage is very important. Our friendly licensed insurance broker members are happy to assist in finding a plan that fits your needs. The best thing is to tell you the choices available and everything you need to know.
Find local Medicare Agents in Houston, Tx.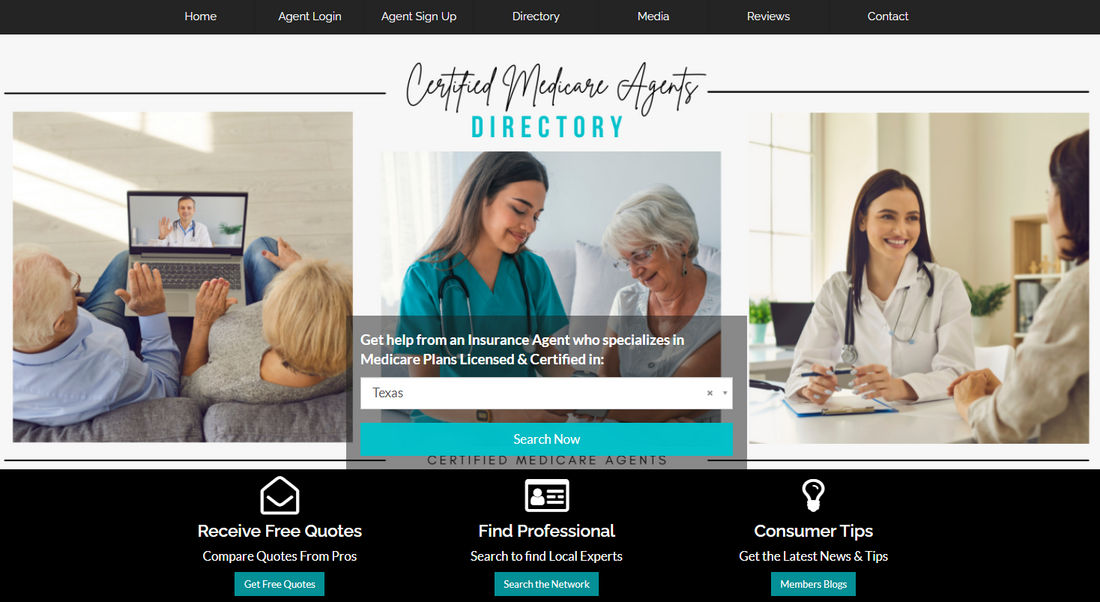 If you are ready to sign up for Medicare, visit Certified Medicare Agents Directory. Click the drop-down menu, select the state of Texas, and then click Search Now. You'll get free help from one of our agents.
---