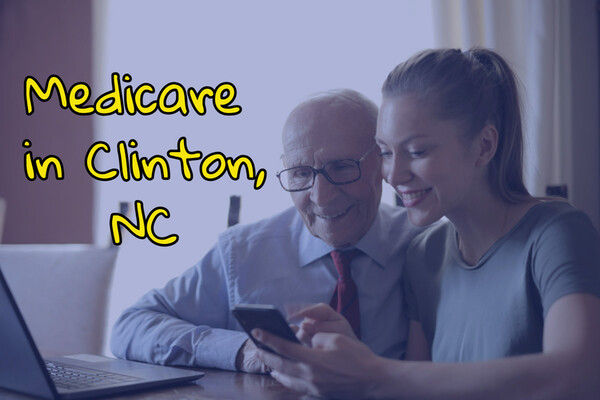 ---
Medicare in Clinton, North Carolina
Edited by Kayla Price, https://PriceServicesGroup.com
Clinton is a small town in Southeastern NC. There are just over 8,000 residents. The primary industries are agriculture and manufacturing. Like in many small towns across America, healthcare resources can be limited in Clinton. We will review Clinton's Medicare options – what they are, who qualifies for them, and where to find assistance if you need it. Whether you're new to the area or have lived here for years, understanding your healthcare options is essential knowledge everyone should possess.
Why Clinton, NC is a Great Place to Live
Clinton provides a tranquil and peaceful lifestyle for its residents. The town is nestled in the heart of Sampson County, with just over 8,000 residents. It is a good location for families with children or anyone looking to live in a close-knit community where everyone knows one another.
Clinton has restaurants like Woody's Place, the Gristmill, Alfredo's Ristorante Italiano, Southern Style, Sandpiper, Oasis Oyster Bar and Grill, and Don Agustín Restaurant. Before becoming the Gristmill, it was known as the Waffle Kitchen and was beside the local Dairy Queen. Nearby Salemburg Pizza is a local favorite that has been open for over 25 years.
Weather varies throughout the year, with warm and cool temperatures. This can help with staying active throughout the year. The local YMCA is available during rainy weather. There have been snowy winters. And some hurricanes have impacted the area in previous years, including Fran, Matthew, and Florence.
Besides being a comfortable place to live, Clinton has an affordable cost of living that attracts many retirees and working professionals. Many Medicare options provide peace of mind and other benefits for living in Clinton. With access to quality healthcare services and outdoor recreational activities, Clinton has something for everyone.
Part A in Clinton, NC
Part A refers to Medicare hospital insurance, which includes inpatient care, such as hospital stays, skilled nursing facilities, hospice care, and limited home healthcare services. Part A is typically free if you or your spouse has worked and paid Medicare taxes for at least ten years or 40 quarters.
While Part A may cover a significant portion of your medical expenses during a hospital stay or other qualifying event, it does not cover all costs. Certain deductibles, coinsurance, and copays may still be required. Additionally, if you do not meet the eligibility requirements for Part A based on work history or age (65 and older), you may need to pay a premium to enroll.
The Part A deductible is what you pay for services before Medicare will pay. In 2023, you would pay a $1,600 deductible per benefit period if admitted into the hospital.[i] The deductible would cover care you receive during the first 60 days of admission. A benefit period starts with admission and ends when 60 days pass without that care. The 2023 coinsurance is $400 per day for days 61 through 90.[ii] Beyond then, you will reach the lifetime reserve days, which are the days beyond 90 days when care continues. There are only 60 lifetime reserve days. The coinsurance for the lifetime reserve days is $800 per day.[iii] The skilled nursing facility coinsurance is $200 per day, days 21 through 10.[iv]
Clinton is home to Sampson Regional Medical Center ("SMRC"). SMRC is a 146-bed acute care hospital offering various services, including emergency care, surgical procedures, women's health, and cancer treatment. The hospital strives to provide high-quality healthcare to the local community through its team of skilled physicians and staff.
Southwood is a rehabilitation center in Clinton that focuses on providing long-term nursing care for patients with chronic illnesses or disabilities. They offer physical therapy, speech therapy, occupational therapy, and wound management services. Southwood aims to improve the quality of life for their residents by creating personalized plans of care based on each individual's needs.
Both accept Medicare, which can be beneficial for those who are eligible and seeking affordable healthcare options. Additionally, they work closely with other healthcare providers to ensure comprehensive medical coverage for all patients in need.
Part B in Clinton, NC
Part B covers medically necessary services and supplies such as ER, doctor visits, outpatient care, preventative services, and medical equipment. To qualify for Part B coverage, you must be at least 65 or have a qualifying disability. The 2023 Part B deductible is $226. The coinsurance is 20% for most services. Home health care services are $0 for covered services.[v] Durable Medicare equipment, like wheelchairs, have a 20% coinsurance.[vi] And inpatient doctors' services have 20% of the Medicare-approved amount.[vii]
As a person in Clinton eligible for Part B coverage, you have options to help navigate the often complex healthcare system. The North Carolina Department of Insurance's Seniors' Health Insurance Information Program (SHIIP) offers free counseling services to help individuals understand their Medicare options and make decisions about their healthcare. It is essential to understand that SHIIP does not have licensed insurance professionals, and advice should come from licensed insurance professionals.[viii]
Understanding Part B coverage benefits is essential for Clinton residents wanting to maintain good health and manage their medical costs. By using resources such as SHIIP and seeking advice from local licensed insurance agents, individuals can ensure they receive excellent care while navigating the complexities of the Medicare system.
Various provider groups address the needs of residents. Well-known provider groups include Clinton Medical Clinic and Sampson Medical Group. These groups provide various medical services, including primary care, cardiology, and obstetrics. Patients can visit multiple area locations for appointments staffed by experienced physicians and nurses.
Some Clinton provider groups accept Medicare insurance, making healthcare more affordable and accessible. These Medicare-approved provider groups work with patients on preventative care for optimal health outcomes. This collaborative approach creates effective patient-doctor relationships and improves Clinton's healthcare standard.
Part D Drug Plans in Clinton, NC
In Clinton, Part D Plans (also called Prescription Drug Plans) are essential to Medicare coverage. These plans provide prescription drug coverage for people receiving Original Medicare benefits (Part A and Part B). Many beneficiaries enroll in a Part D drug Plan to supplement their healthcare coverage and gain access to their medications.
In 2023, there is a donut hole (coverage gap phase), or a gap in coverage where you pay more for medications. The four phases are 1) the deductible phase (up to $505), the initial phase ($505 up to $4,660), 3) coverage gap phase ($4,660 up to $11,206), and 4) the catastrophic coverage phase (above $11,206 with $7,400 of that in out of pocket costs).[ix] Medicare, you, and the insurance company share the costs. You would pay 25% of drug costs in the coverage gap phase. The insurance company pays 75%.[x] In the catastrophic coverage phase, you pay 5% of drug costs, Medicare pays 80%, and the insurance company pays 15%.[xi] In 2024, ". . .Part D plans will be required to pay 20% of total drug costs in this phase." [xii] In 2025, there will no longer be a donut hole, and out-of-pocket costs will be capped at $2,000. And "Medicare's share of total costs in the catastrophic phase (reinsurance) will decrease from 80% to 20% for brand-name drugs and from 80% to 40% for generic drugs." [xiii] Also, the plans cost share ". . .will increase from 15% to 60% for both brands and generics above the cap," where drug companies "will be required to provide a 20% price discount on brand-name drugs." [xiv]
our member professionals knowledgeable about the local healthcare landscapeTo obtain a Part D Plan in Clinton, you must first enroll in Medicare Parts A or B. Your chosen plan may have specific eligibility requirements based on income and other factors. There are resources to guide you through the enrollment process and ensure that you select a plan that meets your needs. Suppose you're considering enrolling in a Part D drug plan or reviewing your existing coverage options. In that case, we must seek assistance from our member professionals knowledgeable about the local healthcare landscape.
In 2023, the most expensive plan has a $132.50 monthly premium or $1,590 annual premium. The least expensive plan has an $11.10 monthly premium or $133 premium annually. This is considering the monthly premium and estimated yearly premium costs. You should speak with an insurance agent to determine your particular costs. In Clinton, NC, many community-based organizations are ready and willing to assist with everything from initial enrollment to ongoing support during any changes made along the way.
Medicare Advantage in Clinton, NC
Medicare Advantage is an increasingly popular healthcare option in Clinton. This type of managed care plan provides comprehensive coverage such as hospital visits, doctor appointments, prescription drug coverage, and other health services under one insurance policy. Moreover, Medicare Advantage plans have added benefits beyond traditional Medicare coverage. These benefits may include vision care, dental care, and more. Beneficiaries must satisfy specific criteria before they are eligible for Medicare Advantage coverage.
You must enroll in Original Medicare Parts A and B to qualify for a Medicare Advantage plan in Clinton or other NC locations. You also need to live within the plan service area. Your medical history may also apply when choosing types of additional plans with their primary insurance policy, Medigap supplement policies. In 2023, there are 20 Medicare Advantage plans from six insurance companies in Clinton.
Kayla Price says regarding these plans, "I have found that clients can benefit when their plans meet their needs. Whether they have concerns about their health or income, finding a plan that works for them can bring them peace of mind. One client was worried that she would not be able to find coverage that was affordable and "good." She saw good coverage as allowing her to see doctors, fill prescriptions, and not cause her to pay a lot of money. We were able to find a plan that met her needs. She understood that she would have deductibles, coinsurance, and copays. She was okay with paying for care when she needed it because it worked for her situation. She was happy to find that her plan provided a gym membership and some over-the-counter benefits.
With another client, we discussed their situation, and he wanted a Medicare Advantage plan. Later, he decided that he did not like having to pay the copays, coinsurance, and deductibles related to having a Medicare Advantage plan. He was able to switch to a Medicare Supplement plan and a Prescription Drug Plan that he liked more. He had gone with the Medicare Advantage plan due to the lower premium costs and being able to pay as he used the plan. But later, he did not like the thought of potentially having a higher bill when he received care. He remembered that we had talked about another plan option that would have a monthly premium but lower costs when he received services. I told him it is okay to adjust your insurance as your needs change. I do not see my clients as being the same because each person has needs that are unique to them."
Medicare Supplement Insurance in Clinton, NC
Medicare supplement insurance, also known as Medigap, is a type of private health insurance designed to fill the gaps in coverage left by Medicare. This coverage can help pay for out-of-pocket expenses such as deductibles, copayments, and coinsurance. In Clinton, several options are available for Medigap plans through various insurance providers. These plans vary in cost and coverage level.
Individuals must already be enrolled in Original Medicare (Part A and Part B) to qualify for Medicare supplement insurance. Importantly, Medigap plans only cover one person per plan, and spouses will need separate policies. Some people may require medical underwriting before gaining plan coverage, while others have an open enrollment period within six months of turning 65 or enrolling in Medicare Part B without health questions. For people who need assistance navigating their options or have questions about eligibility requirements, contact your local independent insurance agent or the State Health Insurance Assistance Program (SHIP) for further guidance. Or better yet, contact a qualified insurance agent specializing in Medicare plans.


Working with a Medicare Agent in Clinton, NC
Working with a qualified insurance professional provides an excellent resource if you are looking for assistance with your Medicare options in Clinton. They know the various plans available to you and can help you navigate the enrollment process and answer any questions. You will find agents are well-versed in the local healthcare landscape and can recommend policies that align with your specific needs.
Kayla Price says, "Personally, I have had the joy of helping many clients find the coverage that was best for them. Whether it was a Medicare Advantage plan or a Medicare Supplement and a Part D Plan. One client that comes to mind when I think about how my clients can benefit from working with me versus going directly to the insurance company. She wanted coverage that would lower what she pays for care because she has some existing health issues. We talked about her doctors, medications, and finances, but more importantly, we talked about what she wants from her insurance. She decided that a Medicare Supplement would be best for her. And we were able to find a Prescription Drug Plan that would cover her medications affordably. Previously, she spoke with someone at an insurance company but felt that they did not really listen to her. Now, when she has questions about her coverage, she is able to ask questions and get the answers to those questions. She also receives assistance with claim questions when her doctor's office did not bill her correctly. She was happy to know that I was there to help her."
Working with a Medicare agent is especially helpful if you are new to Clinton or North Carolina. They understand how different policies vary by state and will ensure that you receive accurate information so that when it comes time to enroll in a plan, there will not be any surprises later on. Many agents offer ongoing support long after enrollment so that should any issues arise, they are available and equipped to address them promptly. Overall working alongside an experienced agent ensures peace of mind knowing all your healthcare bases are covered no matter what!
[i] https://www.medicare.gov/coverage/inpatient-hospital-care#:~:text=Lifetime reserve days,except for a daily coinsurance.
[ii] https://www.medicare.gov/coverage/inpatient-hospital-care#:~:text=Lifetime reserve days,except for a daily coinsurance.
[iii] https://www.medicare.gov/coverage/inpatient-hospital-care#:~:text=Lifetime reserve days,except for a daily coinsurance
[iv] https://www.cms.gov/newsroom/fact-sheets/2023-medicare-parts-b-premiums-and-deductibles-2023-medicare-part-d-income-related-monthly
[v] https://www.medicare.gov/basics/costs/medicare-costs
[vi] https://www.medicare.gov/basics/costs/medicare-costs
[vii] https://www.medicare.gov/basics/costs/medicare-costs
[viii] https://www.ncdoi.gov/consumers/medicare-and-seniors-health-insurance-information-program-shiip
[ix] https://www.kff.org/medicare/issue-brief/changes-to-medicare-part-d-in-2024-and-2025-under-the-inflation-reduction-act-and-how-enrollees-will-benefit/
[x] https://www.kff.org/medicare/issue-brief/changes-to-medicare-part-d-in-2024-and-2025-under-the-inflation-reduction-act-and-how-enrollees-will-benefit/
[xi] https://www.kff.org/medicare/issue-brief/changes-to-medicare-part-d-in-2024-and-2025-under-the-inflation-reduction-act-and-how-enrollees-will-benefit/
[xii] https://www.kff.org/medicare/issue-brief/changes-to-medicare-part-d-in-2024-and-2025-under-the-inflation-reduction-act-and-how-enrollees-will-benefit/
[xiii] https://www.kff.org/medicare/issue-brief/changes-to-medicare-part-d-in-2024-and-2025-under-the-inflation-reduction-act-and-how-enrollees-will-benefit/
[xiv] https://www.kff.org/medicare/issue-brief/changes-to-medicare-part-d-in-2024-and-2025-under-the-inflation-reduction-act-and-how-enrollees-will-benefit/
---