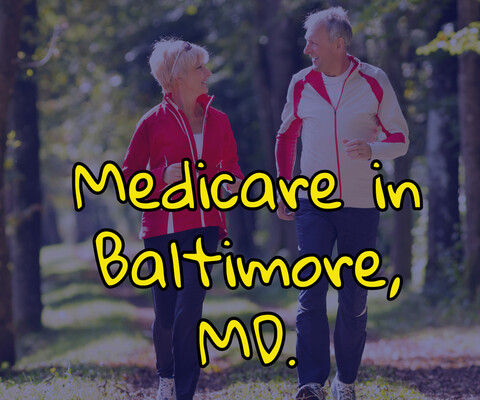 ---
Medicare in Baltimore, MD
Are you a Baltimore, Maryland, senior in the area considering signing up for Medicare?
Medicare is one of the most important decisions you can make when protecting your health. Knowing which plan will work best for you and your situation can be overwhelming. You must have the facts to make an informed decision about covering yourself and your loved ones properly.
This article will help navigate the different types of plans available to those living in Baltimore, Maryland, and what each offers so that seniors can be well-prepared for their transition into Medicare. From understanding eligibility requirements to learning ways to save money on coverage costs, this article covers everything seniors need to know about Medicare in Baltimore, Maryland.
Overview of Medicare in Baltimore, Maryland
Medicare is a federal health insurance program designed to cover parts A, B, C, and D that's intended to help those aged 65 and older and younger individuals with disabilities pay for hospital stays, doctor visits, and other medical care. In Baltimore City alone, there are nearly 100k beneficiaries enrolled in some form of Medicare. About 82% of these enrollees are eligible due to age, while approximately 18% become qualified because of a disability determination. (Source: healthinsurance.org)
Enroll in Medicare Parts A & B
Medicare Part A: These services include inpatient care in the hospital, skilled nursing following a formal three-day hospital stay, and hospice care.
Meanwhile, Part B covers services such as lab tests, doctors' fees, and durable medical equipment (such as wheelchairs). Medicare Part B premiums are standardized across the country, and in 2023, most people will pay $164.90 per month. Still, those living in Maryland pay the federally mandated monthly premium before any supplemental plans begin coverage payments.
Choose Additional Coverage Options
Even after signing up for Parts A & B, you should still consider what additional coverage may be necessary depending on your situation, such as vision or dental services, which typically aren't covered by basic plans but may be offered via add-on policies through private insurers such as Humana or United Healthcare.
Medigap Plans
Medicare supplement plans are standardized, making comparing coverage among private insurance companies easy. You'll enjoy the same benefits regardless of which carrier you choose. The tradeoff is that Medicare supplements often cost more per month than a Medicare Advantage plan but offer greater flexibility and don't require prior authorization from a doctor.
Medigap plans don't cover prescription drugs, so it's essential to enroll in Medicare Part D if you want your medications to be covered. Please enroll in Part D and have other credible insurance care coverage to avoid a lifetime penalty.
The Most Popular Medigap Plans:
Medigap Plan F:
It is the most comprehensive option and covers 100% of all approved Medicare products without copays or deductibles for approved medical services. To be eligible for this plan, you must have purchased Medicare A or B before January 1st, 2020.
Medigap Plan G:
It is a comprehensive and popular Medigap coverage plan ideal for new enrollees. The only thing it doesn't cover is the Part B deductible, which was $233 in 2022 and $226 in 2023. Other than that, Plan G provides the same benefits as Plan F.
Medigap Plan N:
It is relatively more affordable than Plans F and G. Under Plan N, you'll have to pay for the Part B deductible and face a $20 copayment when visiting the doctor and a $50 copayment for emergency room care. Excess doctor fees, meanwhile, are not included in this plan. There is no cap on excess doctor fees.
Medicare Advantage plan
Medicare Advantage plans must include the same benefits as Original Medicare, but they may also offer extra coverage such as routine hearing, dental, and vision care, fitness club membership, and so on. When you opt for a Medicare Advantage Plan, you are opting out of original Medicare. However, you must still pay your Medicare Part B premium.
Private insurers provide Medicare Advantage plans, and the options available vary by provider and area.
Types of Medicare Advantage Plans
Under Medicare Advantage, there are four TYPES of plans to choose from, each with a different level of coverage and cost.
Health maintenance organization (HMO): If you opt-in to an HMO-type plan, you can only see in-network providers. If you go out of network, your care will not be covered. You'll need to select a primary care physician (PCP) and receive referrals for specialists. Your insurer may also require approval of specific treatments, procedures, and prescription drugs. To enjoy your preferred doctor or clinic, ensure they are in the network.
Preferred Provider Organization (PPO): With PPO coverage, you can choose a healthcare provider from within or outside your insurance network. Going out-of-network will require more costs but selecting an in-network provider can save you money.
Special Needs Plans (SNPs): This plan is designed for individuals with certain conditions, providing them with coordinated care and customized services.
Private Fee-for-Service Plans (PFFS): When you have a PFFS plan, You don't have to restrict yourself to in-network healthcare providers. However, the provider must agree to accept the plan terms every visit. The provider can decide not to take the plan at any time.
Factors when comparing Medicare Advantage plans:
Monthly premium
Maximum Out-of-pocket
Provider network
Deductibles, coinsurance & copays
Drug coverage
Additional benefits:
Find a local Broker in Baltimore, MD.
If you are a Baltimore, MD, resident looking for a suitable Medicare insurance agent, let us provide you with the best choice. Use CertifiedMedicareAgents.com to find qualified and licensed Medicare agents near you.
The Medicare Certified Agent Directory allows you to determine who can contact you, providing a secure and reliable method of protecting your personal information from being shared with multiple insurance agents.
---