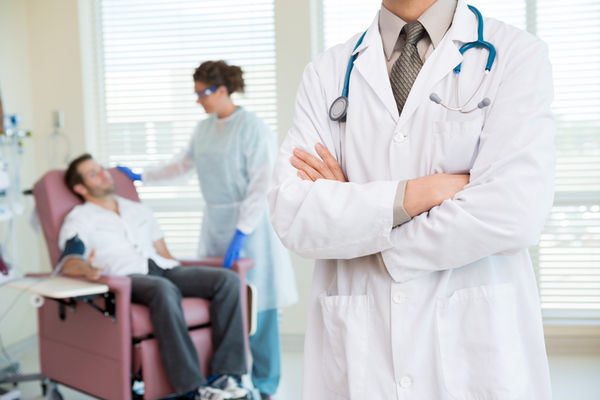 ---
Medicare Advantage Specialists
There are different types of life and health care providers in the Medicare insurance market who work with Medicare Advantage Plans. There are health care specialists who help you enroll in Medicare Advantage Plans, and there are doctors who are considered "Specialists" under the program.
Medicare Advantage Enrollment Specialists
These types of health care specialists are known as either agents or brokers. In general, representatives who call themselves "agents" typically work for only one company. Those who call themselves "brokers" generally market for many insurance companies.
Whether you work with an agent or a broker, the carrier pays. Similar to the old travel agency setup, you don't pay extra for working with a broker. You'll pay the exact same price as you would have paid by calling the company and enrolling with an employee. In effect, using both is a free service to you.
The advantage of working with a health care broker who specializes in Medicare is the solid ongoing support you'll get. Additionally, the broker works for you, not an individual company, so you'll be able to get advice regarding which products will work best for you every year.
An essential item to check each year is your drug plan medication. Prescription Drug varies from program to program and even from year to year. The Medicare Advantage Plan that covered your prescription drugs at a low cost for one year could cost you extra the following year.
It's a good idea to have your Medicare broker check your Prescription Drug Coverage Options each year to make sure it will work for you the following year. They can do this every year starting on October 1st when all the new information is public. Then you can change during the Annual Election Period (AEP), which is October 15th-December 7th of every year.
Not only can brokers check on your medication plans covered, but they can also check on your current additional coverage, such as dental care, hearing aids, and other services. Benefits change every year, and you'll want to be sure that the new plan covers what's important to you.
In addition to the ongoing support you'll get, brokers can often help you with an urgent claim. They can help you get a form you need, help you understand the term of other plans offered, and other administrative items that would be annoying to have to wait on hold for a giant company.
You'll also find that your broker will know who you are and remember you. You'll either talk with the broker or one of the staff members, and they'll know who you are. You won't just be calling the helpline where no one knows you.
You can find a broker near you by searching the CertifiedMedicareAgents.com website, and then you can learn about the licensed and certified brokers in your area. Once you find a broker you want to talk to, you can contact them through the site.
Networks
It lists doctors and specialists who have negotiated rates with the insurance company's program. Each program may have different networks--even different programs with the same insurance company can have different networks. When you enroll in Medicare Advantage, you'll want to ensure that your health care providers are all in-network, if possible, because you'll have lower costs when you see them.
Narrow Network
This means that your Advantage plan consists of a significantly limited number of healthcare providers that provide a range of healthcare services to members. Generally, you'll want a vast network if you choose an Advantage Plan.
Plan Directories
To find out if your specialist or other provider is in-network, check the Provider Directory. Typical Directories are available in printed form but are also available online. Because providers can enter or exit Medicare Advantage Plans at any time throughout the year, we recommend you use the online version to check to see if they are in-network. If you use an insurance broker to enroll in a Medicare Advantage Plan, your broker who accepts the plan you choose should also be able to assist you.
Medicare Advantage Provider Specialists
Health Maintenance Organization (HMO)
In most cases, HMOs require that you have a Primary Care Physician (PCP). This is known as network restrictions. Your PCP is the doctor or other care provider that you see first for your regular checkups and illnesses. You'll need to get a referral if you need to see one. Yearly screening mammograms don't usually require a referral.
Preferred Provider Organization (PPO)
If you are in a PPO plan, you usually don't need a PCP, but we recommend you select one anyway. With PPO plans, you don't usually need a referral to a specialist such as a dermatologist, cardiologist, etc. PPOs have networks, and if you use in-network Medicare Advantage specialists, you'll typically pay less than out-of-network specialists.
Private Fee-for-Service (PFFS)
If you are in a PFFS plan, you won't need a PCP referral to see a specialist.
Special Needs Plans (SNPs)
In most cases, you need to get a referral from your PCP to see a specialist. But some services, such as your yearly mammogram insurance and pelvic plan exams, don't usually need a PCP referral.
Original Medicare with Medigap
You won't ever need a referral to see a specialist when you have an original Medicare Plan with Medigap. These plans do not require PCP referrals.
For more information or to find a broker who can help, go to https://certifiedmedicareagents.com and search for a broker who is licensed and certified in your state.