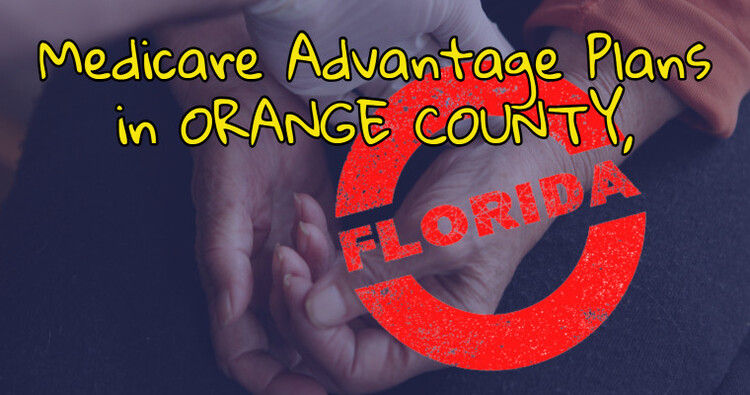 ---
Medicare Advantage Plans in ORANGE COUNTY, FLORIDA
57.80% of Orange County, Florida's Medicare beneficiaries have opted for a Medicare Advantage plan. If you live in Orange County, Florida, a Medicare Advantage plan may be a good option for you. But first, you need to understand what a Medicare Advantage plan is and how you can compare the ones offered in your area.


What is a Medicare Advantage Plan?
Also known as Part C, these plans are available from private, Medicare-approved contracted insurance companies that agree to provide coverage by Medicare's rules. (MA) programs offer an alternative to Original Medicare beneficiaries living in Orange County.
When you sign up for a Medicare Advantage plan, you still have Medicare. Still, you get all Part A and Part B coverage from your Medicare Advantage plan, not from Original Medicare.
Cost for Medicare Advantage Plan
The cost of a Medicare Advantage plan varies depending on the geographic location and type of plan. Many of these plans don't have monthly premiums. Instead, the Medicare program pays insurance carriers a capitated rate. Medicare Advantage plans have an annual spending limit on out-of-pocket costs for all Part A and Part B services. Once you reach a specific limitation, you won't pay anything for covered services for the rest of the year.


Types of Medicare Advantage Plans to Choose
Understanding all the differences is essential, and choosing the plan best suits your unique needs and specific conditions. There are several Medicare Advantage plans, with many different considerations.
Health Maintenance Organization (HMO) Plans use a network of providers. For your insurance to pay for a doctor's visit or other health care needs, you must use approved providers in your network. Exceptions include out-of-area emergencies, emergency or urgent care, and out-of-area dialysis. You must examine your plan's benefits to see if your drugs are covered. It is also best to ensure your favorite doctor is in the network. You may have to pay the service's total cost if you don't get referrals to your family doctor.
Preferred Provider Organization (PPO) Plans: PPO members can generally use in-network and out-of-network providers for care, including hospitalizations. As with HMO plans, you will pay less when using in-network providers. When you go out-of-network, you may incur higher copayments or coinsurance costs. You may also have a higher Maximum Out of Pocket when you go out of network.
Special Needs Plans (SNPs): Special needs plans are for people with special health care needs such as Diabetes, end-stage renal disease, HIV/AIDS, chronic heart failure, and dementia. Special needs plans also offer Medicare prescription drug coverage that focuses on the medications used by those with the illness. To coordinate your health care needs, you must choose a primary care provider or care coordinator.
Private Fee-for-Service Plans: These plans provide Medicare benefits that can help cover out-of-pocket expenses not covered by Original Medicare (Parts A and B). PFFS plans do not require their members to see only in-network healthcare providers.
Medical Savings Account (MSA) Plans: MSAs are similar to HSAs (Health Savings Accounts). Eligible individuals can deposit pre-tax dollars into a savings account, which can then be used to cover health care costs.
HMO-POS (Point-of-Sale): Point of Service offers the same features as an HMO plan. However, there is a big difference. HMO POS plans allow members to see some specialists (in network) without a Primary Care Provider referral.
How do you choose the best Medicare Advantage plan?
Ask these questions before selecting a plan if you have decided to enroll in a Medicare Advantage plan. These questions will help you determine which plan is best for you.
Are my current providers part of the plan's network? Am I willing to change providers if it is not part of the plan's network? You must ensure that the plan's network covers your doctor's and preferred hospitals if you are unwilling to change your provider.
Does the plan offer prescription drug coverage? Double-check and find out if your prescription drugs are covered.
What is the maximum out-of-pocket cost with this plan? Am I willing to pay this amount if I need treatment? Review the plan's copayments and deductibles. See what you must pay for a doctor's visit or hospital stay. Pay attention to the annual out-of-pocket limit.
Does the plan offer additional benefits? Look for a program that provides all the "extra" benefits vital to you, such as dental, vision, hearing aids, and gym memberships.
Essential Considerations to know when deciding to choose a Medicare Advantage plan
Consider how often you seek medical help. Remember to plan for future care and that your needs may change over time.
You need to know what types of providers are near you.
Consider which plan fits your budget. Remember to consider deductibles, copayments, and the Maximum Out of Pocket, in addition to the monthly premium.
Getting Enrolled in a Medicare Advantage Plan
People living in Orange County, age 65 and older, are qualified to enroll in one of the many Florida Medicare Advantage Plans. Before you sign up, you should compare Medicare health plans in your area.
There are several different Medicare Election Periods. Medicare's annual election period (AEP) runs from October 15 through December 7.
Eligibility & Enrollment
Suppose you want to enroll in Medicare Advantage in Orange County, Florida. You must register first in Medicare Parts A and B and:
Be Sixty-five years old or older (or disabled).
You are a U.S. citizen who has lived in the U.S. for more than five years.
You or your spouse must have worked long enough to be eligible for social security or railroad pensions.
You or your spouse must be government employees or retirees who didn't pay Social Security but paid Medicare payroll tax.
Or you've been on Social Security Disability Insurance (SSDI) for two years.
Or you have an end-stage renal disease (ESRD) or Lou Gehrig's disease.
When you have a Medicare Advantage plan:
You are in the Medicare Program.
You can only enroll in one Medicare Advantage Plan at a time.
You still have the protection and rights in Medicare.
You still receive full coverage for Part A and Part B of the plan.
In the Medicare Advantage plan, your out-of-pocket costs may be lower than with Original Medicare.
You can't buy a Medigap Plan if you have a Medicare Advantage Plan (and are not canceling that plan)
You can only enroll in a program at certain times of the year.
Even if you have a pre-existing condition, you can still join Medicare Advantage Plan.
Your plan can also change network providers at any time of the year. In that case, you may need to select a new provider.
If you participate in a clinical research study, your plan may cover some costs.
Medicare Advantage Plans will not charge you more than Original Medicare for certain services like chemotherapy, dialysis, and skilled nursing facility care.
You'll have a MOOP or a yearly limit on your out-of-pocket costs for medical services. You won't pay anything for covered benefits when you reach the limit. Each plan may have a different limit, which may change each year. This is something to consider when choosing a plan.
Your services are covered when you go to a doctor, other health care provider, or facility that belongs to the plan's network. You can also go out of network if your program allows it.
You can check with the plan before using a service to find out if it's covered and what its costs may be.
Suppose the plan decides to stop participating in Medicare. In that case, you must enroll in another Medicare health plan or return to your Original Medicare.
Getting a Referral to see a specialist in the plan's Network can lower your costs.
*Source: Medicare.gov
Steps in Joining Medicare Advantage Plan
Information that you need to give when joining Medicare Advantage Plan
Your Medicare number
The date your Part A and Part B coverage started
Open Enrollment Period for Medicare Advantage
The MA Open Enrollment Period allows you to change from one MA to another or drop Medicare Advantage altogether.
There are reasons why you might opt to disenroll from Medicare Advantage. You may need to switch to a provider that is not in your plan's network, or you feel that your needs may be better met with Original Medicare and a Supplement plan.
You can make a one-time change to your current Medicare Advantage plan during this enrollment period. Still, you'll need to contact your agent to do so. Plans are not allowed to "market" during this period.
Disadvantages of Medicare Advantage Plan
Hospital stays might cost more: Half of all Medicare Advantage enrollees would incur higher charges than beneficiaries in traditional Medicare for a 5-day hospital stay. (Source:

KAISER FAMILY FOUNDATION

)
You're more likely to see a practitioner than a doctor: HMO and PPO health plans use capitation to pay doctors under contract. Under this contract, an HMO or managed care organization pays its members a fixed amount of money to the health care provider. For this reason, many primary care group offices use nurse practitioners and physician assistants to reduce costs and care for as many patients as possible. Physicians supervise these healthcare workers.
They make you get a referral to see a specialist: Health insurance companies are businesses. Requiring referrals is one of the most important ways to control costs.
Plan services, costs, and providers change annually: Insurers can change their provider networks, benefits, and fees in their plans.
Which is better, Medigap vs. Medicare Advantage
As we all know, Medicare Advantage is a plan that covers things that original Medicare doesn't cover. Medigap, on the other hand, helps pay the deductibles and co-pays of original Medicare. You cannot have both MA and Medigap.
Finding the best Medicare plan for you can be confusing and time-consuming. Our agents are here to help you. Find the representative of your choice and contact them to schedule a free consultation.
Find local Medicare Agents in Orange County, Florida
Are you ready to sign up? Contact your nearest Medicare representative to determine which Medicare Advantage plan fits your needs. Use the search function on our website to find and explore a certified and licensed Medicare representative near you.
From the homepage of Certified Medicare Agents Directory, Click the drop-down menu, select the state of Florida, and then click Search Now. You'll get free help from one of our agents.
Why choose Certified Medicare Agents Directory?
Certified Medicare Agents Directory will not sell your information to insurance agents looking for "potential leads." You get to control who contacts you, and you are secure that multiple agents won't contact you.


Advantages of working with an independent Medicare agent
Our members will help you narrow your options when applying for health insurance. They will ask you about your health goals and offer options and solutions to help you achieve your goals within your budget.
Brokers help you save time.
They can give you unbiased advice to make sure you choose the best plan for your needs. When you contact one of our experienced members, they will offer you their services without the obligation to sign up.
Choosing the best policy for your needs and current status can be confusing. Because of the wide variety of insurance policies on the market, the broker's job is to save you time by comparing plans and making a recommendation.
Brokers generally know the options and can help you decide faster than you can on your own.
Two Types of Medicare agents or broker
Independent agent - When you work with an independent Medicare insurance agent, you can choose from various policies.
Captive - Captive agents are often experts in all the options their organization offers. However, you can't get information about plans from other Medicare insurance companies.
Find a local Medicare sales agent on this website who can help you understand all the plans and products available!
---