---
Local Insurance Brokers Near Me
Certified Medicare Agents Directory is here to help you find the best insurance coverage for your needs if you're looking for local insurance brokers near you!
From the homepage, click the dropdown arrow and select your state. Hit "search now," and you will get the result in no time.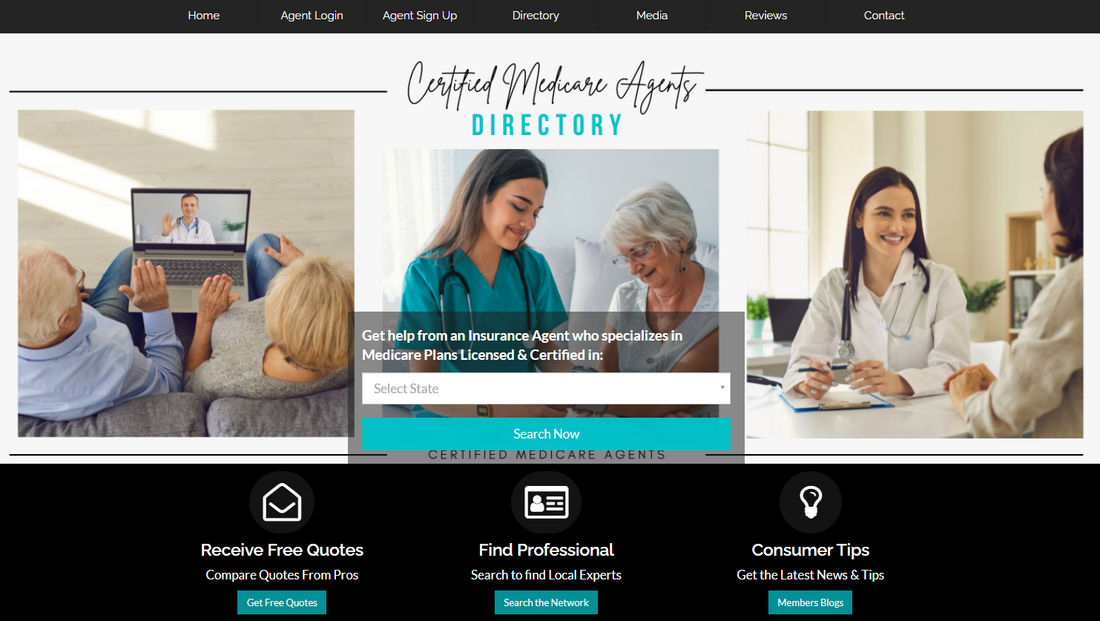 Local insurance brokers- what to look for
When searching for insurance, working with a local insurance broker is beneficial. A local broker will know your state's laws and requirements and be up-to-date on any changes. They will also be able to offer you a selection of policies from various insurers, giving you the most competitive price.
Factors to consider when choosing a local insurance agent.
- Find out what kinds of policies the broker offers. They should be able to give you various options from different insurers.
- Determine how long the agent has been in business. Experience matters!
Benefits of using a local insurance broker
A local broker offers personalized service and attention, getting to know you and your needs. They can provide custom coverage that fits your budget.
- Expert advice: A local broker has extensive knowledge of the insurance market and can offer advice on the best coverage options for your situation.
- Local insurance brokers know which medical clinics, hospitals, and medical groups are popular in your area.
- they can save you time by researching different policies and finding the best fit for you.
How to find the best local insurance broker for you
There are two primary options when you're in the insurance market: working with a captive or independent agent. Captive agents can only sell products from the one company they work for. On the other hand, independent insurance brokers represent multiple companies. They can offer you more choices as well as better rates. If you're unsure which route to take, here's how to find the best local insurance broker.
Use this website to research brokers near you or at least licensed in your state.
Ask your family and friends if they have any recommendations for brokers. If you can't get any good leads from them, look online next. Search for customer reviews and testimonials to get an idea of each broker's reputation.
Once you've made a list of potential brokers, give them a call. Inquire about their experience, the companies they represent, what type of coverage they specialize in, and if they would be willing to work with you to create a custom policy. Also, be sure to ask about pricing, discounts, and any other questions you have before making your final decision.


Tips for working with your local insurance broker
1. Be honest. Tell your insurance broker about your needs and budget. This way, they can help you find the right policy that meets your requirements and financial limitations.
2. Get recommendations. Your insurance broker is probably very knowledgeable about different policies and coverage options. Based on your specific needs, ask for their suggestions on what type of policy would be best for you.
4. Review your policy regularly.
It's important to review your insurance policy regularly with your broker to ensure it still meets your needs. They can also help you make any changes that may be necessary to keep your coverage up-to-date.
5. Make sure to ask questions!
Things to consider when choosing a local insurance broker:
First, you'll want to ensure that the broker is licensed to do business in your state. Second, you'll want to ensure that the broker has access to the insurance carriers you're interested in. Finally, you'll want to ensure that the broker has experience handling the type of insurance you're looking for.
Things to remember when choosing a local insurance broker.
First, you'll want to ensure that the broker is licensed and certified by either AHIP or NAHU.
Second, you'll want to ask about the broker's experience and expertise. And finally, you'll want to understand the broker's customer service and support. By considering these factors, you'll be able to choose the right broker for your needs. You should also confirm that they represent multiple reputable companies so you can be positive you're getting the best possible coverage and price.


Why use a local insurance broker?
An insurance broker is a professional who helps consumers find the best insurance policies at the best prices. Insurance brokers use their market knowledge to find the best policies for their clients.
There are many reasons to use a local insurance broker. Here are just a few:
-You'll get more personalized service.
-You can build a relationship with your broker.
-They may be able to get you better rates.
-Their services are free to you because they get paid by the insurance company.
The advantage of working with a local insurance broker is that they will have an intimate understanding of the local market. This allows them to source the most suitable policies for your individual needs and location.
They will know which insurance companies operate in your area. This allows them to guide you on which companies will most likely offer the best coverage and rates.
A local insurance broker's attention and service can be beneficial when buying insurance.
-An insurance broker who works in your local area is likely to have already established relationships with different insurance companies. This could mean they could get you better rates than if you tried to get them on your own.
Visit https://www.certifiedmedicareagents.com/ and find the local insurance agent of your choice and contact them to schedule a free consultation.
---