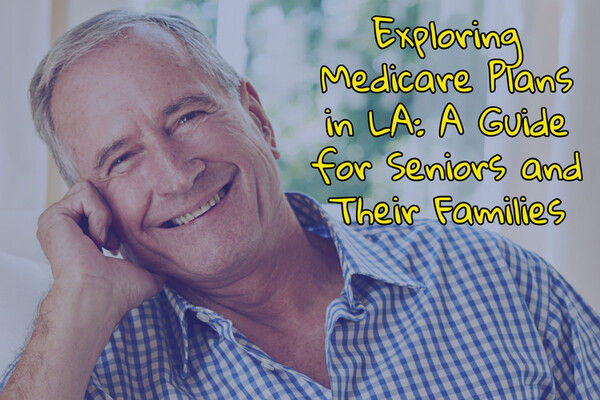 ---
It can quickly become overwhelming as seniors and their families begin navigating Medicare in Los Angeles. With many plans available and various coverages, understanding how Medicare works is essential for making informed healthcare decisions. In this guide, we'll explore different Medicare plans available in LA and provide seniors and their families with a comprehensive understanding of what's out there. From premium costs to coverage options, this guide will help break down the complexities of Medicare plans and make it easier for you or your loved ones to make an informed decision about healthcare coverage.
Understanding Medicare Eligibility in LA
Understanding Medicare eligibility in LA is vital for seniors and their families who want to make informed healthcare decisions. The first step is understanding the basic requirements for enrollment. In the city of Angels, you'll need to be 65 years or older, or if you have a qualifying disability/end-stage renal disease, and have been a US citizen or permanent resident for at least five years. Once you meet these requirements, it's essential to understand that various types of Medicare plans are available in LA to choose from. These plans can cover everything from hospital stays, and doctor visits to prescription drugs and specialist care. Some options even provide additional benefits, such as dental and vision coverage.
It's essential to compare premium costs, deductibles, out-of-pocket expenses, and other factors unique to each plan. With all this information, seniors in Los Angeles will have the tools needed to navigate the complexities of Medicare with confidence.
Exploring Medicare Advantage Plans for Seniors in LA
Making sense of Medicare can be daunting for seniors and their families in Los Angeles. With so much information to consider, it's normal to feel overwhelmed and uncertain about what type of plan is suitable. That's why this guide takes a thoughtful approach to exploring different Medicare Advantage Plans available in LA. Our aim? To help simplify the process by breaking down the complexities of these plans into manageable pieces. Here, seniors and their loved ones can learn more about premium costs, coverage options, and various helpful resources available from providers statewide. Plan details vary depending on your location; thus, our focus is specific to residents living throughout Los Angeles County. Whether you're looking for general guidance or need an expert opinion on healthcare decisions that impact your financial stability during retirement, we've got you covered! Just keep reading as we explore some essential pointers to help guide you through the maze-like world of Medicare Advantage Plans...
First, you need to know that Medicare Advantage Plans (MA) replace your ability to use Original Medicare. Although you'll still have to keep (and pay for) both Parts A and B, you won't be able to use them if you have an MA plan. MA plans must cover everything that Original Medicare covers and most add additional benefits. Drug plans are also generally included, as you cannot have a stand-alone drug plan and an MA plan.
When you first sign up for Medicare, you can choose either an MA plan or a Medicare Supplement plan, which we'll describe in the next section.
MA plans are often premium-free, meaning that you don't have to pay extra to have one. Some charge, but plenty of low or no-cost options exist in the City of Angels. So how do you choose?
First, you'll need to gather the information on all the doctors you'll want to see because these plans, even the PPOs if one is currently available, have networks. If you choose an HMO, you'll have to stay in-network; if you choose a PPO, staying in-network will likely save you money.
Next, you'll need to gather information on your current medications. Each MAPD plan (MA plans that include drugs) has different formularies, meaning the drugs they cover and the cost of those drugs based on their Tier Level. Each insurance company gets to select its own formularies and tier levels. Still, all must cover at least one drug in each therapeutic area.
Using this information, you'll need to research each plan to ensure that your doctors, medications, and whatever extra benefits you desire (such as dental, over-the-counter items, etc.) are included.
Be sure and read about the restrictions of the plan you select. Medicare Advantage Plans use certain restrictions as a cost-saving measure. This can be referrals (where your doctor must refer you to a specialist), networks (where you may be restricted as to which doctors you can select), pre-authorization (where your doctor must get permission from the insurance company to perform a service), among others.
You can change your plan during the Annual Election Period (AEP), which is October 15th through December 7th of every year. You'll also be able to make changes during certain circumstances called Special Election Periods (SEPs).
Because this can be a very tedious process for an individual, we recommend that you use a member of https://CertifiedMedicareAgents.com to assist you. You can read about each agent or broker and select one to contact. You will only be contacted by one agent when you use this website.
The Benefits of Medicare Supplements for Senior Healthcare in LA
One of the most significant benefits of Medicare Supplements (AKA Medigap or Supplement Plans) for senior healthcare in LA is the gap coverage they provide on original Medicare. Medigap plans can cover deductibles, coinsurance, and copayments that would otherwise come from the patient's pocket. This added financial protection helps seniors avoid unexpected medical bills and provides peace of mind regarding healthcare costs. Another benefit of Medicare supplements in LA is increased flexibility and choice. With Medicare Advantage, seniors are often limited to a set network of providers who accept this insurance plan. However, with a supplemental plan added to Original Medicare, seniors have more options when choosing a doctor or hospital since many additional providers will now be covered under their policy. This allows seniors to continue seeing their preferred physicians without worrying about whether those doctors accept their insurance because most doctors accept original Medicare. If the doctor accepts original Medicare, they must also take any Medigap plan you have.
Additionally, Medigap plans do not require pre-authorization, so no insurance company tells your doctor what (Medicare-covered) services they can perform.
Overall, by offering financial protection and increased flexibility in provider choice, Medicare supplements are an excellent option for senior healthcare in Los Angeles. By exploring different plans available in LA and choosing one that fits your specific needs and budget best, you can rest easy knowing that your healthcare costs are covered no matter what might happen down the road.
Navigating Medicare Part D Prescription Drug Coverage in LA
Navigating the Medicare Part D Prescription Drug (PDP) Coverage plan can be daunting for seniors and their families in LA. It is essential to understand that stand-alone drug plans cover prescription drug costs, which are not included in regular Medicare plans. Medicare Part D may be provided as a stand-alone drug coverage plan or integrated into certain Medicare Advantage Plans. However, you cannot have a PDP alongside an MA plan. If you opt for an MA plan, be sure it includes the prescription drug coverage you need.
With different PDP plans available from various providers, it's easy to become lost and confused. To make informed healthcare decisions, seniors should look at each provider's formulary - the list of drugs covered under their specific policies. Premiums and deductibles vary according to medication needs, so selecting a policy based on specific medications is critical. Beneficiaries must remain vigilant even after choosing a particular plan; sometimes, changes occur during the year that might necessitate switching plans at the next annual enrollment.
Like MA plans, you can only change your plan under certain circumstances. Still, you'll be able to change every year during the AEP.
This guide helps simplify the convoluted process of choosing between different Medicare options in Los Angeles by providing helpful information about premium costs and coverage options involved with each policy offered. By understanding these details before making any choices regarding healthcare benefits, seniors will feel better equipped when navigating through potential issues such as copays associated with specific prescriptions or out-of-pocket expenses.
Because plans change yearly, you'll want to review your PDP plan each AEP, even if your medications haven't changed. This is a perfect time to contact one of the member agents on this site. Just go to https://CertifiedMedicareAgents.com and select California as the state. You can find the agent you'd like to work with based on their profile information.
Making the Most of Medicare Open Enrollment in LA
Making the most of Medicare open enrollment in LA requires careful consideration and planning. Seniors and their families need to take stock of their healthcare needs, evaluate the available plans, and determine which is best suited to meet those needs. Thankfully, with proper guidance, understanding how Medicare works doesn't have to be daunting. One key factor seniors and their families should consider when evaluating different Medicare plans is cost. While it's important to focus on crucial medical coverage, there are often opportunities to save money by choosing a program that offers the right coverage for your specific health condition or situation.
Part A is generally free for those who worked enough and paid into the system. Part B, on the other hand, is not free. The premium in 2023 is $164.90, and you'll need to pay this in addition to any premiums for Medicare Advantage, Medigap, and/or PDP plans.
Many people in LA are eligible for Medi-Cal, so you may receive help with your premiums. Be sure and talk with your agent about "extra help" as well.
Another crucial aspect of navigating Medicare in Los Angeles is staying up-to-date with changes in regulations and policies. Open enrollment periods can provide an excellent opportunity for seniors and their families to re-evaluate existing plans or explore new options explicitly tailored to them while keeping abreast of any changes or updates made through local agencies like California's Department of Aging. By taking these steps together as a unit, following expert advice from qualified resources such as senior centers or state-sponsored programs aiding residents aged 60+ with optimizing Healthcare access, they can help ensure long-term stability towards better healthcare outcomes.
Common Mistakes to Avoid with Medicare in LA
Navigating Medicare can be overwhelming for seniors and their families in Los Angeles. With numerous plans available, it's essential to understand how Medicare works to make informed healthcare decisions.
One common mistake is not reviewing all available Medicare plans and choosing the first with low premiums.
Another mistake is assuming that having original Medicare coverage is enough without exploring additional options such as a Medigap policy or Medicare Advantage plan. It's also crucial to consider particular medical needs when selecting a plan rather than solely focusing on costs or familiarity with a specific provider.
Some people don't need to sign up for Medicare because they are still working and have a "creditable" plan. Be sure and speak with a knowledgeable insurance agent or broker to help with this.
Others don't sign up for Medicare when they are first eligible (and don't have creditable coverage).
Still, others don't sign up for a drug plan and wind up paying a considerable lifetime penalty when they finally do sign up.
To avoid mistakes with Medicare in LA, it's essential to research thoroughly before making any decisions and seek professional advice if needed. By taking these steps, seniors and their families can make more informed choices about their healthcare coverage while avoiding potential pitfalls that could lead to additional expenses or inadequate care.
Finding the Right Medicare Plan for Your Needs in LA
Navigating Medicare plans in LA can certainly feel like an overwhelming process. With a wide range of options available, finding the right plan that meets your healthcare needs and budget is crucial. Consider factors such as premium costs, coverage options, and prescription drug benefits when selecting the best plan for you or your loved one. To begin exploring Medicare plans in LA, understand the different types of coverage available. The federal government offers original Medicare (Part A and B). It covers hospital stays, doctor visits, medical equipment, and more. However, supplemental insurance plans in LA can help cover out-of-pocket expenses associated with original Medicare.
And, of course, Medicare Advantage Plans can be used in place of Medicare (while still paying your premium for Part B), where you may get various additional benefits not covered by Medicare. This can be prescription drug coverage or specialized care options such as dental or vision care services, over-the-counter (OTC) benefits at your local pharmacy, or help with costs such as healthy food and home care. These comprehensive plans offer medical insurance coverage, often including additional benefits tailored to specific patient needs. Doing thorough research on all these different plan options with assistance from knowledgeable Medicare professionals can help ensure you're getting exactly what you need without compromises during your golden years living comfortably within Los Angeles County boundaries!
---