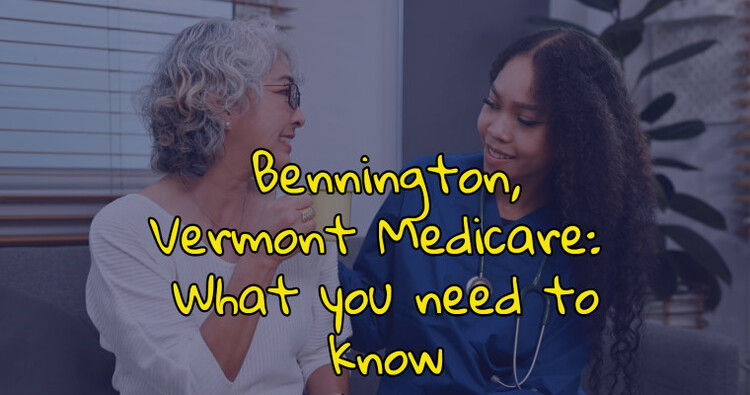 ---
Bennington, Vermont Medicare: What You Need to Know
Bennington, VT is a great place to live for several reasons. The town boasts a charming, picturesque setting with stunning mountain views and lush landscapes. Nature lovers can take advantage of the numerous outdoor recreational opportunities available, including hiking trails, ski resorts, and fishing spots. Moreover, Bennington offers a close-knit community feel where neighbors genuinely care about each other's wellbeing.
Bennington also features diverse cultural attractions, such as art galleries, museums, and historical sites. Residents can immerse themselves in the town's rich history and arts scene while enjoying access to unique shops and local businesses.
How Medicare Part A deductible and copays work in Bennington
Medicare Part A is hospital insurance. The Medicare Part A deductible is the amount beneficiaries must pay out of pocket before their coverage kicks in. This deductible amount is subject to change each year but is generally a fixed annual sum. Once this deductible has been met, Medicare Part A will cover most of the expenses associated with an eligible hospital stay or skilled nursing facility care. In 2023 the Part A hospital deductible is $1600, covering you for 60 days. In addition to the Part A deductible, beneficiaries may need to pay copayments during their hospital stay or skilled nursing facility care. These copayments are typically calculated daily and vary depending on the length of stay. The exact amounts can fluctuate from year to year. For 2023 the copays are as follows::
Using your Part A Coverage in and near Bennington, VT
There are several hospitals located in and near Bennington that provide quality healthcare services to the community. One of these in Bennington is Southwestern Vermont Medical Center (SVMC), a reputable hospital known for its personalized and comprehensive approach to medical care. With state-of-the-art facilities and a team of highly skilled physicians and specialists, SVMC offers a wide range of services, including emergency care, surgery, diagnostic imaging, and rehabilitation.
Brattleboro Memorial Hospital (BMH) is a notable hospital near Bennington, a 61-bed, not-for-profit healthcare institution providing primary and acute medical care to more than 2,000 inpatients annually. BMH providers perform more than 2,500 surgical procedures a year. BMH offers many services to benefit area residents, including approximately $2.3 million in free and charitable care each year. All services are rendered professionally and warmly, making BMH an excellent community healthcare facility. It also has an excellent safety rating according to TheLeapfrogGroups's Hospital Safety Grade.
In case you may require skilled nursing, there are several facilities in Bennington, such as Crescent Manor Nursing and Rehabilitation Center, The Center for Living and Rehabilitation, located on the Southwestern Vermont Medical Center campus, and the Vermont Veterans' Home. All of these are listed as accepting Medicare. Another, with unknown status on acceptance of Medicare, is North Adams Commons.
Part B in Bennington, VA
In 2023, Medicare continues to provide Bennington members with premium healthcare coverage that is both personalized and comprehensive. Part B Premiums, Deductible, and Coinsurance are critical aspects of the coverage offered by Medicare.
Part B premiums are the monthly payments individuals make for their medical insurance. It ensures access to various services, including doctor visits, outpatient care, medical supplies, and preventive services. Medicare aims to maintain competitive premiums while providing high-quality healthcare support for its members. In 2023 the Part B premium was $164.90 per month.
Additionally, the deductible is an out-of-pocket expense that members must fulfill before their coverage kicks in. For 2023, Medicare strives to keep deductibles user-friendly while providing easy accessibility to necessary medical treatments and procedures. For 2023 the Part B deductible is $226 per year.
Coinsurance refers to the cost-sharing between insurers and beneficiaries after meeting the annual deductible. In 2023, Bennington Medicare works towards offering favorable coinsurance rates so that members can effectively manage their healthcare expenses without any unnecessary financial burden.
Doctors' Groups near Bennington, VT
Welcome to the world of Medicare in Bennington, where quality healthcare meets personalized and comprehensive medical coverage. In the scenic town of Bennington, VT, several reputable doctors' groups provide exceptional care to residents. One such group is the Integrative Medical Associates Of Vermont Pllc. With a multidisciplinary approach and a focus on preventive care, they strive to keep patients healthy and address any medical concerns promptly. A similar group is Mount Anthony Primary Care.
The area's most prominent doctors' group is the Southwestern Vermont Medical Center (SVMC). As part of a larger health system, SVMC offers extensive services, including primary care, specialty clinics, and advanced treatments. They pride themselves on providing patient-centered care with a personal touch. With highly skilled doctors and cutting-edge technology at their disposal, SVMC aims to deliver outstanding healthcare to individuals in Bennington and its surrounding communities.
Bennington Medicare Drug Plans
Drug plans are also part of Medicare. Private insurance companies administer drug plans.
Part D donut hole is a term used to describe a coverage gap in Medicare Part D prescription drug plans. This occurs when an individual reaches their initial coverage limit and must pay a 25% coinsurance amount out-of-pocket for their medications until they reach the catastrophic coverage threshold.
During this donut hole period, beneficiaries are responsible for paying a higher percentage of the cost of their drugs, including both brand-name and generic prescriptions. The amount that individuals pay during the donut hole phase can vary each year, as Medicare guidelines determine it.
Fortunately, assistance programs are available to help individuals navigate the Part D donut hole. Pharmaceutical manufacturers often offer discounts or rebates on certain medications, which can help alleviate some of the financial burden. Additionally, other resources, such as patient advocacy organizations or state-specific programs, provide support and information on managing medication costs during this coverage gap. Below are the numbers for 2023:
Initial coverage limit - $4,660
Catastrophic threshold - $7,400
Payments for drugs under the catastrophic coverage limit in 2023 are the greater of:
5% of the cost of the drug
$4.15 for generic
$10.35 for name-brand drugs
You can change your drug plan every year during the Annual Election Period. We recommend that you work with an expert Medicare insurance agent to review your plans at this time.
Medicare Advantage in Bennington: How it works
Medicare Advantage, also known as Medicare Part C, works by allowing many private insurance companies to offer plans that replace Original Medicare for the people of Bennington. These plans must still provide all the same benefits as Original Medicare but can also include additional services such as prescription drug coverage and vision or dental care. Members enrolled in a Medicare Advantage plan typically pay a monthly premium in addition to their Part B premium.
Medicare Supplement Insurance Plans in Bennington
An alternative to a Medicare Advantage Plan is a Medicare Supplement Insurance Plan. With this type of plan, you keep your original Medicare and get an insurance plan to cover the charges that Medicare doesn't pay. Private insurance companies also administer Medicare Supplement Insurance Plans with varying coverages. These plans do not cover drug costs, so you should have a separate drug plan to go with a Supplement plan. Supplement plans may cost more per month than Advantage plans, but they can provide more flexibility in provider choice and often cost less in the long run if you have serious medical issues.
Choosing Medicare Plans in Bennington
By choosing any of the many available plans, you gain access to the network of doctors and hospitals with which each plan administrator has partnered. Each network aims to ensure you receive high-quality healthcare at affordable rates. Additionally, many of our plans include extras like wellness programs or telehealth services for added convenience. Choosing an Advantage Plan or a Supplement Insurance Plan should be dictated by individual needs.
Everyone has unique medical needs, so working with a Medicare agent in Bennington, VT can greatly simplify navigating healthcare coverage options. These knowledgeable professionals have an in-depth understanding of the intricacies of Medicare and can guide individuals toward selecting the most suitable plans for their specific needs. By working closely with a Medicare agent, individuals can save time and effort by having someone well-versed in their various plan options.
A Medicare agent in Bennington, VT offers personalized and comprehensive medical coverage solutions that meet individual requirements. They consider factors such as age, health conditions, and budget constraints when helping clients select from various available plans. Moreover, these agents stay updated on changes to Medicare policies and regulations to provide accurate information to their clients, ensuring they make informed decisions regarding their healthcare coverage.
Partnering with a Medicare agent in Bennington ensures that individuals receive exceptional care and support while navigating various medical needs. From routine check-ups to specialized treatments, these agents are committed to matching members with appropriate insurance plans that provide optimal coverage within their budgets. With their expertise and guidance throughout the process, individuals can feel empowered knowing they have access to quality healthcare coverage tailored to their unique circumstances.
---